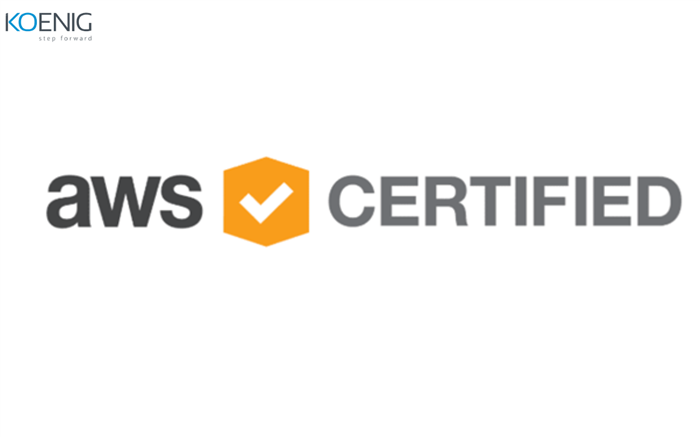 Since the inception of AWS (Amazon Web Services), the global internet landscape has transformed completely, evolving to a level that was unimaginable before. The professionals and experts who make this a reality have seen a rising demand for their skills and expertise.
Working as an AWS professional is a rewarding career. As your knowledge and work experience increase in roles that require an
AWS certification
, like an AWS architect or an AWS developer, you will also get paid a higher salary. What is the level of correlation between an AWS certification and the salary of a certified professional? Which certification will offer the most benefits? Let's find out.
What is AWS?
AWS refers to Amazon's cloud platform, which offers cost-effective, reliable and scalable solutions of
cloud computing
that are easy to use for businesses worldwide. AWS offerings are designed keeping in mind businesses across the world, not a limited domain or geographical area. AWS is a combination of SaaS (Software as a Service), IaaS(Infrastructure as a Service) and PaaS (Platform as a Service), available for use to every business that is willing to stay ahead of the curve.
AWS brings together various products and services related to cloud computing at an individual level. It is one of Amazon's divisions that gets them maximum profits and also provides a range of tools, technology, equipment, and support that businesses require to provide key services to their customers. This includes servers, remote computing, storage, security, networking, mobile development and email - everything a business organisation needs to optimise their cloud computing services for customers.
Let us look at the different AWS certification types and salaries in more detail.
AWS Certified Solutions Architect:
For its Solutions Architect certification path, Amazon offers certifications at two levels - Associate and Professional. Applicants need to first earn the Associate credential and then advance towards the Professional certification.
Associate level:
An IT Skills and Salary Survey in 2019 showed that the average salary of an
AWS Certified Solutions Architect
(Associate) within the USA and Canada was $130,883. The key skills and domains you need to familiarise yourself with before giving the exam are as follows:
Design and deploy scalable and highly available systems using AWS
Select the right AWS service based on customer needs
Deploy on-premise apps for AWS
Professional level:
After you earn the Associate-level certification, the Professional certification is the next milestone. IT specialists with this credential earn an average per annum amount of $148,456, as shown by a recent survey. The skills required are as follows:
Design and deploy dynamic, scalable and reliable applications on the AWS platform.
Capability to migrate intricate multi-tier applications on the AWS platform.
AWS Certified Developer:
The average salary of an
AWS Certified Developer
at the Associate level is $130,272, making it the sixth highest-paying profession. If you wish to apply for this certification, you need to have the following skills.
Understanding of AWS services and their applications
Leverage SDKs (software development kits) to interact with services for enterprise applications
Write performance-optimising code
Apply code-level app security
AWS Certified SysOps Administrator:
If you have an
AWS Certified SysOps Administrator
certification, you can earn about $130,610 per year with an Associate credential. It validates your skills in deploying, managing and operating on AWS. You should have a good understanding of the following before you apply:
How to implement and control the data flow from and to AWS
How to migrate on-premise apps to AWS
How to identify operation cost controlling mechanisms
AWS Certified DevOps Engineer:
This is the professional certification level for the Developer as well as SysOps Administrator Associate level certifications. You need to have at least one of those credentials before you apply to earn this one. On evaluating a small group of
AWS Certified DevOps Engineer
certification-holders in the USA and Canada, it was found that they earned about $137,724 as their average annual salary.
The professional certification authenticates your expertise to provision, operate and manage distributed application systems on AWS. To earn this credential, you need to have a strong understanding of different tasks and domains, including the following:
How to implement and manage continuous delivery systems on AWS
How to maintain tools for the automation of operational processes
Securing controls and processes for governance
You May Also Like: How To Build a Career with AWS Certifications?
Salaries for AWS Professionals
There are several factors that determine how much you will earn after getting an AWS certification.
Location:
PayScale has released data that shows the salary of an AWS solutions architect is higher in metropolitan cities compared to smaller cities. Case in point, Bangalore pays AWS architects 7% more than the average salary of AWS architects across India.
According to Glassdoor, here's what the average salary structure in Indian metros looks like:
New Delhi: Rs. 7,67,000 per year
Mumbai: Rs. Rs. 11,95,000 per year
Chennai: Rs. 6,44,000 per year
Hyderabad: Rs. 5,51,000 per year
Kolkata: Rs. 9,50,000 per year
Experience:
This is something you might already know. The amount of work experience you have in a particular domain significantly impacts your pay. If you have less than a year of experience in the role of an AWS architect, your salary will be around Rs. 4,80,000 per annum. If you have more experience and also earn an AWS credential, you can earn up to Rs. 8,00,000 per annum.
Organisations also differ in the resources at hand, which affect how much they pay employees. Accenture is one of the leading IT firms in the world. Depending on experience and qualifications, you can earn between Rs. 4,36,000 and Rs. 30,00,000 per year. Take a look at the salary scales maintained by other IT giants:
Ericsson Inc: Up to Rs. 20,00,000 per year
HCL Technologies: Rs. 2,98,000 - Rs. 20,00,000 per year
Wipro Technologies: Rs. 4,00,000 - Rs. 20,00,000 per year
Techmahindra Ltd: Rs. 3,50,000 - Rs. 20,00,000 per year
Skills:
Your salary and potential earning opportunities are affected by your specific skill set. It is a subjective factor, depending on your employer's perspective. However, with a globally reputed credential like an AWS certification, you can earn more than those without it. The average DevOps Engineer earns about Rs. 7, 25,000 per year, while a solutions architect with mid-level experience can earn up to Rs. 10,00,000 per year. Here are some other professional job titles and their respective remunerations:
Software Engineer: Rs. 6,22,000 per year
Technical Architect: Rs. 20,00,000 per year
System Architecture: Rs. 20,00,000 per year
IT Consultant: Rs. 10,00,000 per year
Source: IT Skills and Salary Report - GlobalKnowledge.com
Start Training Today:
As the global reputation of AWS certifications continues to grow, it will rapidly go from being an extra skill to a fundamental prerequisite. Earning an AWS certification will open new avenues for you career-wise while increasing your technical knowledge base. With Koenig, you get access to structured study materials, one-on-one sessions with expert instructors and flexible study hours. You also get practice tests that will give you a fair idea of what to expect and how to break up your time. Give your career a boost and enrol in our training course today.