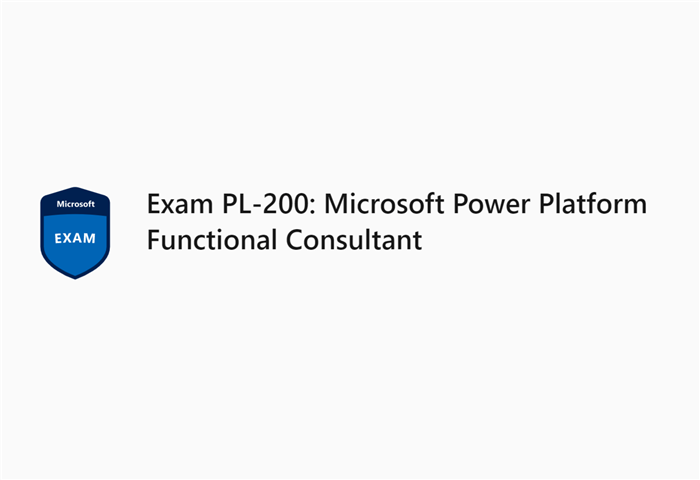 Microsoft Power Platform Functional Consultant is a credential created for system architects and developers keen on expanding their knowledge and understanding of Microsoft Power Platform configurations.
Enrolling in a PL-200 Microsoft Power Platform training course gives you the tools and resources to accomplish this goal. You don't need prior understanding or experience in coding or software development to apply for this credential. If you work as a business intelligence professional or solutions architect, you can build effective solutions without development expertise using Microsoft Power Platform. You can benefit from this training course as a developer, too. Building apps and solutions become much faster and easier when coding is not required everywhere.
Candidates who have appeared for the MB-200 certification exam will find the PL-200 exam quite familiar. Both the MB-200 and PL-200 test candidates on similar topics and concepts. Over time, Microsoft Power Platform will most likely become the only platform for the configuration of Dynamic products. This certification exam focuses primarily on the components of Power Platform and Dynamics' building blocks or Dataverse in other words.
Prerequisite for the PL-200 Certification Exam:
Microsoft doesn't have any formal prerequisites for candidates applying for the PL-200 exam. However, industry experts and Microsoft heads recommend learning about the fundamental concepts of Microsoft Power Platform first. These concepts are a part of the PL-900 Power Platform Fundamentals certification exam curriculum. You should also familiarize yourself with the Dynamics 365 customer engagement application concepts.
Benefits of Earning a PL-200 Certification:
There are several benefits of earning the PL-200 credential:
You are recognized as a qualified consultant for Microsoft Power Platform Solutions.
You get all the knowledge necessary regarding the various components of the Microsoft Power Platform. This keeps you ahead of the competition by allowing you to identify business areas that require these components.
You master the skills and knowledge needed to design technical solutions using components of Power Platform and Dataverse (previously, Common Data Service).
You understand the administration of Dataverse environments and the management of permissions.
You have the edge over all other job seekers in the domain. Microsoft Power Platform is a rapidly-rising technology in the IT industry today.
You are eligible to apply for jobs with global industry leaders such as Apple , Microsoft, and Meta to develop next-generation solutions.
PL 200 Exam Pattern:
It's a good idea to know what you're getting into before you sit for the exam.
The PL-200 exam has 40-50 questions, with an 'average' difficulty level.
You have 180 minutes to write the exam, including 30 minutes for feedback.
You need about 70% to pass the exam (a score of 700).
The question types can be MCQs, reordering, Yes/ No questions, and drag and drop.
You can take a self-proctored exam or apply at a testing center near you.
There is a fee of Rs.4800 to be paid.
Questions and Modules Covered in this Exam:
MODULE 1: Configure Common Data Service - 25-30%
Questions under this module cover existing data model management, process creation and management, Dataverse configuration, and security settings like security roles, business units, and hierarchy security.
MODULE 2: Create Applications Using Power Apps - 20-25%
This module covers topics like model-driven app creation such as charts, dashboards, forms, Canvas Apps, views, and Portal Apps, portal security configuration, which includes page access and web roles.
MODULE 3: Manage and Create Power Automate - 15-20%
This module will give you questions covering the management and creation of business processes and UI flows.
MODULE 4: Implementing Power Platform Virtual Agents - 10-15%
This module covers chatbot creation, topic configuration, and entity configuration. The PL-200 exam generally has fewer questions from this domain as compared to the others.
MODULE 5: Integrate Power Apps with Other Applications and Services - 15-20%
The exam will cover questions regarding Power BI integration with AI Builder, Power App, and the integration of Power Apps with MS 365.
You May Also Like: A Comprehensive Study Guide To PL-900 Exam
Features of Koenig's Microsoft Power Platform Functional Consultant Training Course:
Certification course led by a dedicated instructor with expertise in the role of a Power Platform Functional Consultant
Access to a course preview to get you started on your preparation journey
A global talent pool of instructors who are experts in Power Platform
Accredited and reliable course material for PL-200 training created by SMEs
Verified and accredited training resources that learners can use to understand each concept thoroughly
PL-200 training course certification given on completion of the course
More than 100 locations around the world where Microsoft Power Platform Functional Consultant training is given
Who is the Power Platform Functional Consultant Training Course Designed For?
it professionals across different domains and roles can benefit from a microsoft power platform certification training course. here are the leading roles, although not limited to:
Data Analyst
Functional Consultant
Data Scientist
Business Intelligence Professionals
IT Manager
Developer
Business Intelligence Consultant
DevOps Engineer
Agile Developer
Software Engineer
Testers
Solutions Architect
Enterprise Architect
Microsoft Power Platform Functional Consultant aspirants
PL 200 certification exam aspirants
Average Salaries of Microsoft Power Platform Functional Consultant Professionals in Different Countries:
The IT industry is advancing rapidly today, with businesses becoming more complex over time. Enterprises need to stay ahead in the game, for which they need to incorporate the most advanced tools and technology. Power Platform is a rapidly rising platform in terms of popularity and functionality. Businesses that work with cloud computing are generating a rising demand for professionals certified to use Power Platform. This means these organizations are willing to pay high salaries for professionals with this credential on their resumes.
Here are some of the leading markets where Power Platform is used and the average salary you can earn as a certified Microsoft Power Platform Functional Consultant:
US - $79,000 - $126,000
UK - £50,000 - £76,000
India - ?3,00,000 - ?14,00,000
Australia - AUD 65,000 - AUD 109,000
UAE - AED 70,000 - AED 1,86,000
Singapore - SGD 60,000 - SGD 90,000
Career Opportunities for a Microsoft Power Platform Functional Consultant Certified Professional:
With Power Platform being increasingly adopted by companies all over the world, they need to hire professionals with relevant skills to help operate various apps and tools. Training to become a Power Platform Functional Consultant prepares you to work with these businesses and help them understand this platform.
The biggest names in the IT industry today are hiring certified Microsoft Power Platform Functional Consultants. This includes
Avantiico
Prometheus Federal Services
Perficient Inc
Visualbi
Collectiv
Ernst & Young
Capgemini
Anthem
Planet Technologies
Deloitte
Additional Read: Complete Guide to Business Intelligence (BI) Certification
A Few Tricks to Clear the PL 200 Certification Exam:
Comprehensively understand each aspect and concept of Dataverse. Focus specifically on permissions and security features.
Get a deeper understanding of the different types of Power Apps, the components that go into making apps in Power Apps Studio, like the collections, variables, custom controls, functions, and navigations.
Practice process flows by building and exploring different flow types through Power Automate.
Learn the common AI Builder use cases. You should be able to identify various in-built models that you can use for addressing multiple situations.
Enroll in Koenig's Power Platform Functional Consultant certification training course today for holistic learning and hands-on lab experience.
Businesses and professionals are moving fast to stay ahead. Give your career the boost it deserves and enroll in a PL-200 training course today.