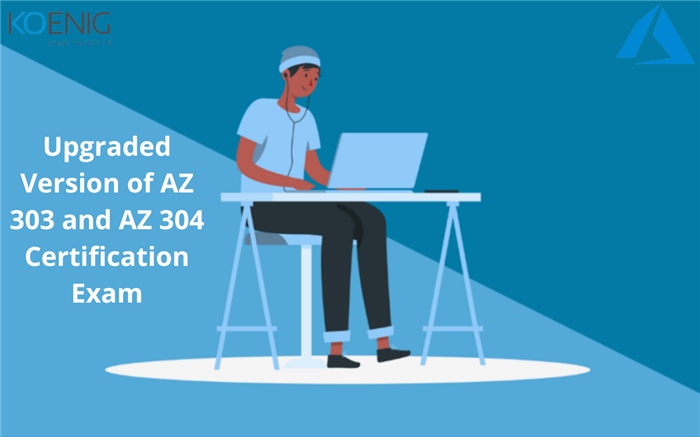 The AZ 303 and AZ 304 certification exam have been upgraded to AZ 305. Candidates appearing for these exams should have knowledge about IT operations with additional knowledge of security, networking, data platforms, etc. For qualifying, AZ 305 exam candidates should be aware of Azure development and processes related to DevOps. This new certification helps in preparing students for the business environment. It helps design government ideas, monitor them, and build Azure identity.
Preparation Guide For AZ 305 Certification
To help in preparing for the exam, there are a few online websites that can be referred to like - Koenig Solutions, Microsoft Learn, Microsoft Docs, and Training Tabs. To qualify for this exam, applicants need a score of 700. Students passing both the exam of AZ 104 and AZ 305 can qualify to earn the Microsoft Azure Solution Architect Expert certification. Below are a few tips provided to help you prepare for the exam;
It is important to know the syllabus, learn every concept thoroughly, and revise them.
After knowing the syllabus, the second step is to collect all the required resources for the exam. Good reliable sources are important to score good marks in the AZ 305 exam.
The best approach to learning is through video courses. Listening makes learning more dynamic and holistic. It is quite beneficial to divide the course into discrete modules for section-by-section coverage. An ideal course provides expert assistance in clarifying concerns.
When you join a group or a forum, you can attend group discussions or can ask questions or resolve your doubts. This helps in faster learning.
After finishing the syllabus, start taking mock tests and solving practice papers. This will help you explore the areas where you are lacking and how much more work you need to put in.
The AZ-303 and AZ-304 certificates have a validity period of 12 months. During the last six months of the certificate's validity, candidates must recertify themselves by completing a free renewal test. If they do not take the test, the next step will be repeating all the requisite examinations.
Prerequisite For The AZ 305 Certification
The prerequisite for the AZ 305 certification is to have the three following skills;
DevOps process
Azure development
Azure administration
What Are The Microsoft AZ 305 Courses Available?
The various AZ 303 or AZ 305 certifications available are:
Exam AZ 305- Designing Azure Infrastructure Solutions
AZ 305- Azure Architect Design Certification Prep
AZ 305- Azure Solutions Architect Expert
Syllabus For The AZ 305 Certification
To efficiently prepare, candidates should know the exam objectives and the weightage assigned to each topic.
Designing Governance, Identity, And Monitoring Solutions (25-30%)
This part includes authentication, governance, logging
Provide solutions to identity management
Provide solutions for monitoring types of equipment
Provide solutions on safely securing identities
Advocate a hierarchical organisational structure for Azure.
Provide a method for ensuring and assessing compliance
Propose a solution for securely storing passwords and secrets
Advocate an idea for connecting apps to Azure Active Directory
Designing of Business Continuity Solutions (10-15%)
Suggest solutions for Azure work pressure
Suggesting solutions for data storage
Suggesting solutions for compute
Comprehend container recovery solutions
Propose an unstructured data backup and recovery solution
Designing of Data Storage Solutions (25-30%)
Providing solutions for data analysis
Designing a structured plan for durability and protection of data
Providing solutions for data integration
Providing solutions for non relational and relational data
Providing solutions for database service tier sizing
Provide a method for securely storing data at rest, data in transit, and data that are in use
Designing Infrastructure Solutions (25-30%)
Designing of application architecture
Providing solutions for virtual machine
Providing solutions for serverless commute
Providing recommendations on migrating database
Providing solutions for applications, security optimization, etc.
Advocate a computing solution based on containers
Propose an API integration solution
Certifications For Becoming An Azure Solutions Architect
The following certification is required to become an Azure Solutions Architect:
You must pass the new AZ-305 certification if you have already passed the Azure Administrator Associate certification.
You must get the AZ-305 certification if you have already cleared the Azure AZ-303 test.
You May Also Like: Everything You Need to Crack the AZ-204 Developing Microsoft Azure Solutions Certification
AZ 305 Certification Benefits
Every firm or professional industry you join will let you know how valuable the Microsoft certification on Azure Solutions Architect Expert certification is. It requires commitment and effort to pass the certification exam, giving you an edge over others. Qualifying for the certification exam will open new opportunities and make you a certified professional.
Candidates who qualify for the AZ-305 certification get more salary in any organisation. This shows that the certificate is very beneficial and sought after by almost every organisation.
Getting the certificate gives entry into multiple events and seminars held by Microsoft throughout the year. Here you can get a chance to improve on your potential and be part of major inventions in the IT field.
With the certificate, you are a member of a large community that supports each other. Each test is designed to look into your skills from basics to advanced. It not only tests mere theory but also tests your ability to take up difficult jobs at hand. The AZ 305 examination gives you an idea of how fluidly you can work in the Azure solutions architecture.
It opens up new career opportunities and jobs like Cloud Architect, Data Architect, Solution Architect, and many more.
Conclusion
Microsoft is blooming with a 19 percent market share; therefore, the demand for Azure solutions architects is always rising. The AZ 305 certification gives you recognition and is an excellent path to career advancement and job satisfaction.
Additional Read: AZ-303 vs AZ-304: Breaking Down the Certification Exams
FAQs
Q. How can one become a Microsoft Certified: Azure Administrator Associate?
A. To become a certified Azure Administrator Associate, follow the three steps;
Learn all the skills required to qualify for the exam
Complete the AZ-305: Designing Microsoft Azure Infrastructure Solutions examination.
Get a Microsoft AZ-305 certificate.
Q. What is the syllabus for the AZ-305 exam?
A. Going through the syllabus is important to score the required marks in the exam to qualify. The exam includes the following topics;
Design identity, governance, and monitoring solutions (25-30%)
Design data storage solutions (25-30%)
Design business continuity solutions (10-15%)
Design infrastructure solutions (25-30%)
Q. I'm already a Microsoft Certified: Azure Administrator Associate. How should I proceed?
A. You have already completed half of the journey to becoming an Azure Solution Architect Expert. To achieve the expert certification, you must now pass AZ-305.