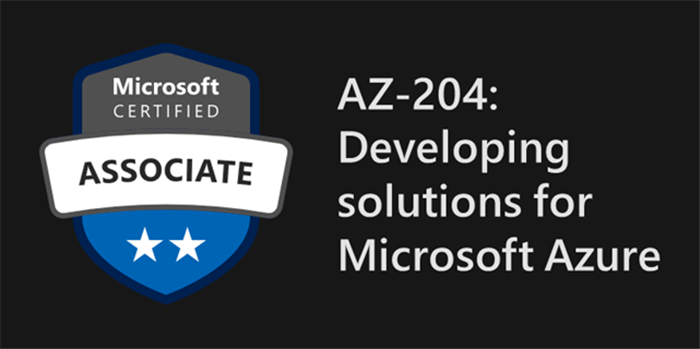 Coding is one of the greatest skills to have in 2022, especially because of the countless applications and extensions available for it today. If you have been exploring cloud platforms and wish to work on Microsoft professionally, you can choose from a range of courses. You can prepare for and earn the AZ-204 Microsoft Certified Azure Developer Associate certification. This certification is a great first step into the world of Azure.
Microsoft Azure AZ-204 Scope:
One key advantage of the AZ-204 certification is that it prepares you for multiple roles. As an Azure Developer (Associate), you are qualified for any of the following roles and more:
SSAS Developer
Junior Cloud Developer
Azure Developer
AZ-204 Exam Prerequisites:
Candidates applying for the AZ-204 certification must have a minimum of 1-2 years of experience with development and Microsoft Azure. You also must have the programming skills necessary in any language that Azure supports. You should also have a strong understanding of APIs, app authorization and authentication, SDKs, debugging, performance tuning, and container deployment.
Azure Developer Associate AZ-204 Exam Overview:
The AZ-204 exam is a strong first step towards a stable career and professional life with new earning and growth opportunities. The exam for the Azure Developer Associate certification is called the AZ-204 exam. It is made up of 40-60 questions in the format of MCQs. You need to answer all the questions in 180 minutes or 3 hours.
Reasons to Choose the AZ-204 Certification for Your Career:
1. Stronger foundation and knowledge base for Azure:
There are several developers out there using .NET for development, but they don't have enough experience with Azure. If this sounds like you, the AZ-204 certification will help add to your experience and knowledge. You will get a stronger understanding of Azure and how its functions work. You'll also learn about various aspects of coding that work better with Azure than other platforms and understand how you can apply them to innovate with Azure.
The AZ-204 certification was designed for developers looking to advance their Azure skills and knowledge. Once you have this credential to your name, you can apply for jobs that require these skills. Such jobs pay very lucrative salaries.
2. Validates your Skills and Boosts your Career:
An experienced developer or coder who works with Azure generally has a strong background with the platform besides technical skills. With an official Microsoft certification for your skills, you are telling your employer that Microsoft has acknowledged your skills and quality standards. Additionally, you can also take on several smaller skills that you might not have realized you needed in your current job role.
3. Advances your Career as an Azure Professional:
An additional benefit of getting the AZ-204 credential to your name is that it helps advance your career significantly. This code opens up several new avenues for you, both career-wise and salary-wise. It takes you from an amateur coder to a professional programmer. You get highly acclaimed and globally recognized programming skills through the AZ-204 training program. These skills can benefit you in your current workplace even if you choose to not give the certification exam. Once you enroll in an AZ-204 certification training course, you will earn the necessary skills, regardless of whether you give the exam, clear it, or don't.
Also Read: Everything You Need to Crack the AZ-204 Developing Microsoft Azure Solutions Certification
Topics Covered Under the AZ-204 Training:
Like any other certification issued by Microsoft, the AZ-204 is not easy to earn. You cannot go into the exam and expect to clear it in the first attempt without proper prior training. There is a wide range of concepts that this training course covers, with varying weightage for each. Each of these has been broken down into modules and domains to make it easier for you to prepare. You should understand each of these domains to identify which areas will require more preparation and attention.
The domains are as follows:
Developing Azure Computing Solutions
Azure Storage-related Development
Implementing Azure Security
Azure Solution Optimisation, Monitoring, and Troubleshooting
Koenig also gives you a wide range of practice tests that you can use to understand the format of the exam and time yourself accordingly. There are also interactive labs that will give you hands-on experience with Azure development solutions. You also get an expert mentor to guide you through the training process through personal 1-on-1 training sessions.
ALSO READ: Need to Know How to Pass the AZ-204 Developing Microsoft Azure Solutions Exam
Benefits of the AZ-204 Certification Program:
There are various benefits of the AZ-204 credential to your career, as mentioned above. However, this certification also has inherent advantages that you can leverage to cement your spot at the top of the IT world.
95% of Fortune 500 enterprises use Microsoft Azure services, and that means there are several job opportunities in the market.
According to data shared by ZipRecruiter, the average Azure Developer Associate earns about $138,264 per annum. This is one of the highest salaries in the IT industry.
The AZ-204 certification is a part of the multiple role-based certification programs that Microsoft offers. It is one of the prerequisites of several advanced job roles with high-earning potential.
Also Read: AZ-204 Developing Solutions for Microsoft Azure – Is it worth it?
Tips to Follow As You Prepare for the AZ-204 Credential:
Go through the Microsoft Office Docs official website to get more information regarding the services and domains covered in the exam. You can also talk to your trainer about the same.
Cover both the theoretical and practical exercises that the learning modules encompass. This gives you a strong background and foundation for the exam.
Take as many practice tests as you can to understand the testing conditions and the exam format.
Enroll in a training course on Koenig to get access to exclusive resources and expert training.