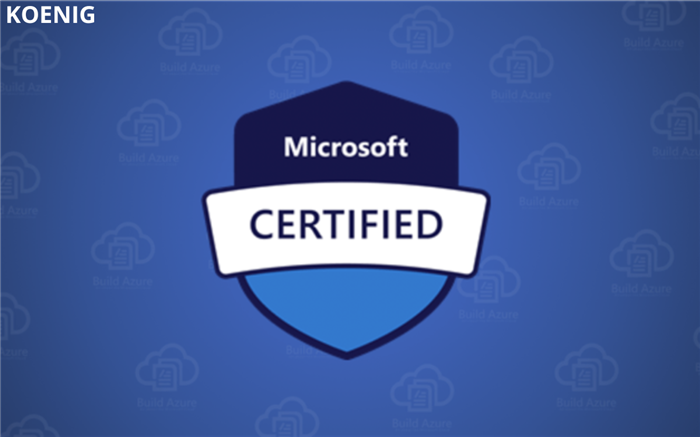 The products and services that Microsoft offers are an integral part of business organisations around the world. To train professionals and develop their expertise in using these products and services, Microsoft has created certification courses that validate their skills. This has led to direct growth in the demand for professionals skilled in .NET, Azure, Visual Studio, MS Project and other categories.
The Microsoft Azure Certification path is one of the best options if you are looking to advance your IT career. These role-based certifications are divided into three levels, depending on the skills that you are looking to upgrade to. These are the Fundamental level, Associate level and Expert level.
Importance of Microsoft Azure Certifications:
The Azure certification path tests and validates a candidate's expertise in dealing with different situations that are Azure-related. Some people earn the certification all the way, while others simply complete the training and gain knowledge.
Azure certifications are valued across the global IT industry, with organisations paying significant amounts for certified Azure professionals.
Here are the most in-demand Azure certifications across different levels.
Fundamental Level Azure Certifications
This is the most basic level of Azure certifications. Getting a Azure fundamentals certification will show you the possibilities that exist for your career and whether or not you should pursue it further.
Microsoft Azure Fundamentals – AZ-900 Exam
The
AZ-900
is the first exam you will have to clear as you start along the Azure certification path. This certification has been designed to give candidates all the basic-level knowledge they need about the Microsoft Azure cloud services. It works best for applicants with a non-technical knowledge domain and provides them with a stronger understanding of daily business schedules and how cloud computing services can help ease their burden. This extends to roles and jobs like procurement, sales and marketing through the
Microsoft Azure cloud platform.
Associate Level Azure Certifications
Microsoft Azure Administrator – AZ-103
The
Azure Administrator certification
was introduced on May 1st, 2019. Its main objective was to validate a candidate's skills that were directly related to controlling, monitoring, maintaining and implementing Microsoft Azure secure services. The certification backs up a candidate's claims of understanding the computing process, security, networking and storage services that Microsoft Azure offers. The AZ-103 is an upgraded version of two exams that were previously known as the Microsoft Azure Associate Exam AZ-101 and AZ-100.
Microsoft Azure Developer – AZ-203
The Associate Azure Developer certification has been designed targeting developers specifically. Applicants who clear this certification course's qualifying exam are certified in skills like building, maintaining and designing cloud application services. As a certified Associate Azure Developer, you can work closely with cloud administrators and cloud computing architects, along with clients and other vendors. Additionally, you also are validated with experience of about one year in developing software for scalable solutions using one of the Azure cloud platform programming languages.
Microsoft Azure Security Engineer – AZ-500
As suggested by the name, Azure Security Engineer has been designed for engineers who aim at learning, implementing and managing security controls and access management along with becoming responsible for cloud computing data security and information security. A professional with the Azure Security Engineer certification is qualified for the management and securing of cloud-based solutions which includes a hybrid part within the end-to-end infrastructure. To clear the certification exam for the Azure Security Engineer Associate certification, you need to have the skills to automate, script, network virtually and develop other virtual technology skills that may be required. Additionally, it is highly recommended that you have a working knowledge of Microsoft cloud computing services and other products that are available. This will increase your chances of clearing the exam and earning your certification.
Microsoft Azure AI Engineer – AI-100
This is another certification within the associate-level credentials range, designed for applicants interested in deploying and managing Artificial Intelligence-oriented solutions. This includes having a working knowledge of the natural language processing system, bots, cognitive services, speech, computer vision, machine learning and knowledge mining. A professional who clears the AI-100 exam is qualified for the analysis of varying requirements for Artificial Intelligence solutions. They can recommend the right tools, techniques and solutions to effectively meet scalability demands and the performance outcomes required.
Microsoft Azure Data Scientist – DP-100
This is one of the fastest-growing certifications in terms of popularity and recognition. The
Azure Data Scientist certification
requires professionals to clear an associate-level exam designed to validate a candidate's skills to design and implement data science solutions on Azure. A certified Azure Data Scientist (Associate) is qualified to apply Azure machine learning techniques and methods to train, evaluate and deploy various models required to solve different types of business problems and operational issues.
Microsoft Azure Data Scientist – DP-200 and DP-201
To become a certified Microsoft Azure Data Scientist, candidates need to clear two exams, namely the DP-200 (Implementing an Azure Data Solution) and DP-201 (Designing an Azure Data Solution). Both of these need to be understood in detail.
Microsoft Azure Data Scientist (Associate level) Exam DP-200 – Implementing an Azure Data Solution
This exam has been designed especially to test a candidate's learning and understanding of the implementation of various data solutions by Microsoft Azure. This includes provisions for the following:
Data storage
Security implementation
Streaming development
External data source access
Batch processing
Data retention policy implementation
With this certification, you are qualified for the application of Azure SQL, Azure Stream Analytics, Azure Cosmos DB as well as Blob storage services.
Microsoft Azure Data Scientist (Associate Level) Exam DP-201 – Designing an Azure Data Solution
The DP-201 exam is the second exam for the associate level Data Scientist certification. Its objective is to enhance a professional's ability to design a Microsoft Azure data solution. While preparing for the DP-201 exam, the skills tested are
Designing data storage applications
Designing processing applications
Designing security applications
All of these applications must meet the compliance norms related to Microsoft Azure services. With this certification, you are qualified to design Azure SQL, Azure Data Lake, Azure Stream Analytics, Azure Cosmos DB and Blob storage services.
Expert Level Certifications
Microsoft Azure Solutions Architect – AZ-300
The solutions architect certification by Microsoft Azure is an expert credential that is targeted to IT professionals who are interested in using cloud computing systems and solutions to help businesses achieve their goals. The AZ-300 exam tests a candidate's capability to deliver secure and reliable Microsoft Azure cloud solutions to business organisations. If you are applying for this certification, you must have advanced skills and knowledge of IT operations, which entails expertise in virtualisation, data management, networking, disaster recovery management, budgeting, security and business continuity. This certification is proof of a candidate's proficiency in the use and application of Microsoft Azure for development, business operations and administration. The information that this certification covers is as follows.
Learning how to analyse the process of resource utilisation
Applying successful templates of resource management
Creation and verification of virtual networking systems and connectivity
Configuration of the storage account
Management of the active Microsoft Azure directory
Usage of role-based access to migrate to Azure
Configuration of computing systems that are server-less
Implementation of applications to role balance and integrate On-Prem
The creation and application of Azure Kubernetes Services (AKS)
Implementation of multi-level as well as multi-factor authentication processes for the security of data solutions.
Also Read: 10 Reasons You Should Be Microsoft Azure Certified
Microsoft Azure Architect Design – AZ-301
The architect design certification by Microsoft Azure is the next part of the expert level certifications offered by Microsoft. The AZ-301 exam training course requires that as a candidate, you should have in-depth knowledge and expertise to identify different aspects of Microsoft Azure so that it can be applied effectively to various ends like virtualisation, data management, security, networking and disaster recovery, among others. It is one of the highest certification credentials you can earn along the Microsoft Azure certification path. It can help you get the highest possible job designation within well-reputed organisations.
The Final Microsoft Azure Certification Exam
Microsoft Azure DevOps Engineer is the last step along the Microsoft Azure certification path. It is one of the highest credentials you can achieve along this path.
Microsoft Azure DevOps Engineer – AZ-400
This certification exam, the
AZ-400
, is the concluding exam along the Azure certification path. It has been designed to test a candidate's professional ability to deliver cloud services using components and features available within Microsoft Azure. The AZ-400 exam reviews all your previous examinations with the objective of certifying the candidate in all the capabilities and skills needed to be a Microsoft Azure DevOps Engineer. The AZ-400 exam validates your capabilities to design, communicate, collaborate, implement, code and create automation, as well as delivering and monitoring different aspects of Azure.
To sum up, the Microsoft Azure certification path requires candidates to go through various levels of validation and certification. It is among the most highly demanded certifications in the global IT industry. Give your career the boost it deserves and start training for your certification today.