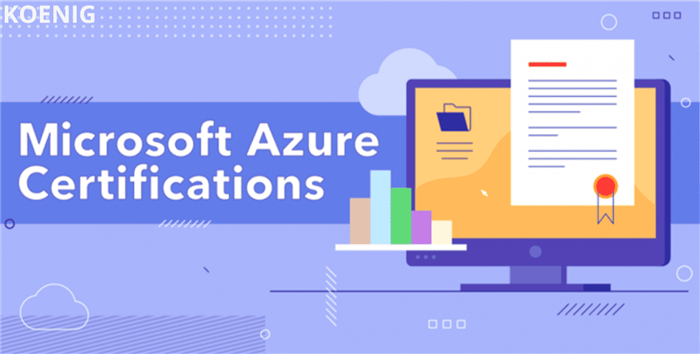 The certification courses that Microsoft offers are imperative to enterprises and their functioning across the global market. Each certification trains employees and provides them with expertise in different products.
The high popularity of Microsoft products and solutions in the market has resulted in a higher demand for skilled professionals with certifications relating to .NET, Azure, Visual Studio etc.
Microsoft announced several changes to their Azure certification path in 2018. All the Azure certifications today are more role-based than domain-specific. They don't approach entire technologies together. Instead, they are role-centric in nature and focus on helping candidates to sharpen the key skills they will require in particular job roles.
There are 12 certifications along the
Microsoft Azure certification path
that you can choose from. Make sure you choose the certification that aligns best with your current job role or the role you aspire to fill. This will enhance your job skills and increase your value as an employee within the organisation.
Microsoft Azure certifications
are offered at 3 levels. These are Fundamental Level, Associate Level and Expert level. Let's look at each of these levels and certifications in detail.
FUNDAMENTAL CERTIFICATIONS - AZURE CERTIFICATION PATH
This is the first level of Microsoft Azure Fundamentals certifications. This certification validates a candidate's skills and proves that they have all the necessary knowledge of Azure cloud services required at a foundational level. It is perfect for professionals at an entry-level with non-technical backgrounds and is intended to give them a strong understanding of cloud computing and the skills that will aid their day-to-day operational responsibilities, which includes procurement, marketing and sales.
The information that this certification includes is
In-depth understanding of cloud computing-related concepts like High Availability (HA), Fault Tolerance (FT), Scalability, CapEx and OpEx and the differences between them.
Descriptions of resource groups, zone availability and regions.
Azure architecture and its components.
Azure Resource Manager
In-depth details about DDoS protection, Network Security Group (NSG), Azure Firewall and Azure Subscription.
A deep understanding of the Azure process of subscription, purchase methods, free account service usage and calculation of pricing.
ASSOCIATE CERTIFICATIONS - AZURE CERTIFICATION PATH
Microsoft Azure Administrator - AZ-103
This certification was rolled out on 1st May 2019. Its primary objective is to validate the skills and knowledge of candidates about how to monitor, control, implement and maintain secure Microsoft Azure services.
The Microsoft Azure Administrator validates that certified candidates understand computing processes, along with the security, networking and storage services that Microsoft Azure offers.
Microsoft Azure Developer - AZ-203
This certification is designed particularly for developers. A candidate with this credential understands how to design, build and maintain cloud applications and services. While training for this certification, you can coordinate with cloud DBAs (database administrators), cloud administrators, clients and cloud computing architects.
Microsoft Azure Security Engineer - AZ-500
As the name suggests, the Azure Security Engineer certification is aimed at engineers looking to learn, manage and implement security controls and access management. These candidates take responsibility for security data from cloud computing along with additional information relating to networks and application solutions.
A certified Azure Security Engineer is proficient in managing and securing cloud-based solutions which include a hybrid component within the end-to-end infrastructure. To clear the AZ-500 exam and get certified, candidates are required to learn and acquire the skills needed for automation, virtual networking, scripting and developing related virtual technology skills.
Additionally, the candidate's knowledge of cloud computing, as well as other available products and solutions, will prove to be a huge plus.
Microsoft Azure AI Engineer - AI-100
This certification also falls within the Associate level of Microsoft Azure certifications. The AI Engineer certification by Microsoft Azure is targeted to professionals who wish to apply existing and evolving Microsoft solutions towards Artificial Intelligence.
This certification gives candidates knowledge relating to natural language processing systems, bots, computer vision and speech, as well as the usage of cognitive services, machine learning and knowledge mining. A certified AI engineer is proficient in analysing the various requirements and prerequisites for implementing AI solutions.
They can recommend the right solutions, techniques and tools that can meet the scalability needs and deliver the expected performance outcomes.
Microsoft Azure Data Scientist - DP-100
This is an associate-level that has been designed to target the knowledge and skills of candidates when it comes to implementing and designing Microsoft Azure data science solutions. A certified Azure Data Scientist has the required skills for applying different Microsoft Azure machine learning solutions to training, evaluating and deploying models used in several types of business problems and issues.
Microsoft Azure Data Scientist - DP-200 and DP-201 Exams
To complete your
Azure Data Scientist certification
, there are two more exams you need to clear. These certifications help you to specialise in particular roles. Let's take a look at them in detail.
Implementing an Azure Data Solution - Examination DP-200
The examination and certification for implementing Azure data solutions are designed to test candidates' knowledge on how to implement several types of Azure data solutions.
This includes provisions for data storage, security implementation, streaming development, external data source access and batch processing.
Additionally, candidates must learn and hone their skills for accessing external sources of data and implementing policies for data retention. Certified candidates are proficient with the skills required for the application of Azure Cosmos DB, Azure Stream Analytics, Blob Storage Services and Azure SQL.
Designing an Azure Data Solution - Examination DP-201
This is the second exam that you will have to clear to become a certified Azure Data scientist. The DP-201 exam has been designed to sharpen a candidate's capabilities in designing data storage, security and processing applications that meet compliance requirements for services under Microsoft Azure.
A certified candidate who has cleared the DP-201 exam is proficient in designing solutions relating to Azure SQL, Azure Cosmos DB, Azure Stream Analytics, Azure Data Lake and Blog Storage Services.
EXPERT CERTIFICATIONS - AZURE CERTIFICATION PATH
This is the final level of Microsoft Azure certifications and is among the most esteemed certifications in the IT industry. This level has two certification options, which are AZ-300 and AZ-301.
Microsoft Azure Solutions Architect - AZ-300
This certification has been designed for applicants with an inclination towards using cloud computing systems and solutions for businesses. The Microsoft Azure Solutions Architect examination tests a candidate's capabilities when it comes to delivering reliable, safe and secure cloud solutions for businesses.
A certified candidate is required to possess advanced level skills and knowledge of IT operations, including a high level of expertise in virtualisation, data management, networking, disaster recovery management, budgeting, security and business continuity.
Clearing the AZ-300 exam proves that a candidate has the required proficiency and can apply Azure for business development, administration and operation.
The information you will pick up in this certification includes:
Learning how to analyse the process of resource utilisation
Application of resource manager templates
Creation and verification of virtual network systems and connectivity
Configuration of storage accounts
Management of Azure active directory
Usage of role-based access to migrate to Azure
Configuration of server-less computing systems
Implementation of applications for role balancing and On-Prem integration
Creation and application of Azure Kubernetes Services (AKS)
Implementation of multi-factor and multi-level authentication processes for data solutions that are highly secure.
Microsoft Azure Architect Design - AZ-301
This is the final part of the expert level certifications. The Microsoft Azure Architect Design certification mandates that a candidate must have in-depth expertise and knowledge to identify several aspects of Azure while using them for various needs like data management, disaster recovery, networking, virtualization and security among others.
The Azure Architect Design certification is the highest certification along the Microsoft Azure certification path. It ensures you get high designations in reputed organisations when you start applying for jobs.
Within this certification, you will learn the following
Designing, computing, storing, networking and monitoring various strategies using Microsoft Azure.
The ability to collect the necessary information and design the infrastructure for data storage and logical grouping.
The ability to design risk prevention and data management methods to better monitor and secure important data.
Configuration of document data flows and strategies for data protection
Creation of data archiving and site recovery strategies
Deployment and designing of API integration strategies
Microsoft Azure DevOps Engineer - AZ-400
This is the concluding expert-level Azure certification. The Azure DevOps Engineer examination is targeted to expert-level professionals and tests their capabilities in delivering cloud services using all the components and features of Microsoft Azure. It reviews all the previous examination skills that the candidate has acquired intending to certify their required abilities and skills to become a DevOps engineer.
Clearing the AZ-400 exam is proof that the candidate can design, communicate, collaborate, implement, code, create automation, monitor and deliver several Microsoft Azure aspects. Anyone looking to clear this exam requires an advanced proficiency level in Agile practices as well as developmental and operational Azure processes.
Within this certification, you will learn the following:
Designing a secure lifecycle for development within Microsoft Azure
Accessing and applying tools required in the integration process
Designing and implementing different versions of control to apply DevOps strategies
Implementing, integrating and managing infrastructure as code
Managing and hosting Azure Kubernetes Service (AKS) infrastructure
Creating an optimistic mechanism for feedback
Conclusion
As you can see, there are 12 different levels of certification and validation that candidates are required to pass to get certified as an expert in the creation, deployment and management of various Azure solutions.
The Microsoft Azure certification path is one of the most in-demand certification paths around the world and requires a high level of commitment and effort to clear each level. But it also offers one of the highest-paying job opportunities across reputed global organisations.