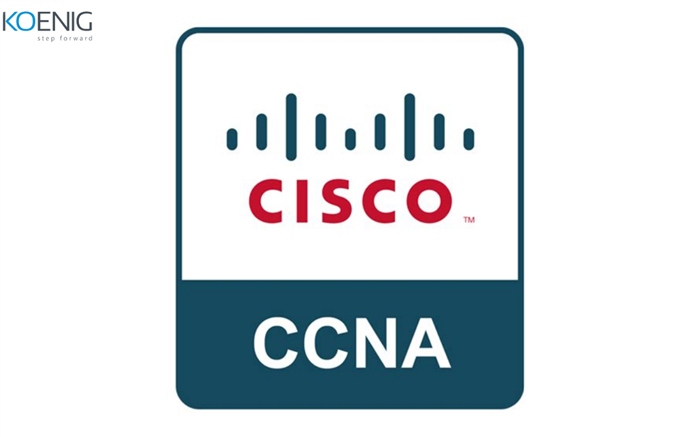 The time and hard work put into acquiring a professional certificate always turns out to be beneficial on the long run.
CCNA Certification
is one such program which can help certify an individual's professional skills in a particular area and helps boost career to the next level.
What is CCNA Certification?
CCNA is abbreviated as Cisco Certified Network Associate, a self-descriptive certification program. When a person has successfully acquired the credential, they are considered adept at networking and related skills.
The certification test is monitored and provided by the popular IT firm Cisco. Considering the fact that almost every industry requires networking solutions, the credential has acquired immense popularity among IT professionals and is one of the most popular certification programs throughout the years.
What Kind of Topics are part of the CCNA Certification?
While the program has been around for a few years now, the company Cisco which is behind this certification program continues to evolve and modify the subjects so that they better suit changing industry trends.
A major overhaul was done in the year 2013 when they established multiple job specific exams allowing professionals to specialize in a specific area. A total of 9 different CCNA topics are now available and you can choose the right area of expertise based on your future goals.
CCNA Cloud – The subject strongly focuses on cloud technologies, storage and Cisco cloud solutions. With cloud technology becoming prevalent, this is considered a valuable stream by many test takers.
CCNA Collaboration – Professionals working in the IP telephony, networking fields can opt for Collaboration which is a comprehensive course covering various technologies related to voice, data, video and mobile apps.
CCNA Cyber Ops – The certification when completed denotes a professional who is a cyber security expert capable of managing digital security of an organization.
CCNA Data Center – Topics covered in this particular test includes establishing a data center, designing the network, data management, maintaining equipment and hardware.
CCNA Industrial – The certification allows an individual to understand the networking and operations required to successfully run industrial establishments including oil, gas, electric and manufacturing sectors.
CCNA Routing & Switching – The core subject that Cisco focuses on – it's a must-have credential for all network engineers and is a basic test any network professional can take up.
CCNA Security – The individual who completes this CCNA Security program is certified to have ample knowledge in securing data, monitoring its availability, sharing and can help build a secure digital infrastructure for any type of industry.
CCNA Service Provider – The course is completed by individuals who work for hire as network engineers to help organizations as a service. In order to complete the course, they require exceptional skills and a strong hand in current trends in networking.
CCNA Wireless – All wireless networking technology related skills are certified when a professional completes this test successfully. They are responsible for configuring, monitoring signal strength and setting up secure wireless infrastructure.
What is the Cost to take up a CCNA Certification Exam?
Each CCNA Certification exam should be attempted individually. Cisco has a fixed CCNA exam cost of $295 per exam. The pricing may vary based on the region you live in, conversion rates and various other factors. It is wise to check the official website before you apply for the exam.
Where can I find free CCNA Study Guides?
Finding free CCNA study guides over the web is not as difficult as you might have thought. There are several resources and test service providers who would provide all the guides necessary free of cost.
While some of these guides are available online as downloadable links, on YouTube and through official guidance websites, you can also sign up for affordable programs offered by reputed institutes. Signing up for such courses help acquire the latest CCNA study guides as necessary for free of cost and professional support for trainers who have successfully completed the test of
Cisco Certifications
.
How to Prepare for the CCNA Certification Exam?
Before you take up a test, it is important to know that there is no minimum eligibility to take the test for a candidate. However, the
CCNA Routing and Switching
is the base for every other exam. It is considered much easier and will help you clear the more difficult exams.
With nine different specialization areas to choose from, the chances of clearing the exam depends on how well experienced you are in the area.
CCNA training courses and modules are essential to understand the syllabus better before attempting the test
Even an IT professional who has years of experience in the field should consider reading guides and understand the question pattern. It will help one qualify at the first attempt.
Take up many practice exams, it is the most recommended way. It helps hone your skills, deliver answers quickly and will prepare you to take up the final exam without feeling nervous.
The test is conducted for a total of 1000 points out of which you should score 825 to qualify.
At least, 30 minutes should be spent daily to read books as theoretical knowledge is essential to acquire your CCNA certification. If you find any of the subjects difficult, consider spending more time or join a credible training institute. Find free tests online and attempt them weekly.
Compared to many other professional certification programs, CCNA by Cisco is considered difficult because it requires the individual to possess ample practical as well as theoretical knowledge in their field of interest. However, when you dedicate yourself to understanding the concepts and follow a consistent study pattern, it is much easier to answer questions in the real test.
Besides, major companies around the globe are always looking for certified networking professionals to join their team. Be it a wireless networking engineer, security expert or a data center manager, diversified job roles provide an expansive career option. The job potential and career growth provided by a CCNA Certification truly justifies the time spent in preparing yourself for the exam.