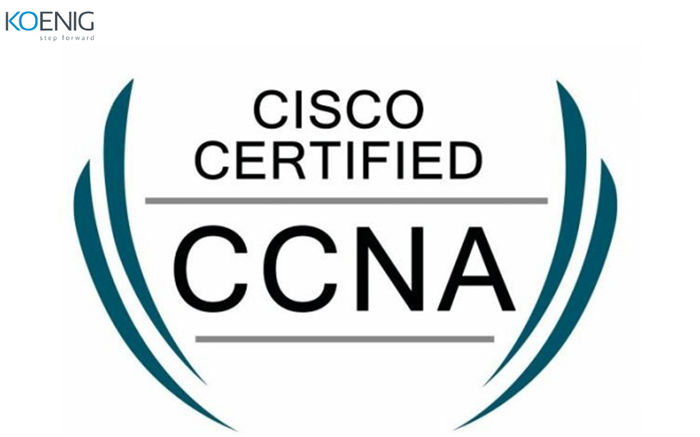 If you don't know what you are preparing for, it's harder to clear it successfully. The good thing about the Cisco CCNA exam is that there is sufficient information about it available in the public domain.
Cisco Certified Network Associate is an IT security credential that is among the most valued certifications across the world. It is a top associate-level credential for the IT networking domain and helps candidates to enhance their careers with better companies and higher salaries. A CCNA certification is proof that you are equipped for configuring, operating and troubleshooting networks that are routed and switched.
Things to Know About CCNA:
1. CCNA is Detailed.
The CCNA exam covers several topics and domains that are based on studies of TCP/IP and comprehensive protocols for routing using spanning trees. With such a diverse and comprehensive curriculum, these exams might seem impossible to clear. However, what you should do is focus on ICDN that covers the foundation of all Cisco CCNA exam types. It requires candidates to cover all of these topics in detail.
2. The Exam Will be Quick.
You will only get 90 minutes for the entire CCNA exam. In this time, you will need to answer 50 to 60 questions relating to multiple domains. No matter how well you have prepared, seeing so many questions in this short duration can easily overwhelm you. The key is to relax and remember what you have learned in training and during your work experience, as several questions relate to real-world problems.
You May Also Like: Top 7 Job Profiles You Can Go With after CCNA Certification
Create a Personal CCNA Exam Preparation Plan:
If you plan for something, you have a higher chance of success. That is true for anything, including your CCNA exam. It is imperative for success that you create a study plan that suits your personal requirements. You can derive great benefit even from a simple to-do list.
There are several factors to consider while making this study plan. This includes
When are you planning to take the exam? You will need to visit the website of Pearson VUE and make your account before you can find a location and time that suits your schedule. You will also find sufficient information about the exam on this page.

How much time will you put in? If you are employed or have other commitments, you will need to take extra care that you have dedicated enough time to your basics like covering all domains, using practice tests and reviewing simulations. Even if you can find about 15-20 minutes every day, which is enough for lab practice, you will get better results than putting aside one full day for studying every week.

Which training style works for you? There are different ways to prepare for an exam. Some people work better when they self-learn. Others might benefit more from a classroom environment, or even from an online training program to prepare while on the move. Examine using your past experiences which of these methods works for you and then choose your preparation style.

How familiar are you with the subject matter? Even experienced professionals find themselves struggling during a certification exam despite a strong knowledge base. Personal experiences can cut down your study time a bit, but what you need to do is consider factors like the logic of the questions and the length of the exam. Depending too much on your individual experience might not lead to success. You need to pay attention to the types of questions and also schedule your time.
Understand the Cisco CLI (Command Line Interface):
There are different ways for network device configuration, but CLI still remains an important part. The exam of Cisco certification include lab practice with Simlets. A certified Cisco professional must have a strong understanding of the fundamental investigative and configuration commands. In other words, you need to know the commands that carry out the following functions:
Checking the routing table and routing protocols
Examining interface settings
Viewing mac address tables
Verifying details of configuration
Practice Exams are the Key to Success:
If you want to get a feel of the exam environment before the exam, practice tests are a great way of achieving that. These tests also give you a good idea of how questions are structured in the actual test. Some candidates might choose to cover 5-10 questions now and then, but that is not enough. You need to complete several mock exams multiple times before the exam. This not only increases your chances of clearing the exam in one go but also increases your attention level, focus and resilience. You can find several question database resources on the internet for free. An effective question database doesn't just show you the right answer but also reasons why this is the right answer and the other options are wrong. This is a strong accompaniment for your preparation course.
Most exams have thousands of questions within their question banks. This means that, while mock tests give you an idea of the exam structure, they will not tell you the exact question. So don't spend time trying to memorise questions and answers from mock tests. Instead, use mock tests to find your strengths and weaknesses. It is a good way to discover which domains you have already covered and which skills still need a bit of work.
Also Read: Everything You Need to Know About Cisco CCNA Certification
Refresh your Understanding Before the Exam:
Solving problems and questions should be your sole focus during the last few weeks before your exam. Look for new questions and practice papers on public internet forums and several mock exam platforms that exist. You might have to do a bit of research for this. Refreshing your knowledge should come after you have completely understood the networking concepts that will be a part of your CCNA certification exam.
Get Practical Experience:
Clearing the CCNA entrance exam requires both practical and theoretical knowledge. While preparing, learn how to apply theoretical understanding to real-world networking and troubleshooting problems. For instance, knowing that IP is not reliable is generic information, but you need to know about troubleshooting for alternative communication between the IP nodes.
With a CCNA certification, you pave the way for networking success across the world. This credential will prove your credibility in the market as an expert in networking. It validates your expertise and knowledge as higher than that of your non-certified colleagues.