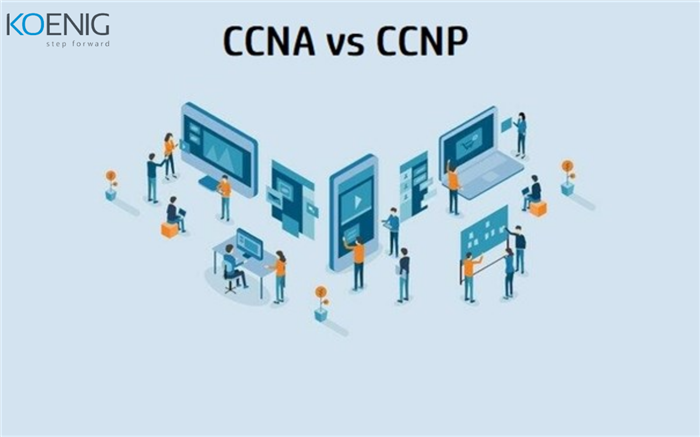 There is a growing buzz around the internet, networks and the security threats they face. As a computer security and networking professional, you can have a positive impact on several different industries. Your job will entail helping and protecting the private data of your customers and fellow employees. You are also in charge of helping manage networks in a manner that users can remain safe and carefree about the data they have put on the internet.
If you wish to enter the IT industry or any related fields that work towards providing support and security to digital networks, there are two important certification courses you can choose from. These are:
CCNA - Cisco Certified Network Associate

CCNP - Cisco Certified Network Professional
Both of these certifications enhance your chances of advancing and making a future-proof career in the networking and security sector. But which one should you choose? Let's analyse CCNA vs CCNP and understand which course fits better into your career plan.
Cisco Certification Levels:
First, let's take a look at all of the credentials that Cisco offers and the various professional levels they fall under.
Entry-level Cisco certifications:
Cisco Certified Technician or CCT

Cisco Certified Entry Networking Technician or CCENT
Architect level Cisco Certifications:
Cisco Certified Network Associate or CCNA

Cisco Certified Network Professional or CCNP
Associate level Cisco certifications:
Cisco Certified Design Associate or CCDA
Professional level Cisco Certifications:
Cisco Certified Design Professional or CCDP

Cisco Certified Network Professional or CCNP
You May Also Like: How Hard is the Cisco CCNA
Expert Level Certifications:
Cisco Certified Internetwork Expert or CCIE

Cisco Certified Design Expert or CCDE
You might have noticed that some certifications are present in two different levels of certification. This is because these certifications test multiple skills that are useful at various points in your career.
Everything You Should Know About CCNA:
The CCNA or Cisco Certified Network Associate certification is one of the most widely renowned credentials for a career in networking. A CCNA professional can demonstrate the skills for installing, configuring, operating, handling and troubleshooting networks that are switched and routed. You can earn a CCNA certification in eight key domains. These are
Collaboration

Cloud

Data Centre

Routing and Switching

Industrial

Security

Wireless

Service Provider
CCNA is a networking-specific technical course offered by Cisco for professionals working in the domain of network security. In the five program and certification levels that Cisco offers, CCNA falls in the second tier. This certification course emphasises on networks that need to be routed and switched. It trains you in the planning, employing and holding of security measures in networking devices. CCNA covers all the parts of an enterprise's networking, which includes IP addresses, LAN switching and routing, among others.
Advantages of a CCNA Certification:
Candidates with a CCNA certification have higher chances of getting stable and reputed job roles in leading IT firms.

This certification validates your skills and expertise when it comes to independent media and smaller organisations working on less complex networks.

Salary prospects widen and jump higher for CCNA certified professionals.

You become an all-around expert on engineering with this certification.
Everything You Should Know About CCNP:
The CCNP or Cisco Certified Network Professional certification validates that the holder is a professional working with LAN (local area network) or WAN (wide area network) infrastructure. Getting this certification equips you with the skills needed for planning, executing, validating and troubleshooting these networks. There are several domains within the CCNP course, including Data Centre, Routing and Switching and Security.
Advantages of a CCNP Certification:
There is a huge labour shortage when it comes to CCNP professionals. The remuneration is also great due to the high demand.

A CCNP certification validates your skills as a networking professional.

It helps you in keeping up with the technology and networking trends in the market.

This credential is highly valued on your resume.

You have the foundation needed for more advanced Cisco certifications.

This skill is recognised across the world and allows you to work beyond geographical boundaries.
Additional Read: CCNP Collaboration Certification- Important Things for You to Know
Difference Between CCNA and CCNP:
On the one hand, CCNA is a certification at the associate level testing an individual's skills and technical expertise on the fundamentals of routing and switching. On the other, the CCNP certification is more advanced and provides a deeper understanding. You need a strong understanding of LANs, WANs and related concepts that function in conjunction.
As mentioned before, the CCNP credential falls under the third level in the context of the different certification levels that Cisco offers.

Judging by the certifications earned, CCNP is generally seen as a more advanced certification that tests a candidate's deeper understanding of the security and networking concepts that exist in a given network. It requires a more intense study of these concepts as compared to the more fundamental certifications.

Through the information given above, you can see that a CCNA certification exam can be attempted without any formal prerequisites. However, if you wish to earn the CCNP credential at some point in your career later, you need a CCNA certification to your name as well as a CCIE certification.

Earning a CCNA certification requires you to clear two exams, based on the program's subjects. On the other hand, earning a CCNP certification requires you to clear at least four certification exams.
Career Difference with CCNA vs CCNP:
When you complete either of the CCNA or CCNP certifications, it translates to separate career opportunities and paths. With a CCNA certification, you are fully equipped for junior roles in the industry, such as Helpdesk Engineer, Network Support Engineer, Network Technician, First/ Second Line Support Engineer etc.
If you earn a CCNP certification besides your CCNA certification, it boosts your career and gives you opportunities to explore higher job roles such as Systems Engineer, Third Line Support, Network Specialist etc.
Once you've earned a CCNA certification, you can aim for the CCNP credential and expand your opportunities, job roles and salary prospects. There are several CCNP and CCNA courses you can enrol in online. Koenig gives you several course options to choose from so that you can have a successful IT networking career. Give your career the boost it deserves and enrol in an online networking certification course today.