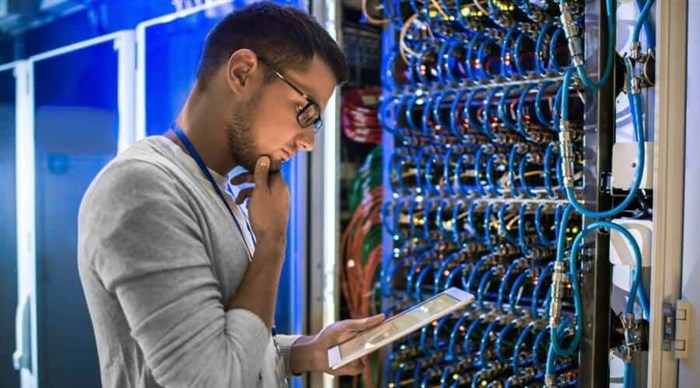 Today, most business organizations depend on a comprehensive computer network and series of devices for their day-to-day operations. A network administrator is an information system professional responsible for designing, building, and maintaining enterprise-level computer networks. Understanding what a network administrator is can help you work towards building a career in this domain. To start your journey, make sure you understand everything involved in a network administrator career.
What is a Network Administrator?
Network administrators manage computer networks and related tech at the enterprise level. A network admin is responsible for ensuring devices like computers and tablets in the network are functioning optimally, and the network is running smoothly. They are also in charge of network security. They use their experience and expertise to create networks and allow smooth communication between computers and devices in those networks. This increases efficiency within teams and allows other members to perform tasks more productively.
Information technology and computer system jobs are growing significantly. According to the Bureau of Labor Statistics in the US, these roles have a 12% projected growth rate between 2018 and 2028. One of the most in-demand roles that require IT and computer skills is the network administrator role.
Since the demand for IT sector jobs is increasing exponentially, network administrators often play a lucrative and secure role within the organization. They can operate in a wide spectrum of domains like hospitality, retail, health care, and finance, among others. Today, most medium and large businesses require network administrators, no matter the nature of their products or services. Sometimes, small companies integrate this role with system administrators and other IT roles.
What Do Network Administrators Do?
According to Computer Science, an organization providing data on careers and programs related to computer science, a network administrator designs, manages, and maintains technological networks. This professional works with government offices and private enterprises to supervise LANs (local area networks), WANs (wide area networks), and network segments, among other data communication systems, as required. Some of the key responsibilities of a network administrator are listed below:
Configuring and maintaining the enterprise's internal network of computer systems
Managing firewalls, intrusion detection, and antivirus systems along with other network security protocols
dentifying, troubleshooting, solving, and documenting performance issues and network connectivity
Installing and supporting hard-line phones and various telecom devices within a network
Monitoring network performance, optimizing network speed, and connection availability
Installing, configuring, and maintaining network hardware
Deploying, configuring, and upgrading network software like diagnostic programs and enterprise antivirus solutions
Implementing and maintaining an emergency backup, restoring computer systems for network servers that are mission-critical
Regulating user access to sensitive data and files and protecting systems against breaches
Supporting end-user desktop systems and users and maintaining all servers and network devices (this responsibility is specific to small businesses)
You May Also Like: What is a Network Administrator? A Career Guide
Skills Required for Network Administrators:
Network administrators play a fundamental role in any organization. They require a high level of understanding and skills in various technological areas. Some of the fundamental skills a network administrator must have are:
Understanding at least one coding language
Problem-solving skills
Critical thinking skills
Analytical skills
Communication skills
Understanding servers and networks
Repairing and maintaining servers and networks
Attention to detail
Multi-tasking
Understanding computer networks and systems
Experience with several network types
Computer Network Administrator Salary:
According to the Bureau of Labor Statistics, in the United States, the average salary of a computer network administrator is $85,000 per annum.
take a look at the average salaries of job roles that require networking training in the it industry:
- Cisco network administrator - $80,000 per annum
- Cisco network engineer - $88,000 per annum
- cisco ccie network engineer - $114,000 per annum
- Cisco network architect - $109,000
- Computer support specialist - $56,000 per annum
- Network designer - $81,000 per annum
- Network manager - $77,000 per annum
- Network engineer - $86,000 per annum
- Network maintenance specialist - $90,000 per annum
- Network security administrator - $89,000 per annum
- Network architect - $105,000 per annum
How Can You Become a Network Administrator:
To become a network admin means acquiring the right mix of knowledge and experience. There are several areas of your career path that you can choose to modify. However, there is a structure you need to follow that remains the same for nearly every role.
1. Choose your area of specialization.
Network administrators can choose from a range of technologies and domains to focus on. Some of the most rewarding options are:
- System analysis
- Software development
- Data analysis
- System security
If you focus on a singular area, you can become a skilled administrator with a defined area of expertise. You can also get a better direction for your career at the beginning itself. This will help you choose internships or training programs that are relevant to your domain.
2. Earn an undergraduate degree:
Some hiring organizations require at least an associate degree as their minimum educational qualification for network administrators. But most employers feel that candidates with an undergraduate degree have a stronger foundation in the domain. As an aspiring network professional, you can also explore other technology and data system degrees that will help you along your professional journey and area of focus. Some of the key areas of study for network administration aspirants are:
Computer science
Network administration
Network management
Information technology
Software engineering
Also Read: Networking Basics: Steps to Know Why Networking Is Important to Your Success
3. Finish an internship:
An internship is an effective path toward gaining relevant career experience. When you complete an internship, you get hands-on experience and a more practical understanding of technology and information systems. If you complete an internship while studying, your resume stands out among all the other freshers who don't have any experience. Several internships also term into permanent job roles and opportunities. You also get exposed to more experienced professionals, which can help you understand key aspects of the role. This can help you improve your fundamental skills in the workplace.
4. Get on-the-job training:
If you don't get an internship, it's not the end of the world. You can easily get a network administrator job without any previous experience. If you get an entry-level position in any IT department, you will get the expected level of experience that most employers want. It also gives you a chance to learn about the domain and industry from your co-workers.
If you do secure an entry-level position, see if you can get to lead an operation or project. You will end up with real-world leadership experience that will spruce up your resume. It also indicates to your hiring managers that you are ambitious and will improve your chances of a higher starting salary.
5. Create your network:
You have a greater chance of securing good jobs and projects if you build a network of information system professionals. This will also help you pick up new skills, get insider tips and scale up your career fast. A professional in your network is more likely to help you with advice and job opportunities than a stranger or a hiring manager you are interacting with for the first time.
Get on networking platforms and groups that focus on IT or professional growth and start building your network.
Now you know the scope, salary, and steps in the journey of a network administrator. The next step is to enroll in your focus area of choice and start training today.