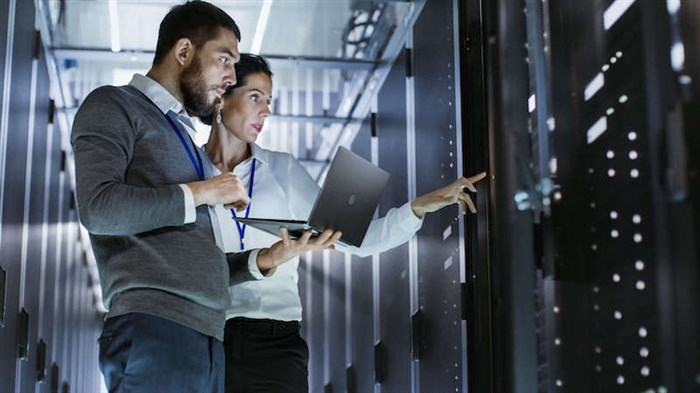 Like most other subjects and skills, networking skills require dedication and time. Computer networking makes up the foundation of almost every enterprise across industries today. It's a pretty specific skill, and you can follow three steps to upgrade yours. The steps to learning networking are as follows:
Know every component within a network.
Explore and choose one networking domain role.
Expand your horizons with the proper certification course.
Step 1: Know Every Component Within a Network:
Like all other skills, you first need to know its fundamental intricacies. Hence, it is best to take the first step and learn about each component in a network and understand how they function together. Multiple essential parts are part of the network, including:
Access points
Clients
IP addresses
Routers and firewalls
Servers
Switches
How do Components of a Network Work Together?
Let's start with access points and switches. They connect 'clients' or devices within a network and enable them to communicate with each other. Every client is assigned a numbered signature which is called an IP address. IP addresses indicate a client device's location and identify it to be a part of the network.
A server hosts and transfers the information as applications, web content, and files to the clients within a network. The IP address of each device is used to get directions.
A router controls data flow from the server to the clients as well as external networks. A firewall helps protect networks from unauthorised messages and users.
Let's take a look at each of these components in detail.
Switches:
A switch is a piece of hardware used to connect one device to another within a network. It allows data and information to be shared between printers, PCs, servers and mobile devices, among others, efficiently and quickly. Devices are connected to a switch using cables.
Switches are of two types - unmanaged and managed.
An unmanaged switch is generally used in home networks. You can plug devices into an unmanaged switch and instantly create a network.
A managed switch is designed for larger networks. They can be configured to prioritise LAN (local area network) traffic and provide higher network security.
But whether you use unmanaged or managed switches, one common thing is their purpose - enabling communication across devices by creating a pool of shared resources.
Access points:
Access points are hardware devices that help connect a wifi-enabled device to networks without using any cables. An access point can be connected using an ethernet cable or integrated with a router. It is generally used in networks with multiple devices, such as a school, office or coffee shop network. Access points are also called hotspots and allow users to connect to networks using any device as long as they are within a fixed geographic radius.
Servers:
Servers can be defined as high-power machines that dispatch data among devices within a network. Servers are of many types, including FTP servers, identity servers, web servers and email servers.
File Transfer Protocol (FTP) servers allow you to copy and move files remotely from device to device within a network.
An identity server is a database that stores the credentials of the users in a network. It allows IT teams and departments to authorise and authenticate access to the network.
A web server transfers data to clients or devices using web browsers such as Safari, Firefox and Chrome. It delivers files and web pages stored on the cloud to PCs, mobile phones and other connected devices.
Email platforms like Outlook and Gmail receive and send messages using email servers.
Clients:
A client can be any computer application or hardware within a network that asks a server for data. The relationship between a server and a client is what makes networks function. Some of the most common network clients that businesses use are laptops, desktops, phones, tablets and AI devices.
IP addresses:
An IP address is a unique code of identification that network devices use to instruct the server about where the data needs to be sent. Devices need to have an IP address to build and hold a connection with other devices. An IP address can either be private or public.
Private IP addresses identify devices in a network but are visible to only your network.
Public IP addresses identify a network to external networks and devices too.
Internet carriers generally assign your network router a public IP address. Meanwhile, user devices are given a private IP address. If a client beyond your network wishes to send data to a device in your network, it can transfer the data using the public IP address your router has. From here, the router uses the private IP address of a device and sends this data to it.
Routers and firewalls:
A router functions as a network's gateway, allowing every networked computer to use an internet connection. A router analyses incoming data within your network and instructs it on where it should go. Routers can be customised with extra security features that protect networks against cyberattacks. One such security feature is called a firewall.
Firewalls provide a foundational level of security to your network. They scan outgoing and incoming network traffic to decide if it should be allowed or blocked. Firewalls can be configured to disallow or allow specific device types or types of traffic.
Step 2: Explore and choose one networking domain role:
This step is more straightforward than the other two. However, it is vital for the launch of your networking career. There are several roles and titles within the field of networking that you can choose from, including:
Network analyst
Network specialist
Network technician
Network manager
Network administrator
Network solutions architect
Network engineer
You can always go beyond just this role and choose a specialisation no matter which one you choose. These could be:
Cloud networking
Data centre networking
Network security
Mobility solutions
Networking R&D
Networking project managing
Wireless networking
One of the most important job roles in the networking industry is that of a Network Solutions Architect. It is a senior job role within the IT industry and sits one step higher than a Network Engineer.
Network architects are in charge of an enterprise's networking strategy in the long run. They analyse problems within computer networks that affect daily operations and strategise roadmaps for the next 3-5 years to improve network performance. Besides designing solutions for networks, an architect should have the skills to budget, plan, model, and track performance.
Step 3: Expand Your Horizons With the Right Certification Course:
After learning about networks, the last step in this list is to prepare the right way for the networking role that you've chosen. The way to start this is by taking an intermediate or beginner-level certification and training course, depending on your experience so far. There are three certification courses that every networking professional should aim at earning in the beginning.
CCENT (Cisco Certified Entry Networking Technician)
CCNA (Cisco Certified Network Associate) Routing and Switching
CompTIA Network+
CCENT (Cisco Certified Entry Networking Technician):
The Cisco Certified Entry Networking Technician certification course is a proven successful start to scalable networking careers. In a training course for the CCENT credential, you will learn about installing essential components and operating and troubleshooting a network. You will also be prepared for setting up basic network security. Some major topics you'll cover in these courses are:
Firewall setups
Fundamental switching and routing
Wireless controlling and access points
Network functioning and interactions
Fundamental network security
There are no prerequisites for this certification. Anyone can appear for the exam after paying the fee.
Cisco provides the CCNA credential to test your knowledge and technical know-how regarding the core network technologies within routing and switching. The CCNA R&S certification exam tests your skills on:
Installing, configuring, operating and troubleshooting networks
QoS elements
Core understanding of routing and switching
Advanced technologies involved in routing and switching
Types and tools of controllers supporting network architecture
Cloud and virtualised services
Similar to the CCENT, the CCNA certification exam also has no prerequisites.
CompTIA Network+:
This certification requires you to show expertise when it comes to troubleshooting, configuring and managing networks. The certification exam for the CompTIA Network+ certification tests several skills, including:
Network designing and implementing
Routing and switching
Device maintenance, management and configuration
Identifying network configurations - their strengths and weaknesses
Creating virtual networks
Implementing network security protocols and standards
The CompTIA Network+ credential also has no prerequisites officially. However, networking professionals and Cisco recommend that you get a CompTIA A+ certification and a minimum networking experience of 9-12 months.
Now that you know what you need to do to learn networking, it's time to give your career a boost and enrol in a training course on Koenig today.