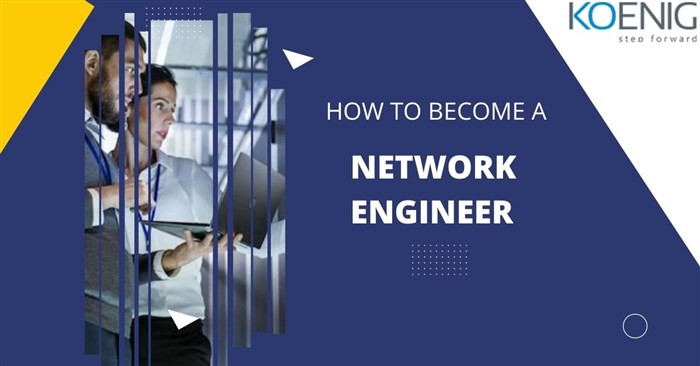 Digital transformation in business environments is at an all-time high and multiplying. With a rising dependence on digital environments, enterprises are paying more attention to internal network conditions and health. Today, a significant chunk of business functions or operations require a network to function, either a LAN or WLAN. When issues occur in these networks, it obstructs the working of all the users and negatively impacts productivity.
For instance, businesses today depend on VoIP for internal and client communication. When a network issue comes up, it could lead to loss of potential leads, obstruct productivity, and affect sales and profitability.
This is where network engineers come in. They are hired to oversee all network interactions and incidents. A network engineer ensures that all network specifications are aligned with a business's objectives. Before learning how to become a network engineer, you need to know what a network engineer does.
What is a Network Engineer?
Also known as a network architect, a network engineer is responsible for planning, constructing, and managing networks to ensure they are optimised and function as required. By taking on the role of a network engineer, you are responsible for an organisation's foundational IT systems and infrastructure.
A network technician or IT administrator assists an enterprise with troubleshooting or daily IT tasks, but a network engineer is charged with more high-level challenges like designing or improving networks and performance. Based on the industry or organisation you work in, you will create and implement wireless and physical networks, troubleshoot issues, and research and integrate new network technologies.
Some of the leading responsibilities you will have as a network engineer are:
Designing and creating computer networks for multiple organisations.
Implementing new hardware or software.
Updating and maintaining systems and networks.
Installing all equipment necessary for distributed networks, which includes servers or routers.
Managing firewalls, data storage practices, virus protection solutions, and other security systems.
Troubleshooting as and when required.
Optimising services by collaborating with software providers and vendors.
Providing technical expertise for department and business leaders.
Ensuring the network specs match the business requirements.
A network engineer role is not an entry-level job role. If you hold this certification, you are also responsible for managing members of other IT teams too. As a result, a network engineer requires technical knowledge and soft skills such as team management, communication skills, collaboration, patience, and collaboration. This will serve them well as they navigate workplace relationships and daily operations.
Network Engineer Salary
One of the primary reasons IT professionals choose to get a professional certification is to enhance their earning opportunities. How much does a network engineer make with a network engineer certification will depend on various factors, such as the industry you choose, your past work experience, your location, and the number of certifications you have.
If you understand what network engineering is, you know that you are not limited to a single type of business organisation or industry. You can be a part of a wide range of organisations and industries like finance, legal, enterprise, education, automotive, and many more. You also embody the perfect blend of network and IT experience, certifications, training, education, and problem-solving capabilities.
According to the US Bureau of Labour Statistics data, a network architect earns an average salary of about $116,780 per annum. A network or system administrator can earn an average of $84,810 per annum. Another report by Indeed shows a network engineer can earn about $85,031 per annum in the United States.
Choosing the Right Network Engineering Certification:
There is a wide range of networking certifications in the market today provided by reputed vendors such as Juniper, CISCO, and more. Earning a network engineer professional certification helps boost your confidence and exposure to the industry environment. Even enterprises today are more likely to hire a candidate with one or more credentials to their name.
Some of the most popular professional networking certifications today are provided by:
1. CISCO: Cisco is one of the world's leading companies for software and hardware networking. It provides several levels of certifications for networking professionals, which are recognized and acknowledged across the globe. This includes the CCNA (Cisco Certified Network Associate), CCNP (Cisco Certified Network Professional), and CCIE (Cisco Certified Internetwork Expert).
2. Juniper: Juniper Networks Company provides a wide range of certifications for IT professionals specialising in networking. These are at the associate level (JNCIA), specialist level (JNCIS), professional level (JNCIP), and expert level (JNCIE).
3. CompTIA: CompTIA is short for Computing Technology Industry Association, a global organisation that provides networking certifications in four key domains - Core, Infrastructure, Cyber Security, and Additional Professional certifications.
4. Wireshark: Wireshark is another leading networking company today that provides the WCNA (Wireshark Certified Network Analyst) certification for networking professionals. This training program focuses on the analysis of protocols for troubleshooting, security, and optimization. It covers a wide range of domains like TCP/IP Network Communications, Wireshark Functionality, Network Security, and Troubleshooting.
5 Steps How to Become a Network Engineer
There are several steps you must take if you wish to make a career in network engineering. A few strategic steps you should take are:
1. Train in a relevant IT domain:
Some companies hiring network engineers might require applicants to hold a minimum qualification of a Bachelor's degree in any related domain. Sometimes though, all it takes is an associate degree. Fields of study relevant to network engineering are information systems, IT, computer engineering, and computer science, among others. Some schools also provide programs specific to network engineering. However, you can start by earning a networking fundamentals certification and work your way up.
2. Look at ads and posts for jobs:
To get a real-world picture of the skills and qualifications required to take up the role of a network engineer jobs, browse through the job postings available today. Platforms like LinkedIn provide job postings with precise specifications and job descriptions that outline what businesses are looking for in a network engineer.
3. Enter the industry at the bottom level:
A network engineering role generally needs between 5 and 10 years of work experience in computer-related roles. After you get your degree, start looking at entry-level positions such as system administrator, network technician, computer network analyst, network administrator, and other titles. This will help you foray into the networking industry and work your way up.
4. Talk to experts and industry veterans:
It helps to have a mentor in the industry to help you advance your career the right way. With Koenig, you get the opportunity to train with the best in the industry both in a classroom and through one-on-one sessions.
5. Choose the right certification paths:
There is a wide range of IT certifications that you can choose from. They look lucrative to hiring managers on your resume and open new doors for you. However, it's important to choose certifications and training programs that will benefit your career path and goals.
Some popular certifications for network engineers are:
Now that you know how to become a network engineer, it's time to take the first step and enrol in a training program to prepare for the qualifying exam. Take your career to the next level by earning a network engineer certification from Koenig and enrol in a course today.