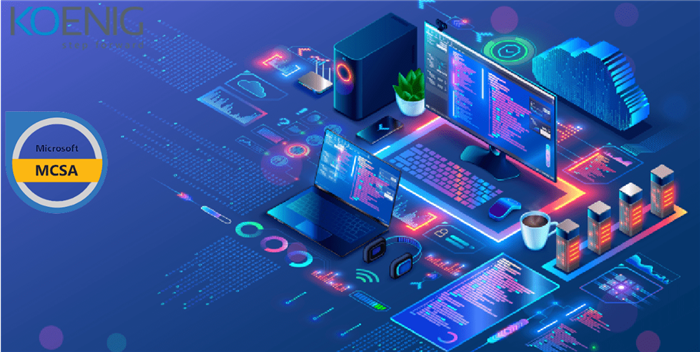 Microsoft Certified Solutions Associate or MCSA is a certification offered by Microsoft that can open new paths in your career. The knowledge you acquire after taking the certification enables you to work with Windows and server related products.
According to the area of expertise, professionals can choose whichever MCSA training certification they like including MCSA: Windows 8.1, MCSA: Windows Server 2016, MCSA Cloud Platform, MCSA SQL Database Administrator 2016 etc. Each of these certifications is preceded by a training program which equips you with specific skills related to the respective area. Given below are some of the jobs you could pursue as a MCSA certified professional.
Also Read: What is the Certification Replacement for the Microsoft MCSE, MCSA & MCSD?
Career Opportunities After MCSA Certification
Network Administrator: Network administrators install and manage the networks and computers in a company so that there is effective information flow. They perform tasks like troubleshooting network issues, implementing and maintaining network hardware and software and ensure the availability and security of network. They also make certain to adhere to performance standards.

Systems Administrator: A sysadmin or a systems administrator is a person who upkeeps and configures the computer systems in an organization and ensures their reliable operation. These systems could be multi-user computers like servers. He makes sure that the resources; performance and security of the computers he is managing meet the requirements of the users and do not exceed the budget. For this, he installs or upgrades computer components, maintains security policies and troubleshoots when a problem arises.

Computer network specialist: A computer network specialist is a person who installs, secures, inspects and troubleshoot computers that are networked in an organization. He has duties like operating a help desk and monitoring internal and external threats. He has to have good knowledge in network management to take up the job.

SQL Database administrator: An SQL database administrator requires in-depth understanding of SQL server's capabilities and corresponding technical knowledge. He should know how to leverage database technology to handle the challenges and business opportunities faced by the company. He works with IT operations and application development so as to meet the business objectives. He should also ensure the reliability of the organization's databases.

Cloud Architect: The professional who supervises a company's cloud computing strategies is known as a cloud architect. The strategies include cloud application design, cloud adoption plans, cloud management and monitoring. He takes care of application deployment in cloud environments like private cloud, public cloud and hybrid cloud. He is also a consultant to the organization who has up-to-date knowledge of the latest trends.

Cloud Administrator: A cloud administrator works in a mixed Windows and Linux virtual environment. He manages multiple cloud server instances and cloud infrastructure services. He configures and fine tunes cloud infrastructure systems and supports cloud servers including patching, security configurations and troubleshooting.
Also Read: MCSA Certified Professional - Interview Questions and Answers
Thus, taking MCSA certification is very beneficial for IT professionals who are keen to update their knowledge and go a step higher. In course of the Microsoft Certification, you will also get ample opportunities for hands-on sessions which prepare you for your future jobs.