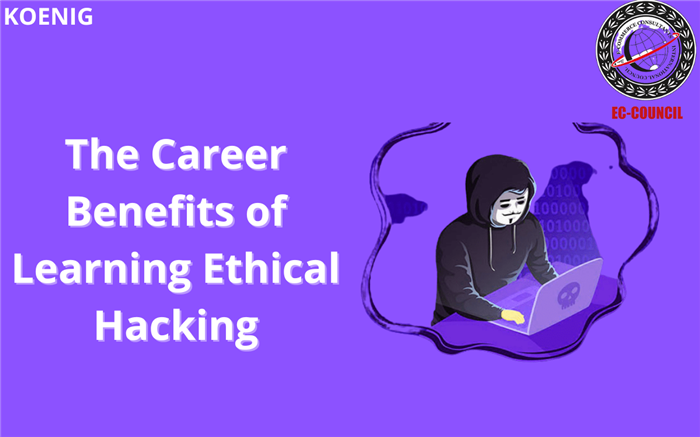 Since the breakout of the COVID-19 pandemic, organisations around the world have exponentially picked up the pace in their digital transformation journey. Enterprises around the world are offering remote services, virtual interactive experiences and increased touchpoints for audiences.
More digital experiences mean more data. In today's digital-forward world, data is one of the most valuable assets for any organisation. As the amount of data collected every day increases, there are a growing number of cyber attacks, with malicious third-party hackers trying to steal data from organisations.
According to one survey, Indian business firms lost more than $4 billion in 2013 due to hacking and cyber attacks. In the US, an estimate says that one malicious attack occurs every 39 seconds. With evolution and advancements in technology, the number of attacks is only going to increase.
More enterprises are realising the value and benefit of the
CEH certification
for a career in ethical hacking. The Certified Ethical Hacker credential tests an applicant's skills based on procedures and techniques used by network security professionals within enterprises. This certification also provides you with hands-on work experience and gives a working knowledge of the various responses to malicious cyber threats.
CEH is a globally recognised certification and among the most comprehensive ones in existence. If you're looking to give your career a boost or a new direction, or if you want to advance your cyber security career, the CEH certification is one of the best options out there. You can easily get a high-paying job and a leading position in the IT sector with this certification.
Many network and information security positions demand CEH as a prerequisite for landing a job. But what makes this credential so valuable?
The Need for CEH:
CEH trains candidates to make them proficient in procedures covered under five phases. Each of these phases sets measurable metrics to point out vulnerabilities in existing security infrastructure. It is the only global certification to train you in all five phases.
CEH is used as a part of the practice given for in-progress network assessments, penetration testing and other techniques of risk assessment.
As technology evolves and new technology enters the market, the risk of cyber crime is also on the rise. Malicious hackers are regularly updating their skills to keep up with the advancements in network security. Therefore, organisations need ethical hackers who can come up with strategies to ward off these growing security threats before they strike.
Data science is a fundamental part of every enterprise and business across the world today. Therefore, a strong system for information and data asset protection is a must.
Every organisation today, regardless of threat, recognises the threat that cyber attacks pose. They consistently learn and update their security systems to keep their data safe.
With the increased demand for ethical hackers, job opportunities for information security professionals have shot up. As data continues to scale in application and quantity, the network and information security industry will continue to grow in the years to come.
Types of Hackers:
Hackers can be categorised into three groups.
White Hat Hackers
Ethical hackers charged with identifying security flaws, vulnerabilities in hardware and software and spot operational inefficiencies are called white hat hackers. These hackers need to take permission from the respective organisation before carrying out any exercise in testing vulnerabilities.
Black Hat Hackers
Third-party hackers who enter into systems without authorisation with the intent to commit theft or fraud of any sort are known as black hat hackers. They are cyber criminals who compromise or rob a system to create panic or derive monetary gain. There have been many instances when black hat hackers have blocked out entire programs and demanded ransoms to get them operational again.
Grey Hat Hackers
These hackers function on both sides of the law, performing both white hat and black hat activities. On the one hand, they exploit security vulnerabilities and enter networks without authorisation for personal gain. But they also enter into contracts with organisations looking to upgrade their security systems.
Who is the CEH Aimed Towards?
Every certification training program is designed for a specific target audience. This is also true for CEH. Anyone interested in ethical hacking as a career can pursue this certification, especially if you played the following roles:
Information Security (InfoSec) Administrator/ Analyst
InfoSec Officer
InfoSec Specialist/ Manager
InfoSec Security Engineer
InfoSec Professional
Information Technology (IT) Auditor
Risk analyst/ Threat analyst/ Vulnerability analyst
System administrator
Network administrator
Network engineer
After completing your certification, there are several job roles you can apply for. This includes
Cyber security auditor
Information technology security administrator
Information assurance security auditor (mid-level)
Systems security administrator
Cyber defence/ vulnerability assessment analyst
Warning analyst
InfoSec analyst
InfoSec Security analyst
Cyber security analyst
Network security engineer
Ethical hacker (manual)
SOC Analyst
Network Engineering
Security Consultant (senior)
InfoSec Manager
Penetration Tester (junior)
Solutions Architect
Cyber security consultant
Cybersecurity and Technology Risk Auditor
Security compliance analyst
About the CEH Certification and Exam
The
EC-Council
oversees the CEH certification exams and training that hones your penetration testing skills and strengthens your fundamental concepts. According to the EC-Council, the goal of the CEH certification is to validate a professional's expertise and skills in the domain of ethical hacking and network security that is relevant across the global industry.
Exam format:
The exam for a CEH certification is carried out in a pre-specified format. There is a maximum of 125 multiple-choice questions (MCQs) and candidates get about four hours to answer them all. To pass, you require a score of 60-85%. The EC-Council has also made it compulsory for applicants to either have two years of relevant and documented work experience or complete the training given by the EC-Council. Without meeting either of these prerequisites, you cannot apply for the CEH certification exam.
Key Skills Tested in CEH:
Ethical hacking includes five large phases which are also the key areas tested through the certification exam. These are:
Reconnaissance
Enumeration
Gaining access
Maintaining Access
Covering Tracks
Main Domains You'll Study under Ethical Hacking:
As mentioned before, there are 5 phases covered under the CEH certification.
Domain 1:
As a background study, the first phase aims to teach you about
Information security threats and technologies
Network technology
Communication technology
Attack vectors
This domain takes up 21.79% of your score.
Domain 2:
The analysis and assessment domain holds 12.73% of weightage. It aims to teach you about
InfoSec assessment
InfoSec analysis
InfoSec assessment processes
Domain 3:
This domain deals with security. It has a weightage of 23.73% and covers
InfoSec controls
InfoSec attack detection
InfoSec attack prevention
Domain 4:
This domain deals with programs, systems and tools. It teaches you about
InfoSec tools
InfoSec systems
InfoSec programs
The systems domain accounts for 28.91% of your score.
This domain deals with procedures and methodology and covers 8.77% of the exam. It covers topics like
InfoSec processes
InfoSec assessment methodologies
In addition to these 5 domains, the exam also covers regulation and policy as well as industry and professional ethics.
Benefits of a Career in Ethical Hacking:
1. Thinking like a hacker:
To win over an opponent, you must learn to think like your opponent. An
ethical hacker certification
will help you understand the thought process of a hacker and also help you mimic and counter their actions. You learn to thwart malicious third-party attacks much faster than a layman or uncertified professional.
2. Advanced InfoSec career pathway:
Once you are clear about the basics of network security, you are ready to apply for the CEH exam. This certification will help you to significantly expand your career option and grow your knowledge base and skill set.
3. A higher payscale:
As stated before, CEH as a training and certification program is recognised globally throughout the IT industry. Once you earn this credential you can open up new avenues with job opportunities that pay much more than before. You will also be eligible to apply for jobs in other countries. An average CEH professional earns close to $70,780 per annum, a figure that is set to grow dramatically in the years to come.
4. More knowledge about network and information threats, vulnerabilities and risks
As technology gets more advanced, threats do too. Cyber criminals keep updating their hacking skills to stay ahead of changing technology. As soon as a new technology is released, they quickly teach themselves to recognise weak points and vulnerabilities. To find these vulnerabilities and identify threats beforehand, you are also required to keep learning and updating your skills.
5. It's useful for other roles as well
A CEH certification is an important credential for penetration testers, but it is beneficial for other professionals as well. Network professionals and IT security experts can benefit greatly from getting a CEH certification.
Take the Next Step Today:
If you meet the prerequisites mentioned in this article and wish to apply for the CEH certification, you must enroll in an online training program that will help you find a career path to progress along. Take the step and enroll today.