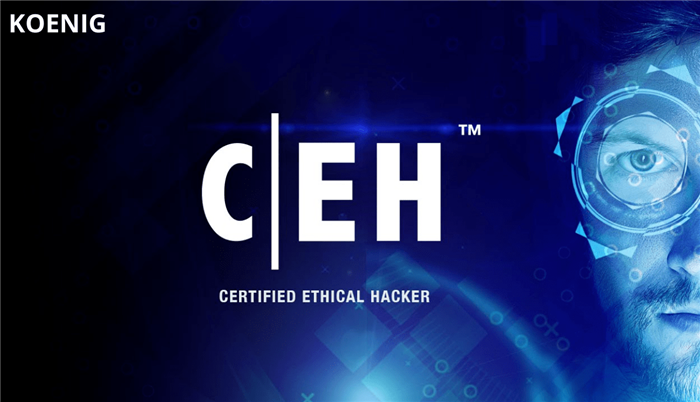 In today's digitized world, anything and everything is online. Businesses and consumers have evolved over the years, and now some of the major products, services, and the financial transaction happens online. This over dependency on online platforms has also given rise to an increase in cybersecurity breaches for major companies resulting in data loss, revenue loss, and overall depreciation of brand value in today's competitive market.
According to the University of Maryland report, Hackers attack every 39 seconds, which is, on average, 2244 times a day. That is simply astonishing, considering the amount of ransomware and malware attacks happening on a daily basis. And with a simple password and non-secure usernames, you are ensuring hackers are winning pretty easily.
What is Certified Ethical Hacker (CEH)?
A Certified Ethical Hacker (CEH) is a certification training provided by EC Council for professionals and enterprise teams worldwide. This Certified Ethical Hacker certification training (CEH V11) is one of the widely-recognized Ethical Hacking Certification training that validates an individual's proficiency in creating robust network security to mitigate malicious hacking attacks by creating a thorough pre-emptive countermeasure.
Before going into what is Certified Ethical Hacker training, we need to understand what is Ethical Hacking in the first place. So, let's get started.
What is Ethical Hacking?
In a way, Ethical Hacking is also known as Penetration Testing, which means Ethical Hackers are given permission by the enterprise to break into their systems to check their defenses. An Ethical Hacker is a professional who identifies vulnerabilities for an enterprise with their permission. Ethical Hackers help companies to identify system vulnerabilities and close them before an attacker finds it. It's a win-win situation for companies, as Ethical Hackers are getting paid to hack into their systems, and if there are no vulnerabilities, then the system is fool-proof, which cannot be hacked.
Who can be an Ethical hacker, and what do they do?
Any professional who has fundamental knowledge in programming languages and networking will benefit a lot to become an Ethical Hacker. Ethical Hackers are also known as White Hat Hackers. Professionals who are performing the job roles of intrusion analysts, forensic analysts, security professionals, and anybody who is looking to take up these jobs can become an Ethical Hacker by taking up popular CEH Certification training from an accredited training institute.
An Ethical Hacker's main job responsibilities include:
Scan enterprise systems to check for vulnerabilities
Check any type of patch settings and its installations to avoid misuse
Help in avoiding intrusion detection and prevention systems
Looks for gaps in wireless encryptions to avoid attack on web applications and servers
Handle issues that arise out of asset theft in Laptops and fraud with systems
How to become a Certified Ethical Hacker?
Professionals who want to take up Ethical Hacking as a career option then they have to undergo a formal Certified Ethical Hacking (CEH v11) training from an accredited training institute. There are many other Ethical Hacking Certification Training courses, but the one offered by EC Council, the CEH certification training, is up there with the best and gives professionals an added advantage from non-certified counterparts.
By undertaking the 5-day Certified Ethical Hacking certification training, participants will learn about:
Ethical Hacking phases that include various attack vectors and preventive countermeasures
How hackers think and act to ensure you create a robust security infrastructure to defend attacks
Understanding system vulnerabilities and weaknesses across enterprise systems
Gain insights on strengthening system security controls to mitigate risks of an incident
Acquire the required skills to perform the job of an Ethical Hacker
How to provide enhanced security cover for future attacks from cybersecurity breaches
ALSO READ: Career opportunities for a Certified Ethical Hacker (CEH)
Who can take up a Certified Ethical Hacking (CEH) v11 course?
Professionals who can take up Certified Ethical Hacking training include, but are not limited to:
Information Security Analysts and Administrators
Information Assurance (IA) Security Officers
Information Security Managers or Specialists
Information Systems Security Engineers or Managers
Information Security Professionals or Officers
Information Security and IT Auditors
Risk or Threat or Vulnerability Analysts
System Administrators
Network Administrators and Engineers
What are the requirements to become a Certified Ethical Hacker?
The eligibility criteria to become a Certified Ethical Hacker are that professionals should have at least two years of experience in the Information Security domain. If the participant has the relevant experience, then they have to submit their eligibility document to the EC Council with a USD 100 non-refundable fee to sit for the exam.
The other option to take up this Certified Ethical Hacking Certification Exam is to sit for the official Network Security Training by EC-Council. The candidate should complete an official EC-Council training from an Accredited Training Centre through the iClass platform, and then the candidate is eligible to take up the CEH exam without going through the application process.
Reasons to become a Certified Ethical Hacker
With ever-increasing cybersecurity attacks worldwide, there is a growing demand for Certified Ethical Hackers by employers belonging to SMBs, Large Corporations, and Government entities. Billions of dollars are lost in revenue due to security vulnerabilities, and enterprises need Ethical Hackers with sound knowledge to help to avoid such risks and cyberattacks in the future.
Below are some of the key reasons why you should become a Certified Ethical Hacker:
Be ready for the ever-growing demand for Ethical Hackers in the 21st century
Help companies defend against system attacks by thinking like a hacker to prevent attacks
Ethical Hacking is a lucrative job across industry sectors with nearly 500,000 professionals required globally
Achieve professional recognition as employee and consultants in this IT security domain
Acquire holistic knowledge of Hacking and secure your own online environment before it gets compromised
EC-Council's Certified Ethical Hacking training is the most comprehensive hacking course available which covers 20 of the key security domains
Become a global professional with CEH training and achieve an exponential increase in your salary.
Salary Prospects of a Certified Ethical Hacker
According to salary.com, the average salary of an Ethical Hacker in the US is USD 99,384 and can go up to USD 126,113 depending upon their experience, certifications, job profile, and in which city they are working.
Steps to become a Certified Ethical Hacker (CEH v11)
As discussed above, there are two ways in which one can become a certified ethical hacker. First, by having two years of relevant experience in the IT Security domain. Second, by taking up a formal EC-Council Certified Ethical Hacking Training (CEH) v11 from an Accredited Training Centre.
Professionals can take up this CEH v11 training as a 5-day instructor-led live online or classroom training.
Enroll for 5-day (8 hours/day) or a 10-day (4 hours/day) training from an EC-Council Accredited Training Centre
Receive course materials from the accredited training centre to begin your preparation
Take part in 5-day/10-day training delivered by an Ethical Hacking trainer
Co-participate with other Ethical Hacking enthusiasts across the globe to get an understanding of various security breaches
Gain a proper knowledge of understanding system vulnerabilities and how to create a secure posture for your enterprise from future attacks
Clear your doubts from an expert instructor and prepare for the Certified Ethical Hacking Certification Exam
Clear your CEH v11 certification exam on your first try to become a Certified Ethical Hacker to grow in your career
In today's day and age, having a safe and secure business environment is critical. With 80% of business services moving to the cloud, it becomes an easy target for cyber attackers to launch various phishing and ransomware attacks that leads to a compromising situation for consumers as well. To ensure businesses and consumer data is safe, it needs a robust security blanket that helps misdeeds of cybersecurity attacks. Ethical Hackers are in huge demand globally to ensure enterprises irrespective of whether they are SMBs or Large MNCs. Get yourself a CEH Certification Training to take advantage of the current trend which has a very low percentage of qualified professionals in the job market.