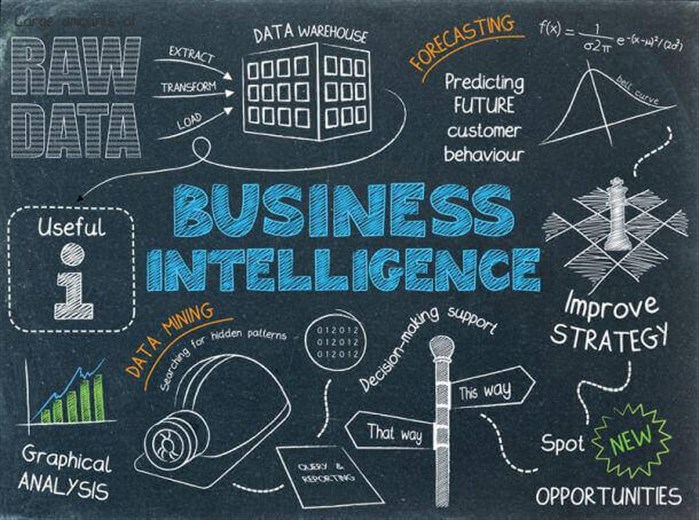 Business Intelligence turns raw data into actionable insights. These insights allow business leaders take actions to improve business performance. The BI process includes collection of data, creation of models, data analysis through queries and data visualisation through charts and the production of reports that are used by the decision-makers of a business. You can apply these BI processes to both strategic and operational decisions.
Business intelligence produces information that can be used to facilitate ideal company decisions that improve a business' overall productivity and functional efficiency and give it an edge in the market. There are certain BI processes that provide forecast information about the current, historical and future of the business' operations.
Importance of Business Intelligence
Decision-makers use business intelligence processes to make informed decisions on how to manage and operate their business. These processes can be used to assess services or products, their positioning in the market and pricing, any marketing or advertising programs that can benefit them, their supply chain and inventory, potential markets, etc.
When used correctly, business intelligence can help businesses operate cost-effectively, competitively and efficiently in the market. Business executives can use the incorporation of real-time data to help recognise changes in the market trends and identify any problems at the early stage so that they can be solved proactively.
The end goal of any good business intelligence process is to increase bottom-line profitability and revenue.
Uses of Business Intelligence
Business intelligence processes provide a wide variety of analyses and information to be used for multiple purposes. Here are some examples of how BI can be used are:
Examine KPIs (key performace indicators) to find sections where functional efficiency can be improved or maximised like planting production figures or analysing same-area sales.

Create visual representations like graphs and charts to help make data more understandable to business leaders.

Use statistics and data to reveal any market or business trends.

Compare historical data or company goals with current results.

Provide 'what if' analysis of different business choices.
The Process of Business Intelligence
Different companies use business intelligence for different purposes in different ways. But, the process of BI is fairly the same throughout all companies.
Data is collected from a variety of sources

Data sets are created and prepped for analysis

Queries are run by data analysts against data models or sets

Results of the queries are turned into data visualisations

Visual representations are converted into reports and utilised by decision-makers of a business

Data may also be converted to BI dashboards for more information
Business Intelligence Tools
There are many business intelligence tools that offer exceptional performance and features. But, what makes one tool better than the others is how the solutions are applied to support decision-making. Here are some of the most common ways these tools are used:
Dashboards and executive scorecard
Executive managers don't have time to create ad hoc reports. BI tools come in with real-time monitoring of KPIs to provide a visual dashboard that will give these managers an overview of the business' overall situation at a glance.
A company performs thousands of operational tasks every day and any errors or inefficiencies can have a great impact on performance. With BI tools, businesses can monitor daily events in real-time to support operational reports. This way, problems can be identified and fixed quickly.
Power users, such as business analysts, must be able to analyze corporate data in depth in order to reveal sophisticated trends. With business intelligence tools, users can view their data from a variety of perspectives through online analytical processing (OLAP).
Every company today produces and manages huge amounts of information. Sorting through this data to find out what's most relevent can be daunting, especially for non-technical users. BI tools that have data mining capabilities can help users find and extract important information from big datasets, saving you precious time.
More and more companies are becoming customer-centric and they need tools that can help collect and integrate data related to their customers in systems like accounting, CRM and help desks. With this data, businesses get a 360-degree view on their customers and their interactions with the business. This helps the company understand what their customers need, their behaviour, preferences. Businesses use this knowledge to create stronger loyalty programs and upsell their products or services.
Maintaining organizational flexibility and agility requires the ability to predict trends. To ensure effective strategic planning, it is also crucial to use historical data to predict future events. Predictive analytics is included in a number of business intelligence tools, because it allows forecasting to be done quickly and accurately.
Related: Who Is a Business Intelligence Analyst? Making Data-Driven Business Decisions
Advantages of Business Intelligence
1. Improve Visibility
BI tools help boost visibility of all organisational processes and allows you to find any areas that may have problems needing fixes.
2. Boost Productivity
An effective BI tool can help you make reports with just a few clicks, saving you a ton of resources and time. This also helps boost productivity among your team members.
3. Get Bird's Eye View
With a BI tool, the decision-makers of a company can have an overall view of all scoreboards and dashboards in the company.
4. Fix Accountability
BI tools allow you to assign responsibility of projects and the organisation's goals to employees and track the progress they make.
5. Easy Analytics
The ease of use of BI software has regularised the use of data analysis and has made it accessible even to non-technical or non-analyst users. As a result, many people will be able to utilize the power of analytics.
6. Streamline Business Processes
BI automates analytics through computer modeling, predictive analysis, benchmarking, etc. This helps make business processes less complex.
Disadvantages of Business Intelligence
Small and medium sized enterprises can feel a pinch cost-wise while implementing a BI tool.

Some BI tools can be complex to use, which would make business techniques too rigid to follow.

Data warehousing can take a year or so to be implemented, making this a time-consuming process.
Types of BI Users
1. IT User
IT users are one of the main people who help maintain BI infrastructure in the company.
2. Data Analysts
Data analysts work and deep dive into data with a BI system to get fresh insights and develop new and interesting business strategies.
3. Company Leadership
Company leaders can make their business profitable by improving the operational efficiency of their company.
4. BI Users
Two types of BI users can be found across the company:
Power users: works with complex data sets

Casual BI users: makes power users use dashboards for evaluation predefined data sets
Possible BI Job Roles
1. Data Engineers
Using data engineers, data is collected and organized, channels are created and processes for data transfer between databases through automatic data feeding.
To be successful as a data engineer, your skillset must include the ability to create databases, use ETL tools, and create algorithms.
Using tools like Spark and Hadoop, data engineers can organise and utilise big data. Also, they should also know how to use real-time integration tools like Kafka and Pubsub.
2. Data Analysts
Models and metrics are created by data analysts for the purpose of data analysis. Analysts organise data in usable formats by importing data from various sources, including databases and excel files. The next step is to design data analysis models, which is often achieved by combining separate tables of related data.
A data analyst can also develop tools for updating data by using automatic refreshing tools. They also develop KPIs to measure performance. As a final step, they record what they do to ensure that other users of the data can conveniently interpret the models they created.
The skills required of a data analyst are similar to those of a data engineer. It is common for them to be proficient in Excel, SQL and Power Query. Data analysts can transform data more quickly and easily with the Excel add-on, Power Query. Analyses, metrics, dashboards, and visual representations can be created with programs such as Power BI, Power Pivot and Tableau.
3. Data Visualization Specialists
Business leaders can identify key issues by using dashboards and visuals created by data visualization specialists. The results of data analysis are often visualized to emphasize key metrics, figures, and trends.
They can also build dashboards that combine visual representations of the data and enable users to easily find more detailed information or additional details by querying the data presentations. The responsibility of developing and presenting reports to business decision-makers or other relevant personnel may fall to either data analysts or data visualization specialists.
The skills needed by data visualization specialists are similar to those required by data analysts. They usually have skills and expertise in softwares like Power Pivot, Excel, Tableau and Power BI.
Related: Complete Guide to Business Intelligence (BI) Certification
Educational Pathway to Specialising in Business Intelligence
The most common degree requirement for prospective BI Analysts is a bachelor's degree in business management or computer science. Communication skills and an understanding of the demands of the industries you will work in are also essential.
Experts in Business Analytics may also be required to have knowledge about some additional computer program certifications or languages by some employers. There is usually an examination involved in obtaining these certifications.
If you don't have a proper degree, you can compensate for it by multiple certifications and experience as an intelligence analyst.
Entry-level Jobs for BI Experts
Analysts working in junior positions will be responsible for tasks of low-to-medium complexity within an organization's functional areas. They will be providing BI support to the organisation as a part of a larger team.
Junior Developers will develop and maintain BI solutions. They use reports and data visualization tools to present information based on data queries crafted and executed upon request.
They work closely with BI Analysts, Developers, customers, and internal departments to fine-tune BI-based platforms, processes, and tools. These tools must also be implemented strategically on an ongoing basis.
Career Paths for Business Intelligence Analyst
As you progress in your career as a BI expert, you will climb the ranks in your company and gain more responsibilities. Eventually, you will be able to direct, lead, and organise workstream projects and implement new BI software systems and tools. You can also move into consultancy roles where you can get faster advancement, ability to play many roles, better pay and a lot of learning potential.
Trainings and Certifications for BI Experts
professionals looking to advance their careers can choose from a wide range of certifications and training programs. microsoft's mcsa : bi reporting, ibm certified designer: ibm cognos analytics author v11, and mcsa: sql 2016 bi development are some certifications you can go for. there are also come conferences that can be a good way to stay updated on the latest trends and advancements in the industry you work in.