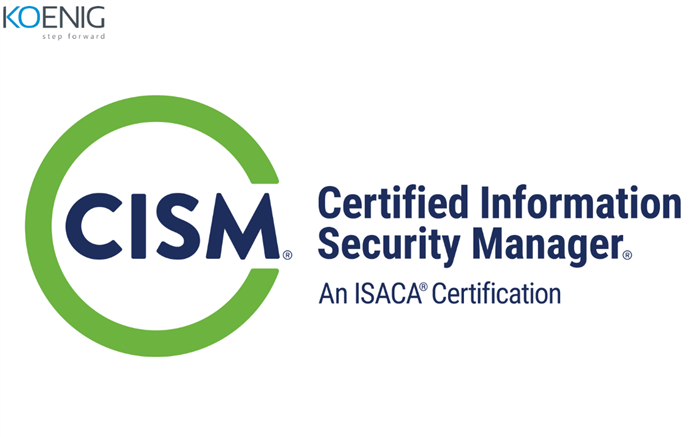 There are new threats and vulnerabilities discovered in IT systems almost every day. This increases the risk of major security breaches and the need for information security managers.
Security efforts are now shifting from prediction to protection. But right now, the main challenge is lack of skill, not the cybercriminals. This shortage includes the skills and abilities to understand what a business needs and communicate them properly.
The demand for security experts is increasing, and with it, the expertise level is also on the rise. This is why organisations are having a tough time finding enough qualified professionals for the job. As an IT professional, you can use a high-level certification like ISACA's Certified Information Security Manager (CISM) to expand your career opportunities.
The
CISM certification
, offered by the Information System Audit and Control Association (ISACA), offers expertise in information security governance. The certification is designed for IT consultants and security managers who play significant parts in maintaining the security systems in any organisation.
The CISM Certification Exam
You need to have at least five years of experience in the information security domain to qualify for the CISM exam. This paper comes with 150 computer-based multi-response and multiple-choice questions with a time limit of four hours. The certification is valid for five years only and needs to be renewed by appearing for the exam again.
Tips To Pass The CISM Exam
1. Latest Version of ISACA Exam Candidate Guide
Every year,
ISACA
publishes an updated version of their guide, which you can use to prepare for the CISM examination. The manual comprises loads of study material to help you through the examination. You can get the upgraded version from the ISACA site. You will need to learn the essential topics from the guide itself.
The guide provides necessary information about the CISM exam test like the duration of the paper, sample questions, languages etc. You should go through this manual before you opt for the CISM exam, as it will help strengthen your skills and knowledge about security systems.
2. Make A Schedule
Whenever you have a goal, you need to prepare a schedule of all the things you need to do and get to achieve your goal. When you are making your study schedule, be realistic about your work life and other responsibilities. Study during any spare time you may have during the day. It would be best if you plan your schedule to cover the entire syllabus thoroughly while taking out time to relax.
3. Go Through The Review Manual
The CISM review manual is made to help you study for the exam and consists of organised chapters that include knowledge areas that you need to pay attention to. The manual has two parts: one part includes information about the fundamental concepts to understand, the keywords and the logic of security. The second part comprises knowledge domains that you need to learn and understand before appearing for the exam.
4. Make Notes
This exam is designed to show applicants whether they have the skills to manage any security concerns at the organisation. There are different kinds of technologies that are applied to defend IT systems in a company. This is where the exam comes into play. It teaches candidates about new technologies and IT terms and concepts that they will have to get familiar with, for example:
Security Standards
Security Vulnerabilities
Network Security Problems
5. Watch and Learn
Listening plays a vital role in the way some humans learn. Candidates waste a lot of time reading loads of books but ignore the listening part of studying. There are many videos and podcasts that you can find online to help you study for this exam. You can use these videos to clear your confusion and learn some tips and tricks shared by the experienced security managers who made the videos and podcasts. These mediums of information provide a different type of perspective towards a topic, expanding your understanding.
6. Join Online Communities
When you self-study, you don't have anyone to bounce off questions or discuss your doubts with. There are online communities that you can participate in to clear your doubts from industry professionals. It also allows you to ask your questions about any exam-related topics. Many applicants ask questions that are answered by industry specialists, which can be a beneficial method to study and sharpen your skills.
7. Attempt Practice Tests
Taking practice tests before you attempt the actual exam has impressive advantages. They help strengthen your confidence, and you can get familiar with the paper patterns and formats. Solving previous years' question papers can also help you understand essential topics and areas in which you need to develop your skills.
8. Use Flashcards
Flashcards are handmade notes that are used to assist you in memorising exam material. The long-term human memory can store more information the more times it is practised and repeated. These cards are a very economical way of retrieving data from your brain at a prompt of a single word or sentence. They are compact, unlike textbooks, so you can carry them anywhere you like.
9. Understand, Don't Memorise
Memorising something is adding something to your memory. This can work for an examination but may not be very helpful when dealing with real-life situations. It is always better to understand something rather than just memorising it. When you have understood something, it stays with you life-long. Memorising becomes easy when you understand the concept behind a particular topic. This way, you don't have to work hard to recall answers during an exam.
10. Think Like A Manager
The
CISM
is focused on management. While professionals need to have a proper understanding of all technical concepts in IT that are covered by the exam, it is more important for them to learn how to think like a manager. In the exam, the technical solution may not always be the correct answer. You will need to consider the company strategy, security controls, and costs involved in a business process. The best approach for solving CISM questions is developing a manager's mindset and using a holistic, business-oriented approach.
Overall, getting a CISM certification is a fantastic way to demonstrate a high level of commitment towards your organisation with your management skills in information security.