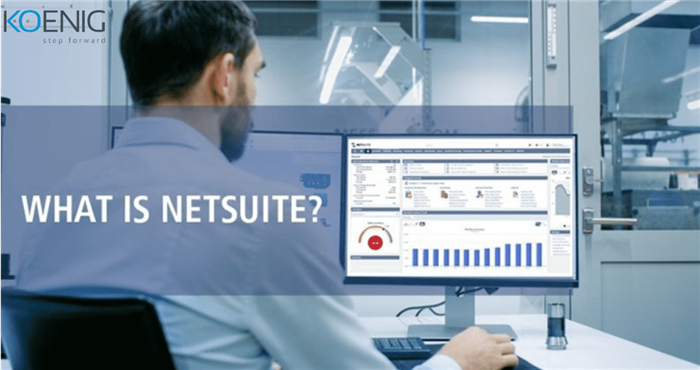 NetSuite is a cloud-based accounting software. General ledgers, cash management, tax management, accounts receivable and payable, fixed asset management, and payment management are all included in the system.
Do you want to know what is NetSuite used for?
The NetSuite software is a cloud-based solution that requires an active internet connection to function. The software does not require any installations or downloads to operate. Users may examine analysis on receivables, payables, sales, total bank balance, and more using the key performance indicator.
As real-time analytics offer the information needed to manage and expand a firm, overheads and personnel decrease, and decision-making is enhanced. The NetSuite dashboard allows you to keep track of critical KPIs so that your attention may be directed to the areas of your business that require the most attention.
NetSuite is designed for companies who have outgrown their present business systems, typically due to the fact that they have a variety of different platforms that don't communicate with one another. This entails a lot of manual effort, job duplication, and costly mistakes. By deploying NetSuite as a single, unified system to operate your organization, you can address those challenges while allowing key decision-makers to focus on growing their company and being more nimble.
What is NetSuite ERP?
If you're wondering what is NetSuite ERP, Enterprise Resource Planning (ERP) is a corporate management solution that unifies all activities and departments into a single system to simplify data, synchronize reporting, and automate processes throughout the enterprise.
It requires no hardware or software maintenance expenses, no hefty upfront license charge, and no complicated setups. Oracle officially acquired NetSuite and NetSuite Oracle has over 24,000 clients in more than 200 countries and provides various features and industry-specific support.
NetSuite is a software that ensures the safety of your data, and
NetSuite
controls are in place to prevent fraud involving certain dates, quantities, addresses, and purchase products based on specific criteria. In addition, there are a variety of factors that may be used to detect fraudulent activity.
NetSuite ERP features:
Business process management capabilities in NetSuite allow any unique business activity to be successfully integrated with the NetSuite system. Businesses may use these capabilities to automate business operations and save time on manual tasks.
NetSuite software offers unique functionality that allows you to execute actions to analyze, track, compute, and pay various sorts of taxes based on product and service sales and purchases.
NetSuite ERP's procure-to-pay functionality is an essential component. It facilitates the management of the whole business process in the cloud using a set of global actions to provide productivity and global insight throughout the procure-to-pay process.
How does NetSuite work?
It's an inter-cloud solution, which means that all clients use the same version of the software and back-end infrastructure and receive automatic updates. Each customer's information is saved and protected independently. Because everything operates on the same code, this generates economies of scale.
NetSuite technology users get access to all ERP modules, as well as the capabilities inside them, through an SSO portal, which contains all of the critical information and tools needed to manage your company. Customers may personalize their home dashboard with the metrics, charts, graphs, reminders, and shortcuts that are most important to their jobs using easy drag-and-drop tools.
What is NetSuite mainly used for?
This flexibility allows them to keep track of their company's overall financial health and be notified of any problems no matter where they are, as long as they have access to the internet. Position access provides approved workers with the knowledge they need to succeed in their professions without exposing them to data that isn't important to them. Users may securely access the platform via a browser from any device.
What are the benefits of NetSuite for businesses?
NetSuite can assist you in scaling up your business in the same manner that it has assisted many of its present customers in various sectors. NetSuite is capable of handling enterprises with numerous languages, currencies, and companies in different countries.
NetSuite SRP allows you to keep track of your projects, resources, and time in one place. NetSuite OneWorld is capable of handling international and multi-company requirements.
Because this is a cloud-based solution, there is no need to invest in all the infrastructures that an on-premise solution would require. NetSuite is an extremely configurable system that can be tailored to nearly any company requirement.
NetSuite offers a great library of third-party SuiteApps that can be used to add new features like shipping integration, change management, and more. In addition, NetSuite CRM allows you to keep track of previous interactions between your business and your customers.
NetSuite ERP's eCommerce features help with everything from order management and point of sale to selling, merchandising, stock, support, and financials in an e-commerce business. Regardless of the duties listed above, NetSuite always aids in gaining agility for progressive growth and well-being.
What are NetSuite main features?
With more efficient CRM solutions, customer relationship management (CRM) is used in engagement. Businesses can successfully manage customer and prospect relationships and interactions. One of the main Netsuite applications is a customer relationship management solution that works well. With NetSuite CRM capabilities, you can strengthen company interactions with customers, streamline operations, and increase business profitability.
To drive business information and provide reports to assess business performance, NetSuite ERP employs the most significant technologies available. By gaining insights, businesses may increase sales volume, customer retention, product and service development, profitability, better business choices, and customer happiness.
NetSuite software provides dependable inventory management systems. NetSuite provides a single company platform for dealing with business operations, finances, logistics, and inventories in order to reap the benefits.
Accounting and financial management-
NetSuite ERP provides a wide range of practical accounting and financial administration features in a single cloud-based platform. Lead to cash, procure to pay, order to cash, and more end-to-end business process flows are available. Financial management functions may be handled by businesses using a single source of finance, sales, and customer data.
Manufacturing and warehousing management-
NetSuite has a lot of features for dealing with different sectors like manufacturing and warehousing. It operates by streamlining large-scale company production as well as the crucial administration of financials and industry-specific requirements.
Capabilities of NetSuite:
The main capabilities of NetSuite ERP are better inventory level costs, better cash flow, efficiency gains, improved business analysis, best analysis development tools with real-time information, and enhanced inventory costs.
Professional Services automation-
What is NetSuite PSA? Professional Services automation is effective management for service-based operations. It is built in open-air acquisition for project-oriented businesses. NetSuite PSA helps in the accurate planning, tracking, and execution of projects.
One database, one system, a real-time, globally integrated company management system that allows you to manage operations across various nations, currency, languages, and companies.
Also Read:
The Netsuite's main advantages like unlimited layout control options, accessible source code for carrying out designs, a better-performing and faster-loading user interface, adaptability to changes and adjustments, adaptable for manual updates while maintaining the greatest level of security, enhancements and advanced features provide the most advanced marketing features.
In conclusion, since its discovery 20 years ago by Oracle's then-Chairman and CTO, NetSuite's ERP system has risen fast in favor of moderate to large-size businesses. NetSuite is widely regarded as the original cloud software ERP, and unlike many cloud systems today, it has always been available as a SaaS solution.