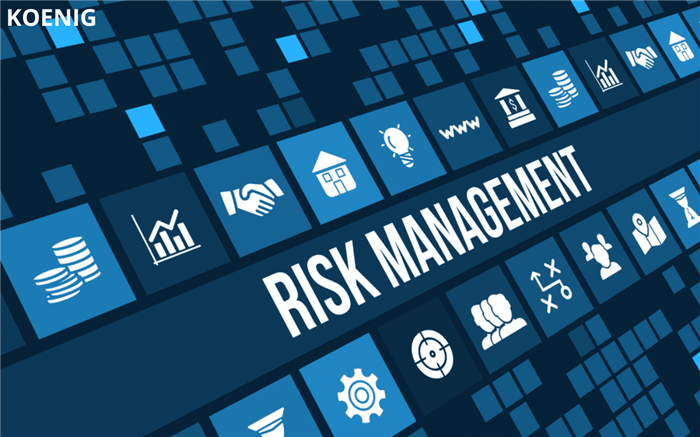 Risks are ever present in every business process. Risk management is a fundamental business practice that helps organisations to identify, evaluate, track and mitigate major risks that are present within the business environment. It is carried out by all businesses regardless of size. The only difference is that while small businesses do it informally, enterprises have a more rigid process in place. Every organisation is looking to ensure stability through scalability. Mitigating and managing risks play a crucial part in making sure this stability is achieved.
If you are not aware of the risks that your business can be affected by, your organisation is highly prone to facing losses in future. Being unaware of competitive risks often results in loss of market share for businesses, while being unaware of financial risks results in financial losses. In the same way, being unaware of safety risks can result in accidents in the workplace and so on.
What Is The Risk Management Process?
The risk management process is a framework comprising actions that can be taken systematically to help manage risks. There are five basic steps within the risk management process. It starts with identifying risks, then analysing them. The risks are then prioritised, a solution is identified and implemented, and finally, the risk is monitored to ensure it does not arise again. In manual systems, each step requires lots of documentation and administration.
Five Steps of the Risk Management Process
1. Identify the Risk
2. Analyse the Risk
3. Priortise the Risk
4. Treat the Risk
5. Monitor the Risk
Follow these five risk management steps to improve your risk management process.
1. Identify the Risk
Identifying or anticipating risks might seem like a daunting task to the risk managers within your organisation. But that should not be the case; in fact, it is quite the opposite. This step is a positive experience that your whole team can join and learn from.
To make this more constructive, it's a good idea to leverage the collective knowledge and experience of your entire team. Get your team to individually identify risks they've either experienced or anticipate. This process builds communication and encourages cross-functional learning.
What large organisations do is they use a risk breakdown structure to list potential risks within a project and organise them according to the level of detail. The most high-level risks are placed at the top while the more granular risks were at the bottom. This will help you and your team to predict where and when risks might emerge while creating tasks for a project. Once the possible issues are compiled, a project risk log is created for clear and concise risk tracking and monitoring. This log is also called a project risk register and is an important part of an effective risk management process. It functions as an ongoing database of each project's potential risks and helps you to not only manage current risks but also serves as a reference point for past projects. Using data effectively, your team and you can quickly and accurately identify and assess possible threats to a project.
You May Also Like: Project Manager Job Description: Role Overview, Skills Needed, Salaries, and Job Trends
2. Analyse the Risk
Once you've identified the possible problems, it's time for the next step. There are a few more questions that need to be answered. What are the chances of these risks occurring? And when they do occur, what are the consequences going to be?
This step requires you and your team to estimate the possibility and probability of each risk that you have identified in the previous step. You need to do this to decide where your focus should lie first. Potential financial loss to your organisation, loss of time and severity of impact are just some of the major factors that play a great role in analysing each risk accurately.
When you analyse each risk carefully and deeply, you will see several new issues and risks that you might not have noticed previously. This will help you further refine the risk management process for all your projects in the future.
3. Priortise the Risk
Once you've analysed the risks at hand, you get an understanding of which risks need your attention first. This is where the prioritisation process begins. To progress to the next risk management steps, rank each risk by accounting for the likelihood of its occurrence and the potential effect it has on your business.
Prioritising risks gives you a holistic view of the project you are currently working on and pinpoints exactly where your team needs to focus and where extra attention is needed. It also helps you identify feasible solutions for problems that others may not have been able to identify. This step also ensures that the project itself is not significantly interrupted or delayed during the execution stage.
4. Treat the Risk
Once your risks are prioritised, the obvious next step is to dispatch your treatment plan. It might be important to realise that you can't anticipate every risk accurately. The least likely risks can sometimes grow exponentially and catch you unawares. But the previous step should essentially set you up for success. Start with your highest priority risk first. Delegate tasks to your team and assign them duties that either solve the risk or at least mitigate it till it is no longer a major threat to your organisation or operations.
Effectively mitigating and treating risks requires you to use your team's resources efficiently and without derailing the project till its completion. As time goes, you gain more experience and the database of your completed projects grows larger, which also means more risk logs. With these resources combined, you are better equipped to anticipate possible risks and weaknesses. This makes you more proactive than reactive which ensures far more effective treatment and handling of problems and obstacles.
5. Monitor the Risk
Many smaller organisations make the mistake of thinking that the risk management process ends once you have treated the risk. It is as important to monitor the risk post-treatment, as it is to treat it. It is essential to have clear communication among your team members and stakeholders while monitoring potential threats. This step entails observing the risk and related factors to see how your treatment has effectively minimised it. It gives you insights into protecting yourself and your organisation from similar threats in future and ensures that the risk does not rise again. If it does, you are prepared to handle it.
Additional Read: The Decision Making Process in 7 Steps
Benefits of Risk Management
Risk management is a process that helps you identify all potholes along your business' growth path, assess their depth and strategise on how to avoid damages. It allows your organisation to mitigate disaster and protect vulnerabilities before any major damage is incurred.
There are many benefits to implementing an effective risk management process.
1. It helps you see risks that are not apparent - Very real threats and business risks can not be predicted or learned through books. An effective and comprehensive risk management program leverages a team of experts to provide deeper insights and understanding of different types of risks,
2. It provides insights and support to the Board of Directors - Board members may find it difficult to identify or prepare for risks outside their area of expertise. Resources and advisory services that can help with risk management will help the Board members to discharge their duties more effectively.
3. It gets credit to the organisation - It isn't possible to avoid risks and their manifestation into problems entirely. However, there are many regulatory agencies and authorities that check to see that your organisation has not lost complete control during a problem and that there are measures in place to prevent negative outcomes. These agencies give credit to organisations under investigation for having a compliance and risk prevention program in place.
4. It helps organisations build a better defence against class action - Plaintiffs in class actions and other downstream litigations rely on their skill to convince the jury that defendants have been negligent. This is harder for them to prove if your organisation has a stringent risk mitigation program in place to minimise risks.
5. It reduces business liability - Litigation risk is seen as a business liability by both regulators and shareholders. Reducing litigation risk by having a risk management process in place makes your organisation a better investment for them.
6. It helps organisations to frame regulatory issues - Risk management programs give greater insights not only into potential risks but also for insurance, indemnity and liability issues. It allows the company to structure its inquiry better and stay focused.
7. It reduces bad surprises - A foolproof approach to managing risks allows teams to communicate about project challenges more effectively and in a timely manner. Risk management practices and processes allow your team to spot concerns early on.
8. It provides quality data for better decision-making - Risk management processes give senior leaders access to better and more helpful data which allows them to make stronger decisions that are more grounded in the reality of the project at hand.
9. It elevates communication - Good risk management elevates the conversation. It prompts project teams and key stakeholders to discuss difficult topics and deal with potential causes of conflict. It also includes suppliers in the conversation since risk responses touch on their activities too. This helps create a more positive working relationship with all organisational personnel.
10. It reduces guesswork while budgeting - The process of risk management lets organisations estimate contingency budgets more accurately so that they don't have to rely on guesswork done by the project team. It helps your organisation to create scenarios that better inform them of what you should prioritise while budgeting.
11. The expectation for success is set - Knowing that you are prepared for any risks that come your way sets an expectation for project success. With a framework in place to deliver while dealing with risks and open communication about possible challenges with senior managers and other stakeholders, success is the expected outcome as work on the project begins.
12. Escalations are clearer and easier - When problems can't be handled at an individual level, team members need to escalate the situation to senior management. A clear risk management process defines when and how escalations should be carried out, which makes it easier and reduces the scope of error.
How To Set Up a Risk Management Process?
The Risk management certification on Koenig give you an overview of various methods and techniques of risk management. Enroll today to give your career a boost and streamline projects within your organisation.