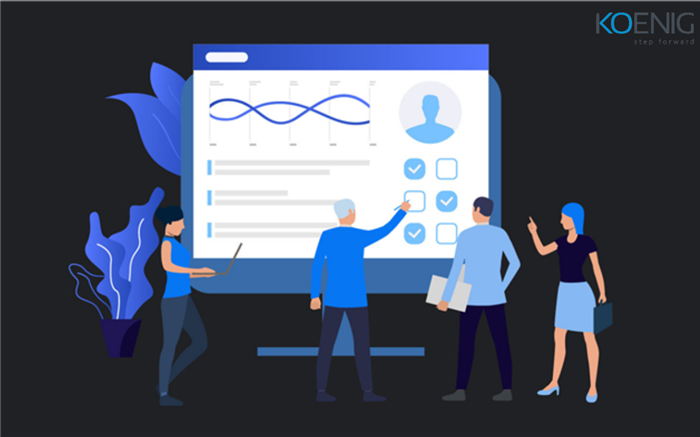 Project management is a fundamental part of every organisation. It plays a significant role in daily operations as well as contract-based tasks. In 2018, there were 4,71,800 project managers in the construction industry alone, according to the US Bureau of Labor Statistics (BLS).
Every project is a journey. It requires a skilled person's leadership and supervision to overlook the entire journey from start to finish. Many companies now understand the importance of the specific skills needed for a project manager. They encourage and value employees with project management training and certification, a growing trend across all industries.
Let's look at various aspects of a project manager's job description across a wide range of industries, such as their role within the organisation, skills required to perform those roles, salaries, etc.
Role and Responsibilities of a Project Manager
A project manager is in charge of a specific number of projects within the organisation. All responsibility to ensure success within the organisation lies with the project manager. It includes planning, organising, budgeting, and reporting on the project once it is finished. One of the prominent roles of a project manager is to act as an intermediary between the senior management and the people executing the project on the ground.
A project manager's job description follows a similar framework in all industries:
Develop a big idea: Many times, project managers are tasked with ideation and pitch an idea that will form the basis of the project.
Organise tasks: Multiple tasks need to be carried out, and project managers need to allot tasks according to the available team and resources. You need to work with the team to figure out what needs to be done by whom and when.
Assemble the team: Once you know the jobs and resources needed, you need to put together your team.
Engage the stakeholders: This means working with upper management, clients, and everyone affected by the project to keep them updated on the project's progress and take their feedback.
Manage the budget: There is a specific budget allotted to every project. The project manager needs to ensure that all the tasks can be carried out within the approved budget.
Lead the team: Project managers are trained leaders. Through the course of the project, you need to coach, mentor, develop, and train the people who are working on the project with you.
Ensure a proper handover: You are not the last part of the process. Once the project is completed, it needs to be handed over to the client and the team that will take the project forward and works on the output that you have delivered. Project managers need to ensure that all access permissions, open files, project usage rights, etc., are handed over appropriately to avoid any problems later.
You May Also Like: A Complete Guide to Becoming Microsoft Certified Solutions Developer (MCSD)
Skills Required to be a Project Manager
The project manager is not an inherently technical role. To lead a project to success, you need to be skilled in a wide range of fields and tasks. This ranges from working knowledge of technology to individual team member roles, from marketing to construction to ideation. It is one of the most complex job roles, but it provides you with a platform to learn many new things, and the job never gets dull for too long.
Some skills every project manager should have:
Leadership skills: As a project manager, you will be in charge of a diverse group of people working towards the same goal. From time to time, they will need your help to get back on track, motivate them, and determine the next course of action. Leading a team includes negotiating terms in case of disagreements and managing inter-team relationships successfully.
The ability to think ahead: It is always more effective to be proactive than reactive. A great project manager is capable of predicting the challenges that lie ahead through the course of the project and dodging them successfully.
Communication skills: Since a project manager is a common thread between your team members and the other stakeholders in the project, they need to have strong communication skills. It includes both written and spoken communication.
Money management skills: Every project has to be completed on a limited budget. Project managers need to have an aptitude for managing money, from paying salaries to working large purchase orders to ensuring sufficient management reserves.
Writing skills: Projects need to be documented and made into a presentation on completion to make data and results' interpretation easy for all stakeholders. Project managers need to have adequate writing skills that allow them to complete both these things.
Qualifications Required for Project Manager Position
While the requirements differ from company to company, the quickest way to get to a project manager position is to have at least an undergraduate degree in management. This degree is proof that you have a background in crucial areas of management and human resources and have strong communication skills. These requirements can increase or decrease depending upon the company and industry you want to apply in.
With the competition today, most companies prefer candidates who have a master's degree in project management positions. This increases your value in the organisation and can help you secure a higher salary package.
There might also be a requirement for an internship while pursuing a master's degree. The real world and industry experience can help bridge the gap people face between theory and practice, and there are certain skills that you can learn only through on-the-job training.
Additional Read: How Much Does PMP certification Cost?
Expected Salary of a Project Manager
In the US, the median salary for project managers is $116,000. This figure depends heavily on the region, the company you want to apply to, the company's industry, and your level of education and experience.
Research suggests that the average salary for a project manager ranges anywhere from $55,000 to $175,000. Entry-level and mid-level managers earn an annual income between $65,000 and $91,000. Senior project managers are typically hired at much higher salaries.
Job Prospects of a Project Manager
Like with any industry and company, where there are projects to be worked on, new job positions will be available. The US Bureau of Labor Statistics estimated that the employment of project managers in the construction industry would grow by 10% from 2018 through 2028. People with bachelor's degrees will be in demand for this position. Of course, it depends heavily on what country it is and how its economy performs throughout the year. But it is expected that the retirements of existing workers will keep opportunities for newcomers relatively steady.
Work Environment of a Project Manager
The project manager, a full-time position, is mostly office-bound. But there are some industries where there is a requirement for hands-on action at critical points of progress. There are deadlines to be met strictly, and emergencies that can require overtime.
The importance of project managers has led to several universities that offer a project management degree. However, beyond the academic route is a certification for those who want to jump straight into project manager roles across different industries.