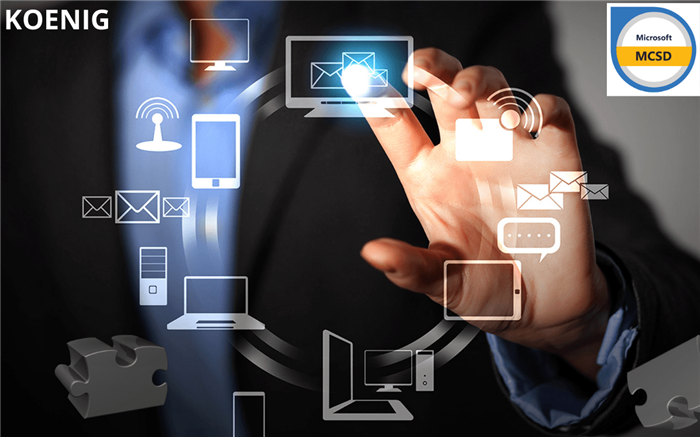 The purpose of acquiring a MCSD or Microsoft Certified Solutions Developer is to gain excellence globally as the certificate is recognized and accepted by all major brands around the world. A MCSD certification allows a developer to gain better job prospects, participation in challenging projects, more respect from peers and much better pay.
MCSD Certification Overview
Previously, the company had different types of Microsoft Certification exams in place to certify architects, master and so on which was retrieved in 2016 to pave way for a single, standardized testing solution. Being a large company with a range of products, Microsoft conducts tests under different categories and allows the developer to choose a roadmap in which they would like to specialize.
In order to acquire to MCSD certification, a developer has to successfully complete the MCSD exams conducted by the team in a range of subjects. This certification will validate that the developer has the necessary skills to web applications for the modern mobile as well as other web applications and services.
MCSD – Apps Builder
Aligned to the Centers of Excellence, the MCSD certification is used by the Microsoft Partner Network. There is no need for recertification with this certification program, as the achievement data associated with it allows developers to keep up with the newest technological changes. All a developer needs to do is pass the exam on a yearly basis. The new MCSD – App Builder does away the need to take the additional exams for MCSD-Universal Window Platform, MCSD – Web Applications, and MCSD- Sharepoint Applications.
The key technologies used for this certification are Azure , C+ +, SharePoint, Office Client, Visual Studio, . Net , and HTML.
Related Blog:- Learning Paths for MCSD Web Applications
Steps to Gain the Microsoft Certified Solutions Developer Certification
If have not taken this exam before, here's a synopsis of the process to attain the certification what shoes:
Step 1 – Get the MCSA certification. The certification has to be attained in one of the following – Web Applications or Universal Windows Platform
Step 2 – Pass the exam. Remember, preparation for the exam is necessary. Join a training institute and take the help of exam prep resources
Step 3 – Clear the exam, get the MCSD certification
Step 4 – Get a recertification in two years. Though the recertification exam covers the original topics and material, to re-earn the credential, developers will have to answer questions and topics related to the latest product and process changes.
However, there is one thing in IT that every developer needs to understand is that education or certifications are never ending in this field as newer technologies and methodologies will keep entering the market.
Clarification with regard to the exam – According to the Microsoft website, "All individuals who have passed an elective exam since 1st January 2016, will not have to take any additional exams to get the MCSD App Builder Certification 2017.
MCSD Certification Benefits for the Employee
Being a developer in a highly competitive IT environment is tough which is when the Microsoft certification for the employee will help them and apart from the crowd. The certificate stands proof to their proficiency in their platform of choice and be the best at what they do. Here are a few MCSD Certification Benefits for the employee:
Standout Resume – An official MCSD logo immediately gives the resume the attention it deserves and will help acquire a job when it comes to choosing the best in the final round. Not all developers have the certification.
Gain Authority – The employee can showcase their skills by using the official logo on public forums and their own blog. It opens up the pathway for newer and better job openings, consultancy and showcases their authority on their chosen platform.
Boosted Package and Promotions – Based on the experience and skills a developer has acquired through the years, it is easier to negotiate a better package and acquire promotions in an existing job. After acquiring the certificate, they request an employer to promote them as MCSD certification is highly valued in the professional circle.
ALSO Read: Top Microsoft Technology Trends 2022 - 2023
MCSD Certification Benefit for the Employer
An organization can gain various benefits by hiring employees who have successfully acquired Microsoft certification. The number of MCSD employees in a company allows them to become a MS certified, registered or certified gold partner for various projects. Here are a few Microsoft Certified Solutions Developer Certification Benefit for the Employer:
Acquiring projects is easier – A company can gain more recognition and traction when it comes to submitting bids to acquire projects. Clients feel that a reliable team with Microsoft certified developers are more than capable of completing projects efficiently and it gives an edge against competition.
High-quality Deliverable – When a group of certified professional work together, they are bound to deliver the best quality which will eventually lead to better projects and boost the company's growth on the long run.
Keep Expenses Under Control – Microsoft certified partners get better discounts on popular MS products and development software programs. MSDN subscriptions are provided for free and all these inexpensive benefits can be gained by employing or helping existing employees complete a MCSD certification.
Certificate Registration
The list of exams that a candidate should attempt to acquire the Microsoft certification will be provided in the certificate registration page. For the exam, the course code will be provided. Click on it to proceed to the payment page.
For newcomers, Microsoft offers booster packs which allows to apply for multiple exams and retakes at the same time at subsidized rates. There is often a choice between a practice test, certification exam and up to 4 retakes as a bundled package.
ALSO READ: What is the Certification Replacement for the Microsoft MCSE, MCSA & MCSD?
Getting Ready for Exams
Employees can choose to learn by purchasing study guides and materials online available with popular online retailers as well as book stores. A large collection of free courses is provided by the Microsoft Virtual Academy, but it is always advisable to join an online institute to help prepare for MCSD Certification.
All the above is just an MCSD Certification Overview to help you move in the right direction as you opt for a much-sought Microsoft Certification.