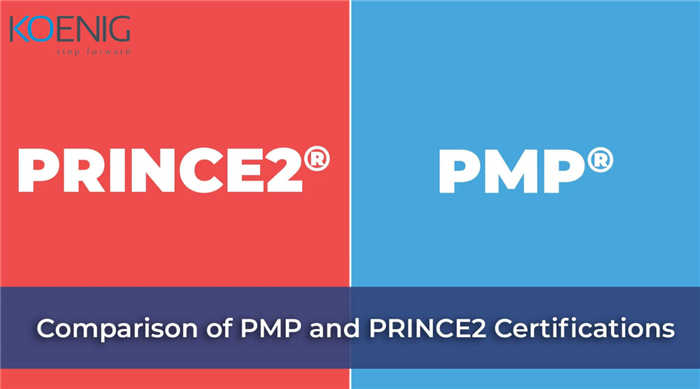 Overview
The first step towards success might be to choose one's calling but the next step is definitely to choose between the various learning tools and certifications that enhance the skills required to be best suited for the job.
In Project Management, the only two certifications that enjoy tremendous favor with the recruiters are PRINCE2 – an acronym for PRojects IN Controlled Environments and PMP- often standing for Project Management Professional. As a budding new professional, how is anyone to decide which certification will provide the much needed leverage against rivals and will provide the impetus in the highly competitive Project Management Field?
What Are the Key Difference Between PMP & PRINCE2?
Before understanding the key differences between PMP and Prince2 to successfully acquire a certification, it is important to understand that basically, both these exams are same. They offer different types of project management framework and choosing to do a Prince2 or PMP certification should be dictated by your career goals and the types of projects you plan to monitor in the future.
Project Management Professional – PMP Certification
The most popular and the widely acquired certification in the world by talented project managers, PMP is conducted and issued by the Project Management Institute (PMI). The versatile certification allows you to work in any kind of methodology to finish a product and is applicable in almost every industry.
While the PMI is located in the USA, professionals around the globe, especially in Europe and Asia,willingly pursue the course. It gives you a big boost in your career and leads to better job potential.
When you successfully complete the certification, it indicates you are capable of understanding and using the PMBOK guide, the Project Management Book of Knowledge.

It stands proof to the fact that you are now aware of best practices using well-known strategies and principles in project management.
Projects IN Controlled Environments (PRINCE2 Certification)
The difference is that Projects IN Controlled Environments, PRINCE2 deals with a more detailed and well-laid out approach where a project has to be completed with clear templates, approved processes with a systematic approach. The certification is provided by the APMG which is located in the UK.
PRINCE2 works seamlessly in a high-level general framework allowing you to use it for any project as it uses widely known project management principles. Transparent approach to project management with standardized rules. Makes it easier to manage a project as each individual's roles and responsibilities are explained in detailed before any task is assigned. The main project is divided into project plans, stage plans and team plans. Different stages avoid delays in a project and ambiguity to team members as the task is handled one at a time.

A strong focus on both project and process, maintaining a fine balance.
Improved Employment Opportunities –When you complete the PMP certification or the PRINCE2 Certification , you gain best employment opportunities as they are recognized around the globe.
New Contacts –Expands your network when you become a member of the PMI and you will be able to talk to professionals in the industry. It also leads to job prospects.
Boost in Salary –Any project manager or an employee in an industry can witness instant salary hike when they successfully complete a valid, professional certification.
Proven Knowledge is Imparted –PRINCE2 is a massive course which allows you to understand a project from any angle, understand it fully before undertaking the job. The certification provides knowledge to avoid any hurdles in the future and even overcome them to successfully complete the project.
Standardized Solution –The terms and ideas suggested are standardized that eliminates confusion, chaos in carrying out a project. It helps you follow same filing systems, procedure and documents to handle a project anywhere in the world.
Industry Demand
Based on the industry where you plan to get into and the country in which you are interested, it is easy to make a choice whether to pursue a course in PMP or acquire a certification in PRINCE2. Each country has its own first preference while it will also vary based on the industry.
ALSO READ> Top 7 Tips to Pass the PMP Exam Effortlessly
| COUNTRY | PRIMARY PREFERENCE | SECONDARY PREFERENCE |
| --- | --- | --- |
| USA | PMP | PRINCE2 |
| UK | PRINCE2 | – |
| Asia | PRINCE2/PMP | – |
| Europe | PRINCE2 | – |
| Middle East | PMP/PRINCE2 | PMP/PRINCE2 |
The Exams
PMP Exam
The PMP exam takes place for a total of four hours and candidates are expected to answer about 200 questions. The questions are split into different areas such as Project planning, execution, controller and Project Closing. These are the five major domains and it also deals with resource management, change management and quality assurance among other topics.
The PRINCE2 is has a shorter first half that ends in just 60 minutes and has about 75 multiple-choice questions to answer. Five of the 75 questions are trial based. It also includes a Practitioner exam which focuses on scenarios and has about 9 questions which should be completed in 2.5 hours.
Prerequisites
The PRINCE2 has no specific requisites as it can be taken by anyone who has few years of project management experience. They have to complete the Foundation exam to qualify for the Practitioner exam.
The prerequisites for the PMP certification exam is much larger as it requires,
A secondary degree, possibly high school degree or associate's degree

7,500 hours experience in leading and directing projects

35 hours of formal project management education

An optional prerequisite for PMP Exam is,

4-year degree

4,500 hours of project management and leading

35 hours of formal project management education
The Exam Cost
The PMP examination costs $405 if you become a member of the PMI while non-members can take it up for $555.
The PRINCE2 exam will vary based on where you live and where you plan to take up your exam. It is advisable to check out the official website.
Conclusion
Acquiring a PMP certification or choosing to pursue your career by successfully completing a PRINCE2 certification is largely based on your project experience, the country you live in or you plan to shift to and your future career plans.
These two exams are similar in many ways and don't give an edge over one another. Besides, some countries and regions specifically prefer only one. It's wise to pursue one of the certifications and it is advisable to do both certifications as they could confuse you with similar terminologies, project plans besides the techniques they suggest to successfully complete a project.
If you are project management professional , it is essential to complete a PMP or PRINCE2 course as it will help you gain the advantage in your career. Major companies prefer professionals who have proven experience and are certified by a reputed institute.