PRINCE2 Certification Course Overview
Enterprises worldwide lose close to 100 million dollars for every billion spent on projects because of mismanagement, communication gaps, scope creep, and various other factors. PRINCE (Projects IN Controlled Environments) was developed by the UK Government as one of the standard approaches to manage IT projects in 1989. Later on, PRINCE was also used for non-IT projects where it gave proper governing structure, principles, and defined roles and responsibilities. This helped enterprises to cut down on project expenditure with continued business justification to analyze whether the project would yield the required benefits to embark upon in the first place.
The PRINCE2 certification training is one of the most popular project management courses that is widely used across European organizations and now is spreading its wings across the US, Middle East, Africa, and Asia. Because of its popularity, professionals who are part of project teams or who are leading projects will go through PRINCE2 certification training to understand project management principles, themes, business justification, tailoring PRINCE2, combining PRINCE2 with Agile, and many more. Below are some of the popular PRINCE certification courses that are popular worldwide.
Popular PRINCE2 Certification Courses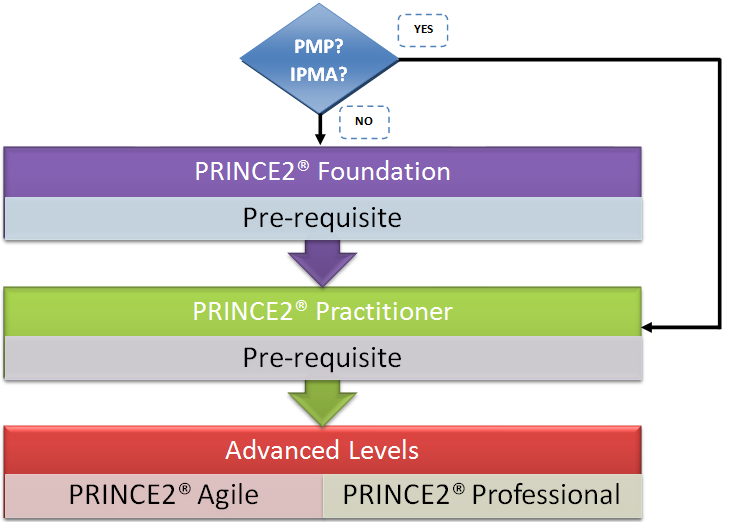 1- PRINCE2 Foundation Certification Training:
PRINCE2 Foundation is an entry-level project management certification that helps learners to understand the fundamentals of the PRINCE2 methodology. Participants will also learn about how to effectively work with a project team where organizations have implemented PRINCE2. There are no prerequisites required for professionals to take up this PRINCE Foundation training. This course is ideal for anybody who is looking to take on a project management job role or be part of a project team.
2- PRINCE2 Practitioner Certification Training:
PRINCE2 Practitioner certification
training is an advanced-level course that is ideal for project managers who are leading complex projects in an organization. Participants taking up the PRINCE2 Practitioner course will gain an in-depth understanding of applying and tailoring PRINCE2 concepts to any project in different environments. PRINCE2 Foundation certification is a prerequisite for participants to take up PRINCE Practitioner training and certification exam.
3- PRINCE2 Agile Foundation Certification Training
The
PRINCE2 Agile certification training
helps professionals to understand how to combine the ever flexible and scalable Agile with defined governance of PRINCE2. This PRINCE2 Agile Foundation course is a beginner-level course that is ideal for professionals who are part of the project teams that are currently working in an Agile environment. Overall, the training helps professionals to gain knowledge of PRINCE2 concepts, Agile, and how to apply them together in an enterprise. There are no prerequisites required to take up PRINCE2 Agile Foundation certification training.
4- PRINCE2 Agile Practitioner Certification Training
The PRINCE2 Agile Practitioner training is an advanced-level course that is ideal for professionals who are closely working with individuals that are integrating project management with product delivery.
PRINCE2 Agile Practitioner course
helps learners to combine Agile concepts with a widely-recognized project management framework in PRINCE2. PRINCE2 Agile Foundation is a prerequisite for participants looking to take up PRINCE2 Agile Practitioner training or certification exam.
5- ITIL and PRINCE2 Certification Training
ITIL (Information Technology Infrastructure Library) and PRINCE2 (Projects In Controlled Environments) are two of the best frameworks that are out there for IT Service Management and Project Management, respectively. Participants taking part in this 7-day training course will learn about the ITIL framework that is used to deliver high-quality IT services and the PRINCE2 methodology that is used to govern projects throughout their lifecycle. This is a combo course where
ITIL Foundation training
is delivered for 3 days and PRINCE Foundation and Practitioner training for 4-days. Participants, upon completion, will receive a course participation certificate and relevant PDUs.
Who can take up PRINCE2 Certification Courses?
Job roles that can benefit from PRINCE2 certification training courses are:
Project Managers
Project Consultants
Project Sponsors
Project Team Members
Team Leads
Software Developers
IT Managers
Business Analysts
Project Associates
Project Coordinators
Aspiring Project Management Professionals
Anybody who wants to understand the PRINCE2 framework
Professionals who are looking to clear their respective PRINCE2 certification exams
Reasons to choose PRINCE2 Certification Training from Koenig Solutions
All PRINCE2 certification courses offered by AXELOS governing body are provided under one roof
Experience of training project practitioners globally for the last 25+ years across industry sectors
Get a thorough understanding of PRINCE2 project management methodology and combining Agile and ITIL best practices in an enterprise
Get better salary remuneration than non-certified peers and also additional responsibilities to manage complex and challenging projects
Accredited PRINCE2 instructors and key resources from Koenig Solutions to support you in your PRINCE2 certification journey
Get the convenience of taking up PRINCE2 certification training in 8 hours/ day and 4 hours/ day timeslots
Customize your PRINCE2 course according to your business needs and enterprise project team requirements
Get dedicated attention for your PRINCE2 certification course through our best in class 1-to-1 training and Fly-me-a-trainer options
PRINCE2 certification training from Koenig Solutions is 'Guaranteed to Run' and comes with 'Exam Pass Assurance'
Benefits of PRINCE2 Certification Training
Get a comprehensive understanding of PRINCE2 and other related concepts such as Agile and ITIL and how to combine the same to avail better benefits for enterprises
Learn PRINCE2 governance and how to tailor certain aspects of project management according to business requirements
PRINCE2's continuous business justification helps projects to always remain relevant both for the organization and the market
By incorporating PRINCE2 methodology, it follows a certain lifecycle path that helps projects deliver consistent value throughout
Be part of the new norm in a projectized economy that is here to stay for a long time, and with PRINCE2 certification, you will stay relevant now and in the future as well
Create a rewarding Project Management career path with various PRINCE2 Certification courses that are divided into Foundation, Intermediate, and Advanced-level depending on roles and responsibilities or project practitioners
Become highly sought-after Project Management Professionals with industry-recognized PRINCE2 certification credentials
Be better prepared to implement and tailor PRINCE2 with Agile best practices in your organization in a comprehensive way to achieve business agility
PRINCE2 Certification Process
Becoming a PRINCE2 certified professional can be a rewarding experience for individuals across industry sectors.
Depending on your job role, first, select a relevant PRINCE2 certification course that meets your requirements
Choose your PRINCE2 schedule and training delivery mode that you are comfortable with
Kickstart your PRINCE2 training preparation by going through the pre-reading materials provided by Koenig Solutions and downloading critical resources from AXELOS for free
Attend the instructor-led PRINCE2 Certification training to gain a comprehensive understanding of applying PRINCE2 concepts for projects in your organization
Prepare better for your PRINCE2 certification exam by taking up as many practice tests for the same
Clear your PRINCE2 certification exam to become a certified project management professional to take your career to the next level
Salary prospects for PRINCE2 Certified Professionals
PRINCE2 certifications are hugely popular in Europe and the US. Irrespective of the organization size or type, adopting the PRINCE2 framework will help teams to complete their projects in a successful manner. Hence, there is a great demand for certified PRINCE2 professionals across industry sectors. Let's checkout PRINCE2 certified professionals' salaries worldwide.
Job Prospects for PRINCE2 Certified Professionals
With the increasing adoption of project management frameworks and best practices in enterprises globally, it is critical for them to have a knowledgeable workforce who can handle projects of all sizes and complexities. There is a great demand for certified project management professionals. Especially PRINCE2 certification credentials are widely-recognized and popular globally. Some of the top companies that are hiring PRINCE2 certified professionals include GSK, Ericsson, Accenture, SAP, DXC Technology, McAfee, Nielsen, ABB, Red Hat, Amazon, Brillio, and many more. Do check out your local job listings to find out relevant PRINCE certification-related job openings in your region.