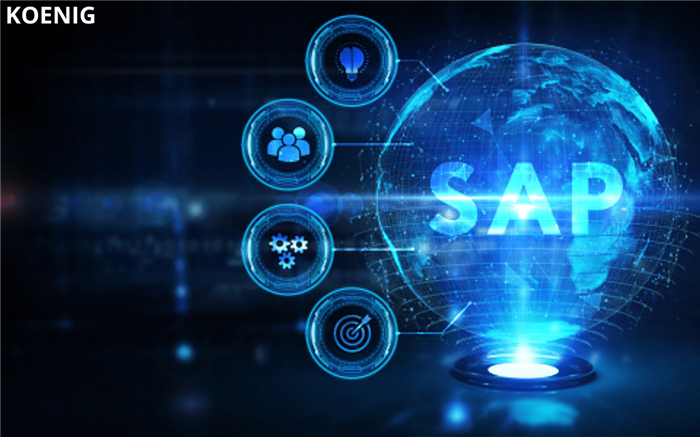 What is SAP Software?
SAP stands for Device Software and Data Processing Products. By implication, SAP is also the description of the ERP (Enterprise Resource Planning) program and perhaps even the label of the organization. SAP Software is a European multinational corporation incorporated in 1972 by Wellenreuther, Hopp, Hector, Plattner, and Tschira. They construct software systems for monitoring company procedures and public engagement.
Through unified data processing, SAP software enables diverse organizational functions with a cohesive perspective of rationality. This encourages companies to effectively control dynamic business operations by rendering it convenient for employees in various divisions to seek real relevant data. As a result, companies can boost workflows, boost operating performance, maximize performance, increase customer service – and subsequently expand profitability.
What is Plant Maintenance?
Plant maintenance is identified as a group of actions mandated to ensure that machines, equipment, and equipment types are sustained in proper functional practices to eliminate operation blockage and disruption.
Plant maintenance is a class of component that presents an operational mechanism that addresses an infrastructure program's functional interests. This module encompasses all product lines, including all areas of plant or machine servicing in decent running circumstances, to minimize manufacturing interruption and delay. Availability to operational development seems to have become an integral feature of that as well.
You May Also Like: Understanding SAP Modules: SAP FI, SAP CO, SAP SD, SAP HCM
What is SAP Plant Maintenance?
SAP Plant Maintenance (PM) is a segment of the SAP ERP Central Component (ECC) that delivers guidance to industries to manage machines and systems. SAP Plant Management helps to implement assessments, corrections and maintenance operations. The SAP Plant Maintenance Component can also report SAP issues, manage inventory and worker schedules, and track rates. If necessary, SAP Plant Management can also handle automated adjustments and maintenance requirements.
The SAP Plant Maintenance (SAP PM) application segment enables an organization with a mechanism for all maintenance operations to be undertaken. Both maintenance tasks are closely intertwined, and thus this component is tightly integrated with other modules-Production Planning, Inventory Management, Sales and Distribution. Utilizing SAP PM, you can execute automated improvements and make maintenance demands smoother for your business. It helps you report concerns in the SAP system, coordinate material and equipment operations, and monitor and address changes. You can recognize, track, resolve challenges, and mitigate corporate asset management for any essential capital in a company.
Objective
Plant maintenance guarantees that all machinery is sustained in optimized conditions – without intervention. Persistent guidance often secures the plant machinery is still accessible for usage by mitigating unplanned output outages from an unrecognized area. The expenses of substantial incompetence in your plant can be enormous. Plant management thus aims to avoid the collapse of machinery and a shortage of production. More accurately, thorough plant maintenance secures relief for all staff members.
Components
SAP Plant maintenance consists of majorly three components which are mentioned below-
Inspection- inspect every machine and equipment and record its actual condition.
Maintenance ensures that the said machines and equipment are maintained during regular intervals to keep them smooth and running.
Repair- ensures that the machine or equipment is replaced or repaired without causing any production blockage.
Activities
SAP Factory Management attempts to implement assessments, enhancements and protective processes. The SAP Plant Management Module can also recognize challenges with SAP, coordinate inventory and labour processes, and track costs. If necessary, SAP Plant Management can also maintain programmed repairs and maintenance solicitations.
Implementation of Different Components
in sap pm, you can incorporate with other components such as inventory control, production planning, personal management, sales and delivery. these modules are used to keep up-to-date data as needed in plant maintenance and are operated automatically to maintain up-to-date infor mation into the system.
ALSO Read: SAP Courses: Overview, Eligibility, Fees, Duration & Modules 2023
Below are the few components which can be incorporated with plant maintenance-
Materials Procurement

Control of workforce

Organizing of manufacturing

Sales and Distribution
SAP PM Certified Salary
SAP consultants evaluate, build and implement modern programming applications and frameworks in adherence with the preferences of their consumers or users, as well as compose systems such as formats, parameters and implementations. They will also test new interfaces to determine the device procedures are standardized and collaborate with end-users to make adjustments as deemed necessary and to accept suggestions.

Sap Salary In India
SAP PM Consultant Salary Based On Top Companies In India

Also Read: Benefits of SAP PM
Roles In SAP PM
Maintenance Planner- In SAP Plant Maintenance, the maintenance planner is accountable for planning maintenance operations based on pending loss statistics. A maintenance planner is liable for improving maintenance demands, order structure, size, capital, and the scheduling of tasks to be undertaken in.

Maintenance Manager- In-Plant Maintenance, the maintenance manager is accountable for monitoring the expenditure, cost and other maintenance responsibilities stemming from the maintenance updates. The maintenance manager tracks all maintenance operations in the business and is mainly liable for controlling all functions. The maintenance manager is accountable for all staff management processes in the plant and maintenance section, involving roles-recruitment assessments and assigning duties to service distributors and vendors.

Maintenance Supervisor- In SAP Plant Maintenance, the maintenance supervisor is accountable for seeing that job is accomplished on target. It is a point of coordination for staff, existing suppliers and customers and other companies. The Maintenance Supervisor is liable for regulating order-related fund adjustments to determine that they survive under the assigned allowance shield.

Maintenance Engineer- In SAP Plant Maintenance, the maintenance engineer is accountable for drafting up designs for mechanical frameworks and validating technical antiquities' productivity and servicing. A maintenance engineer is also liable for master data-Material bills, maintenance timelines and reminders in the Plant Maintenance System.

Consultants- SAP PM Consultant is considered to have the right expertise in SAP Plant Management processes. Job expertise on Inventory Handling, Factory Repair, Preventive Repairs, Proactive Maintenance, Deterioration Maintenance and Restoration and Contract Claim Management. The consultant needs to offer a perspective on the development of machinery parts, the working position arrangement, and BOMs' care. The consultant must also execute protective repairs, weighing ranges and indicators, assurances and licences. Maintenance scheduling, including updates, configuration, rehabilitation and operation instructions, is often planned by the consultant. Such functions include the alignment of plant maintenance with warehouse supervision, value control and production prep work components.

Technicians- In SAP Plant Maintenance, the technician is accountable for working out routine maintenance activities. Various assignment orders are provided to technicians, and the day condition is delegated to Repair Work Orders.
ALSO Read: Top 32 SAP Interview Questions and Answers 2022 - 2023
Responsibilities In SAP PM
Facilitate the incorporation and adoption of SAP PM

Conduct a thorough evaluation of the evolving parameters of the market model and include those

Relevant operating system solutions; define, analyze, authenticate and monitor client specifications;

Company BluePrint Planning for PM

Facilitate seminars to reach company needs

Sorting the company's technological foundation from the SAP PM viewpoint

Plan, optimize, update, and appraise PM.

Taking responsibility for interpreting system prerequisites, solution architecture, the system configures, system monitoring, user training, file transfer, documents, and system integration.

Chart market wants, methods and expectations of the client; create the suitable technique;

Modifies to accomplish the demands of users.

Modification and development of the construction plant adhere to an adequate sap pm methodology and the buyer's precise gratification.

Recognize problems, complications and emphasis on remedies.

Arrangement of the whole organizational master data vis. PM Supplies, Arrangement, Access Code, BOM, Repair Job Sheet, Evaluation Point, Counters, PM Task Centers, and Maintenance Plans.

Function as a client link for fault finding: analyze, interpret, and rectify program issues.

Handle revisions or essential transit if necessary for weighty issues;

Report the technical structure, the working example and the outcomes.

implementation of Degradation Mechanism, Restorative Improvement Process, Productivity Oriented Predictive Repair Framework, Timeframe Based Protective Maintenance Process, Revamp Process, Advanced Service Management Process, Coordinated process

Market process automation with PP, MM, CO & QM modules.

Identify and recommend diligent business process and program amendments

Provide advisory services for both new implementations and current sustain systems

Serve as a connector between the corporate functions and the operational staff.

Provide ad hoc guidance and customer support as requested

Self-directed and self-governing focus; can operate as a relevant guide to more junior trainees
Also Read: SAP PM - Overview
Benefits of SAP PM
It automates the process of fulfilling improvement and servicing operations for the plant. E.g., SAP documents the problems registered, progress and products are allocated, expenses are tracked, and costs are agreed upon.

The background of the machinery is ONLINE. You can access information from any customer region at any time frame, which reduces the duration you need to get info and lowers the time you need to make a judgment on any vulnerable position.

You will monitor the BOM equipment/location in the software, which would make it easier for you to navigate the BOM smoothly at any point in time.

Early Alert Mechanism initiated manually after precautionary maintenance (with Strategy, Task List, Material, etc.).

You could maintain the machinery log sheet online, such as the compressor's temperature viewing, etc. (in evaluation paperwork).

Both repair procedures are online, along with routine plans for the whole year, all the whole business's infrastructure.

You could interface with the Accuracy Module to track control of synchronization.

You will get an authorization online rather than getting authorization on paper and wandering to the departments.

Wear down operation, its sources, and term identified in the program.

All of your repair knowledge is digital, and you can make the report environment-friendly.