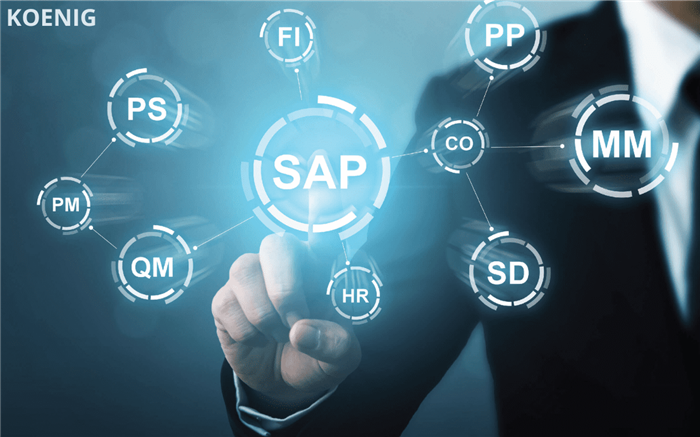 Systems Analysis and Program Development (SAP) provides various modules designed specifically for the needs of their clients. SAP Modules are designed to focus on different processes including sales and services, sales and distribution, financial management, business intelligence, human resources, and more. SAP provides ERP (Enterprise Resource and Planning) Solutions and Services. It is a market leader in providing ERP solutions.
In this article, we will try to understand various SAP Modules and where it is used. Before getting into details of the various modules offered by SAP, let us get a basic understanding of SAP and ERP.
What is ERP?
Enterprise Resource Planning (ERP) was first introduced digitally by SAP. It is a platform designed for various organizations of different industrial sectors, irrespective of their size and strength.
An ERP system typically performs the following functions
Modular business process

Capital planning, expenditure, and execution
SAP Modules(ERP Packages)
SAP develops and implements various modules according to the budget of the clients and requirements to help them meet their business needs and to function efficiently. SAP Modules are business management software used to collect, store, manage, and interpret data from many functional areas including:
SAP solutions include several functional modules:
Financial Accounting

Human Resource

Customer Relationship

Sales and Distribution
You May Also LIke: Benefits of SAP PM
SAP Financial Accounting (FI)
SAP FI (financial accounting) module is the module designed for tracking the flow of finances in an organization in a controlled manner and integrating all the financial infor mation for effective and strategic decision-making. this module is very flexible and functions well in any type of economic situation, smaller or larger.
Implementation of this module helps in combining data for diverse business transactions and legal requirements. SAP FI can be incorporated with other SAP modules such as SAP SD, SAP MM, SAP PP, Payroll, and more for better work results.
Activities Involved in SAP FI
Defining Organizational Structure like Company Codes, Business Areas, Functional Areas, Credit Control, Assignment of Credit Controls.

Maintenance of Financial Accounting Global Settings like Fiscal Year, Posting Periods,

Number ranges for documents
SAP TR Module
SAP TR or Treasury Module is an add-on module along with the HCM and FI module and is used to manage the cash flow of the organization.
SAP IM (Investment Management) Module helps the organization in making and keep tracks of their investment at one place along with SAP RE(Real Estate) modules
SAP Controlling (CO)
SAP CO (Controlling) module supports and helps in planning, coordinating, reporting, monitoring, and optimizing the processes in an organization. It controls the business flow in an organization. SAP CO modules incorporate managing and configuring master data that covers the cost, centers, profit internal orders, functional areas, etc. SAP CO also helps in the analysis of the real figures along with planned data and aids in business strategies.
Two kinds of elements are managed in CO:
Cost elements

Revenue elements
Activities Involved in SAP CO
Planning and management of the costs and revenues that occur in an organization

Cost Center Accounting

Analysis of Cross-departmental business procedure

Internal Orders

Calculation and monitoring of the manufacturing cost of the product and services
SAP EC Module
The Enterprise Controlling module by SAP integrates along with the SAP CO and helps in the smoother flow of the process in the CO module.
SAP Human Resource (HR)
The most important objective of the SAP HR module is to administer employee-related data for administrative, time-recording, and payroll purposes. SAP HR is commonly known as SAP HCM (Human Capital Management) module. This SAP Module improves the work process and data management within the HR department of the organization.
SAP HCM Module comprises major areas of functionality known as sub-modules. The HR system has foolproof integration points. The transmission of data and information is done. with all the other SAP modules. This is done without any human intervention. Besides, there is very tight integration amongst the HR sub-modules.
Right from recruitment of a person to evaluate their performance, managing promotions, compensations, handling payroll, and other related activities of an HR are processed using this module.
Also Read: SAP PM Roles and Responsibilities
Activities Involved in SAP HCM
Business trip management

Recruitment

Personal development

Organizational Management

Time Management

Workforce Planning
SAP Supplier Relationship Management (SRM)
SRM Module deals with the effective and efficient flow of products and services between an organization and its suppliers. The main process covered through this module is the procurement of products like direct materials, indirect materials, and services. This module effectively integrates with planning, accounting, and inventory systems.
Activities involve in SAP SRM:
Creation and management of master data for Suppliers

Management and procurement of the supplies

Cost Planning

Analysis for End to End procurement
SAP Customer Relationship Management (CRM)
SAP CRM deals with end-to-end customer-related processes. CRM Module is designed to consolidate the data related to all the customers associated with an organization in one place.
SAP CRM helps an organization
Capturing and managing customer' relationship

Improve sales, services, and build marketing strategies according to market demand.

Customer data analysis to help the business know more about its consumer.
Apart from the above-mentioned modules, SAP offers many other modules for business purposes and as an add-on to the other module. Some of them along with brief details are mentioned below:
SAP Material Management (MM)
SAP Material Management modules deal with the management of materials via other modules like logistics, supply chain management, sales and delivery, warehouse management.

Multiple procurement processes are managed with this SAP Material Management System.
SAP Production Planning (PP)
SAP PP module comprises specifically designed software. The primary purpose of the software is production planning and management.

SAP PP module collaborates with master data, sales, and operations planning, distribution resource planning, material requirements planning, and product cost planning while working towards production management in enterprises.
Additional Read: Importance of SAP Certification Training in 2022
SAP Logistic Execution (LE)
SAP LE Module is divided into two sub-modules: shipment of goods (purchase to procurement process) and warehouse management (storage of goods).
These two modules are often merged along with SAP SD, SAP MM, and SAP PP modules.
SAP Quality Management (QM)
SAP QM module helps in the management of quality in productions across processes in an organization.
This quality management module helps an organization to improve their business while maintaining the quality of service by adopting a structured and functional way of managing quality in different processes.