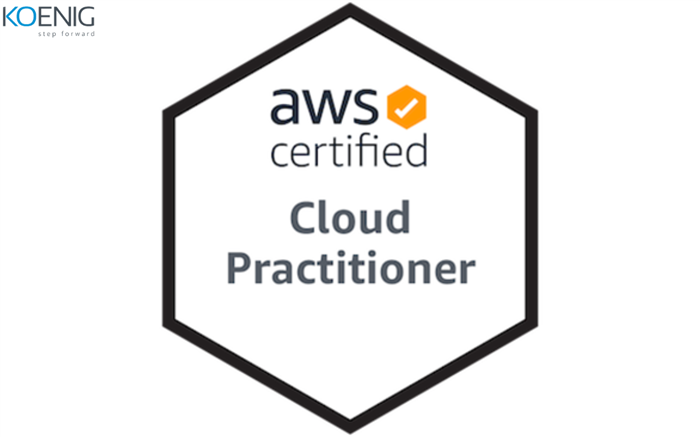 Cloud computing is one of the fastest-growing domains of the IT industry. Its applications and uses have expanded into multiple sectors across industries and have transformed the way we interact with other businesses, devices and networks. Cloud computing has enabled companies to deal with each other in innovative new ways that allow more remote connectivity at a larger scale. This minimises the need for cost-intensive infrastructure, which helps more small businesses to start up.
What is the AWS Cloud Practitioner Exam (CLF-C01)
The
AWS Cloud Practitioner exam
is a fundamental level exam. It has been designed for IT professionals who have a working knowledge of the AWS Cloud platform and related services. It tests a candidate's understanding of role-based jobs and tasks. You can easily take the exam at a test centre or the comfort of your home as a curated online exam.
If you're starting in the world of
cloud computing
, an AWS Certified Cloud Practitioner certification can seem daunting. But it is one of the first steps for you to achieve a higher certification level like an Associate or Specialty-level certification.
Once you pass the AWS Cloud Practitioner Exam, you will learn:
The definition of AWS cloud and its foundational global infrastructure
How to describe AWS Cloud principles at a fundamental level
How to describe the value proposition of the AWS Cloud
How to describe the primary services of the AWS platform, such as analytics
How to describe essential compliance and security concepts of AWS and its shared security model
How to define billing models, account management and pricing models
Identifying whitepapers, support tickets and other documentation sources and technical assistance sources
How to explain the fundamental and core features of operating and deploying within the AWS Cloud
The AWS Cloud Practitioner exam CLF-C01 is made up of about 65-68 questions. These questions are either options or multiple-choice questions. The exam duration is 90 minutes or 1.5 hours, during which you will have to answer all the questions. There is also a registration fee of $100. You can choose your exam medium from the four different languages available: Simplified Chinese, Korean, Japanese, and English.
Now that you know everything there is to know about the exam, let's look at what you need to focus on while preparing for the exam.
Exam Breakup
Here's everything you need to know about the different domains and subdomains in the exam and the objective of each of them.
Domain 1: Cloud Concepts
This domain focuses on the definition of the AWS Cloud and its unique value proposition. It also identifies different economic aspects of the AWS Cloud platform and the design principles of cloud architecture.
Domain 2: Security and Compliance
This domain brings out the definition of the shared responsibility model of AWS. It also defines the different concepts of
Cloud security
and compliance and the access management capabilities of AWS as a platform. It also focuses on identifying security support resources.
Domain 3: Technology
This domain focuses on the methods that have been defined to deploy and operate on the AWS Cloud platform. It also describes the AWS global infrastructure and identifies its core services. It also focuses on technology support resources.
Domain 4: Billing and Pricing
This domain compares and contrasts the different AWS pricing models that exist. It recognises the other account structures related to billing and pricing and focuses on identifying billing support resources.
As mentioned before, the AWS Cloud Practitioner exam is a basic-level exam. For this reason, the course outline is pretty vast and covers all the fundamental topics you will need to know about.
How to Prepare for the AWS Cloud Practitioner Exam:
The CLF-C01 exam is not difficult. With a bit of training and preparation, you can quickly clear it and earn this credential. That being said, it is essential to prepare for the exam with a clear goal and plan. There are some steps you can follow to head into the exam knowing what you are getting into.
Review the exam objectives:
Going over every single objective of the exam is one of the first and most important steps of the process. You can visit the AWS website to know the exact goals of the exam and get a bigger picture. Once you have this information, you need to move on to the AWS Cloud Practitioner Study Guide to start preparing.
Explore the AWS learning paths:
Getting prior knowledge will lay the groundwork properly for your career. Going through the AWS Learning paths will ensure that you get a strong foundation before you start learning. The AWS Cloud Practitioner learning paths offer information about the different careers you can choose after getting the Cloud Practitioner certification.
AWS Cloud Practitioner Essentials (Classroom):
This is listed among the Cloud Practitioner essentials and includes a basic level one-day classroom course led by an expert instructor. This helps you develop the following skills:
You learn to define the cloud platforms for what they are and how they function
You learn to distinguish between deployment models and cloud computing
You can describe the value proposition of the AWS Cloud platform
You can define the basic infrastructure of cloud platforms at a global level
You learn to compare various methods of AWS interactions
You learn to distinguish between the different AWS service domains
You can identify the right solution using AWS Cloud services
You can also describe frameworks that are well-designed in terms of architecture
You learn to describe basic architectural principles of the AWS Cloud
You can explain the AWS shared responsibility model and AWS Cloud security services
You learn about the pricing, billing and account management models for AWS
You can also identify services and developments you may require in the future
AWS Cloud Practitioner Essentials (Second Edition):
This is a free digital course that can help you understand AWS Cloud fundamentals, develop cloud skills, and prepare for the AWS Cloud Practitioner exam. This course will help you learn and develop several skills for the exam and the role you are looking to fill after clearing the exam.
You learn to define the AWS Cloud and its fundamental global infrastructure
You can describe the AWS platform's essential services and their most commonly used cases.
You can explain the basic architectural principles of the AWS Cloud platform
You can define the fundamental aspects of security and compliance on the AWS platform and the shared security model.
You learn about the account management, pricing and billing models of AWS.
You can locate and identify documentation and technical assistance sources, like whitepapers.
You can define the value proposition of AWS Cloud and describe the essential characteristics needed to deploy and operate in the cloud.
AWS Certified Advanced Networking Study Guide
Take an online course
There are several ways to start learning and preparing for the CLF-CO1 exam. One fundamental way is by joining an online course. Koenig offers several courses to prepare you for a range of
AWS certifications
, including the AWS Cloud Practitioner exam. You can also get sufficient study material, expert instructors and flexible timings to help you learn the correct way at your own pace.
Read AWS whitepapers
Whitepapers are essential to get a solid knowledge base. You can expand your technical knowledge of the AWS Cloud platform with the content you find in these sources. You will also find several technical whitepapers, guides, references and architectural references. To help make your work simpler, here are some references you can look up as you go along your preparation journey.
Overview of Amazon Web Services
Architecting for the Cloud: AWS Best Practices
How AWS Pricing Works
Compare AWS Support Plans
AWS Reference Books
Several technical reference books are available to help you prepare for the AWS Cloud Practitioner Certification Exam. Some beneficial ones are:
The Beginners Guide to Amazon Web Services book by Dennis Hutten
AWS Cloud Practitioner Study Guide book by Ben Piper, David Clinton
AWS Basics: Beginner's Guide book by Gordon Wong
Certified Cloud Practitioner Certification Guide book by Todd Montgomery
Amazon Web Services for Dummies-by Bernard Golden
Join the Community/ Online Forum
There are many online communities and study groups, which can help you prepare for your exam. You can understand and cross-check if you have missed anything and see how far you've come in your preparation journey. In several online forums, you can also get some basic questions answered.
Evaluate your performance regularly
The key to success for any exam, AWS or otherwise, is attempting mock tests. A mock test is designed to replicate the final exam and the examination environment in almost every way. It gives you a good idea of the types of questions you can expect in the exam and the types of answers. When you complete your syllabus, make sure you have enough time for practice tests. Also, make sure you have enough practice tests to attempt. You can get a few when you enrol in an online training program, and there are some available for free too on the internet.
Listen to the experts
Having an expert instructor telling you what you should or shouldn't do in the exam can make a huge difference. Avoid blindly memorising information without learning. Also, try to avoid cramming too much information at the last minute. It is seldom helpful in the short term and never beneficial in the long run. If you have just started in the field, stick to your study materials and online course sources. If you have enough industry experience, it will become easier to find new sources of information.
Give your career a boost and start training today.