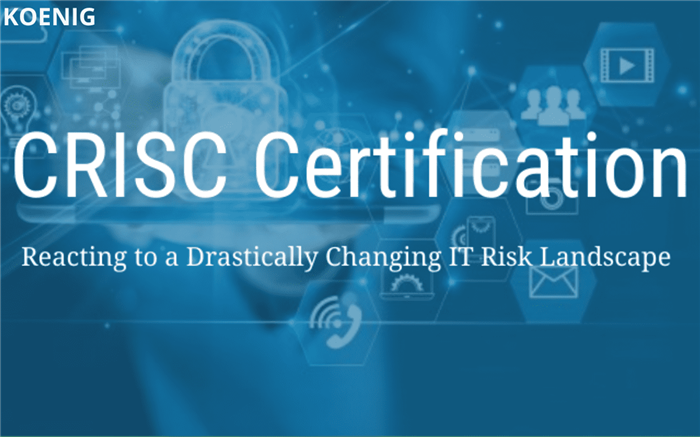 Advancing technology, accelerated digital transformation journeys, and the widespread adoption of IoT have increased the level and number of cyber threats more than ever before.
According to data by Infosecurity Europe and PwC, under 40% of corporate giants can guarantee that their third-party data is encrypted.
Adding to that, 88% of administrators worldwide testify that employees consistently use their networks and technology for prospective business.
The CRISC (Certified in Risk and Information Systems Control) certification issued by ISACA is a risk management certification. It is highly recommended by experts who wish to improve their knowledge and skills related to business and IT risks and implement the controls of information systems.
This certification has a few prerequisites that you must meet before you can apply.
Candidates require knowledge related to managing enterprise risks and challenge management and the ability to design risk-based controls for information systems.
CRISC is a leading risk management certification that plays a key role in helping professionals to prepare for enterprise-level threats in the real world. It provides organisations and individuals with the necessary tools for assessing and governing risks.
Who Can Benefit From a CRISC Certification?
The CRISC credential has been designed for IT professionals whose primary responsibilities lie in managing enterprise-level risks and regulations. You can benefit from this certification if you're in any of the following job roles.
Risk professionals
Project managers
Control professionals
IT professionals
Business analysts
Compliance professionals
A CRISC Certification proves that an IT professional is skilled in approaching unusual circumstances and challenges confronting enterprises. It is a globally acknowledged skill standard in the industry, with hundreds of professionals with this credential occupying CFO and CEO roles in large organisations today.
Importance of CRISC:
With the rising threat of cybercrime, particularly data fraud and manipulation, risk management is critical for businesses today. With more customers and business services moving to virtual platforms, cybersecurity is a high priority for businesses collecting data.
Even a small data breach can cause significant losses financially for an enterprise, to the point of losing consumers or going bankrupt. Businesses that cannot ensure safe transactions for their consumers tend to be known as risky and untrusted, which can permanently damage a brand.
CRISC-certified candidates have a strong understanding of IT risks and their impact on organisations as a whole. They are also skilled in devising strategies to mitigate these risks. They also set up a common medium of communication between stakeholders and IT groups.
Other benefits of the CRISC certification path are as follows.
It is valid proof of your expertise and knowledge as a risk management professional.
It increases your worth in the sight of companies and organisations looking to manage their IT risks.
It gives you an edge over other applicants while applying for a job or over your co-workers while aiming for a promotion.
It gives you access to the global knowledge community that ISACA offers, including the newest ideas and trends in risk management.
It also helps you achieve and maintain a respected standard of conduct in compliance with ISACA's needs to continue learning and maintain business ethics.
Must Read: Complete Guide to do CISSP Certification
How to Get a CRISC Certification?
Given all the benefits of the CRISC certification, it is a lucrative credential to earn. Here's how you can get this certification.
You need to pass the certification exam.
Earn and gather work experience in information system controlling and risk management. You need at least 2-3 years of collective experience across a minimum of two out of four domains that CRISC trains you for. Either domain 1 or 2 must be a part of your experience as a CRISC professional.
Submit a completed CRISC application for certification. Your work experience should occur within ten years before the application date or five years after passing the certification exam.
You must adhere to the professional ethics code, which has been designed to establish standards of professional as well as personal conduct. This entails not sharing information attained while discharging your duties unless you are legally required to do so. You must carry out all duties professionally, objectively and with due diligence that complies with professional standards and best practices. You also need to hold a high standard of character, standards and conduct while you work.
You must adhere to the CPE (continuing professional education) policy that demands a minimum of 20 contact hours annually along with a maintenance fee. CRISC professionals need to log at least 120 contact hours within a three-year fixed period.
The CRISC Exam Domain Breakup:
The CRISC certification exam will give you a fair idea of how to tackle the exam and the types of questions you will face. You get four hours to answer all the questions.
The best and most assured way of passing your CRISC certification exam is by breaking down the exam into different domains and covering it one at a time. The CRISC Task Force has developed four domains that you can break the exam into. Let's look at them one by one.
Domain #1: 27% - IT Risk Identification
This domain focuses on the requirements and actions that organisations need to take to collect data required to identify potent and present threats, vulnerabilities, and risks.
The questions within this domain will also include preparing scenarios to help determine the impact of potential risks to an enterprise, the tolerance of the enterprise and the stakeholders.
Domain #2: 28% - IT Risk Assessment
The second domain covers security assessment programs that are created to allow organisations to identify domains that might be risky for an organisation.
The questions relating to this domain test your knowledge of the desired state of your organisation's IT environment and the current state of risks to secure appropriate and reasonable controls.
The IT risk assessment domain also emphasises the testing of existing controls and relaying the analysis results to upper management and the various business stakeholders.
Domain #3: 23% - Risk Response and Mitigation
The third domain focuses on developing and implementing effective responses to risk and applying the right controls for mitigating exposure. It covers the evaluation of threat response effectiveness and the restoration of an organisation's processes back to normal, which includes detailing accountability for various recovery roles.
This domain includes the documentation of procedures, controls, risk register updates and implementation of risk control policies.
Domain #4: 22% - Risk and Control Monitoring and Reporting
The final domain focuses on the need for constantly monitoring the existing IT risks and the established controls set in place, along with the effectiveness of strategies for risk management and their contribution to business goals.
The Risk and Control Monitoring and Reporting domain also helps you understand the process of how the findings need to be reported to stakeholders.
Questions from this domain test your knowledge of metric values, which includes monitoring and KRI (key risk indicator) analysis and the analysis of KPIs (key performance indicators). KPIs are used to pinpoint trends or changes in the effectiveness and efficiency of the established controls.
Start Training Today
ZipRecruiter shows that a CRISC certified professional earns an average of $107,399 per annum. Take the first step towards a promising career along the CRISC career path and enrol in a training course today.