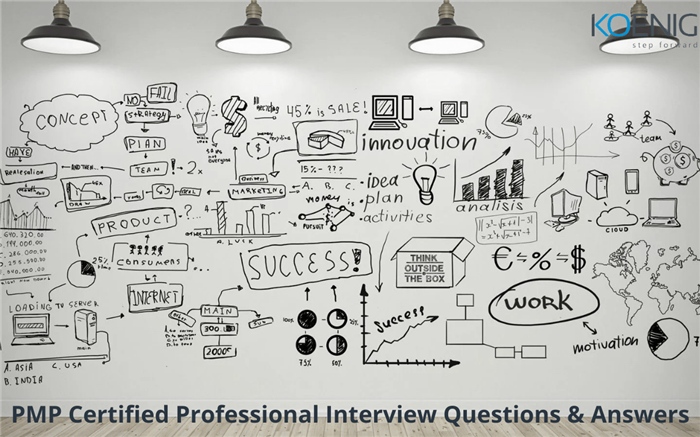 An interview given with determination and confidence is all worth in gold. Whether you are a natural or you need some practice to succeed at conquering your dream job. Here are the 14 Interview Questions and Answers for PMP certified Professional to win the interview challenging at first attempt.
Possible Interview Questions and their Best Replies:
1. Introduce Yourself.
Start and end with professional briefing on your mind. When an interviewer asks this question they want to know what makes you think you are the best for this position, so give them a befitting reply. Do not include your personal life in this answer, just stick to professionalism.
2. Where Have you Worked Before?
Your past working history in relation to PMP certification training. Mention your major accomplishments and any accolades. Also mention how will getting this job help you move forward in your ambition.
3. Do You Have Experience in this Line of Work?
Be honest with this answer. Follow-up questions could be about the core areas of work you have handled and any instances that proved quite critical.
4. What Challenges do you Expect to Tackle in this Project?
Based on your past experiences, your reply should include a mix of lessons learned and what you would like to bring to the new firm.
5. Where Do you See Yourself in 5 Years Time?
Based on your project management certification, you would probably want to work in the company and help it reach a new milestone.
6. Why Did you Leave your Last Job?
Seeking better opportunities or a chance to work elsewhere. Talk about how gaining a PMP training has made your chance of working at this company better.
ALSO READ: Top 7 Tips for the PMP Exam
7. What is your Greatest Accomplishment?
Discuss your achievements, responsibilities and team culture in detail, and how it benefitted the project and company as a whole.
8. What can We Expect from you in the First 90 Days?
Prepare an impressive-sounding answer where you can put your PMP training to use to bring the best results.
9. What are your Salary Expectations?
Prepare beforehand and give them a figure that is respectful of your qualification, especially taking into account the project management certification .
10. Are you a Team Player?
Your interviewers want to know if you can work with their qualified team and if necessary, train others.
11. Have you Made any Contributions to the Field of Project Management?
If you have patented a claim that has redefined project management in business, do inform the recruiter about it and allow counter-questions.
12. Why Choose Us?
Talk about what attracts you at this company and what you have to offer them.
13. How Did you Overcome Professional Hurdles in the Past?
Discuss any hurdles at work you had faced concerning a client or how you handled a messy situation in a project.
14. Can you Work Under Pressure?
If stress management is your thing, then tell them how you keep an even-temper under pressured environments.
Enquire Now