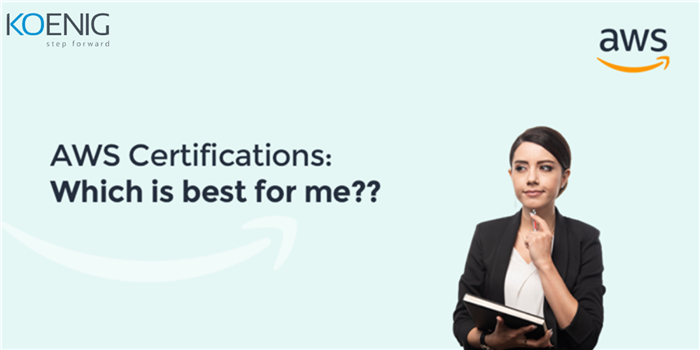 AWS certifications are reputed credentials recognised across the global IT industry. The skill and role-based credentials offered by Amazon Web Services help candidates in building credibility with a certification that validates their cloud expertise level. It also allows enterprises to recognise skilled cloud professionals out of the sea of potential candidates and pick the right ones to lead their cloud projects.
As an AWS certification candidate, you need to clear one exam or more, depending on the expertise level, to obtain a certification. These certifications remain valid for the next three years from the date of passing. If you need to maintain your status as an AWS certified professional, AWS mandates that you must exhibit your consistent expertise by getting recertified before your certification expires.
Things to Know About AWS Certifications:
AWS certifications prove your knowledge. They tell your employer you are proficient in a predetermined set of skills.

AWS certifications don't prove your experience. A certification cannot substitute real-world work experience. However, you can get hands-on work experience in several leading AWS cloud training courses. This can help boost your career if you don't already have too much experience.

AWS certifications generate new opportunities. These credentials on your resume tell your employer your skills are valid. However, these certifications are not job guarantees. They can point you in the right direction, but you need to put in the hard work to make it from there.

AWS certification paths are highly valued. An AWS certification holder earns an average of $100,000 per annum. This makes an AWS certification one of the world's highest paying credentials today.

An AWS certification is not just about a higher pay package. You also have your skills validated against the industry standard. Having an AWS-certified member on the team tells your teammates that there is someone they can rely on.
While considering which AWS certification path you should choose, think of each credential as a stepping stone. Each one you earn prepares you better for the next level of expertise. However, you need to put in the time and effort and make the credential count.
Getting certified by AWS is easier today than ever before. With online certification training, one-on-one special classes and hands-on training, you can prepare without leaving your current job right from the comfort of your office or home.
AWS Certification Paths:
1. AWS Certified Solutions Architect:
For this certification path, Amazon provides two levels of certification -
As an applicant, you first need to earn an Associate-level certification and only then attempt the Professional-level exam.
Associate Level Certification:
In 2019, one IT Skills and Salary Survey provided data to show that an AWS Certified Solutions Architect at the associate level earned an average salary of $130,883 in Canada and the USA per annum. The most important domains and skills required for you to learn and understand before getting certified are:
Selecting the right services from AWS depending on consumer needs

Designing and deploying highly available and scalable systems

Deploying AWS on-premise applications
Professional Level Certification:
Once you have earned an Associate-level credential, this is the next step of the path. An IT professional equipped with this certification earns an annual salary of $148,456 on average. This certification tests and validates the following skills:
Migrating intricate and multi-level applications within the AWS cloud platform

Designing and deploying scalable, reliable and dynamic applications on AWS.
2. AWS Certified Developer:
An AWS Developer earns an average annual salary of $130,272 at just the associate level. This makes you the world's top 6th highest-earning professional. Applying for this certification requires you to have the following skills:
Leveraging software development kits (SDKs) for interacting with enterprise application services.

Understanding every AWS service and its applications.

Applying code-level application security

Writing code to optimise performance.
3. AWS Certified SysOps Administrator:
With a Certified SysOps Administrator credential from AWS, you grow your earning capabilities to almost $130,610 per annum. This Associate-level credential proves your proficiency to deploy, manage and operate on AWS. You need a strong understanding of the following domains before you appear for the certification exam:
Implementing and controlling the data flow to and from AWS

Migrating on-premise applications to AWS cloud platform

Identifying operational cost-controlling methods
4. AWS Certified DevOps Administrator:
This certification is seen as the professional-level certification for the Developer certification path and the SysOps Administrator path too. You need to have either of these credentials if you are looking at applying to this one. The average salary of several groups of Certified DevOps Engineers goes up to $137,724 per annum.
This is a professional-level certification and authenticates a candidate's expertise when it comes to provisioning, operating and managing distributed AWS application systems. Before you appear for the certification exam, you should understand various domains and roles, such as:
Implementing and managing AWS continuous delivery systems

Maintaining tools for operational process automation

Securing processes and controls for governance
AWS Certification Salaries:
Multiple factors go into determining your earning capabilities once you become a certified AWS professional.
Location:
Salary and job platform PayScale released data to show that a certified Solutions Architect earns more in India's metropolitan areas than the smaller cities.
Glassdoor data shows the salary structure (average) in Indian metropolitan cities. These are:
Mumbai: Rs. Rs. 11,95,000 per year

New Delhi: Rs. 7,67,000 per year

Kolkata: Rs. 9,50,000 per year

Hyderabad: Rs. 5,51,000 per year

Chennai: Rs. 6,44,000 per year
Experience:
This is pretty much a no-brainer and undoubtedly one of the most important factors. The work experience you bring to the table in any specific domain has a significant impact on your salary. With less than one year of working experience as an Architect, AWS partner companies pay about Rs. 4,80,000 per annum. However, with more experience as well as an AWS certification, your pay can go as high as Rs. 8,00,000 per year.
Employing organisation:
The company you work with also affects your pay depending on the resources they have and their scale of business operations. Accenture is a leading IT enterprise globally. Their global pay scale for employees, based on qualifications and experience, lies between Rs. 4,36,000 and Rs. 30,00,000. The pay scales of a few other IT giants around the world are as follows:
Techmahindra Ltd: Rs. 3,50,000 - Rs. 20,00,000

Ericsson Inc: Up to Rs. 20,00,000

HCL Technologies: Rs. 2,98,000 - Rs. 20,00,000

Wipro Technologies: Rs. 4,00,000 - Rs. 20,00,000
Skillset:
Your earning opportunities and benefits are directly dependent on your skill set and level of expertise. While generally, this would be a subjective topic, having an AWS certification puts you ahead of your other colleagues without an AWS certification. An average AWS DevOps Engineer can earn about Rs. 7,25,000 per annum in India, while an AWS Solutions Architect in a mid-level role can go as high as Rs. 10,00,000 per annum. Take a look at some other specific AWS roles and the remunerations you can receive in these roles:
System Architecture: Rs. 20,00,000 per annum

Technical Architect: Rs. 20,00,000 per annum

IT Consultant: Rs. 10,00,000 per annum

Software Engineer: Rs. 6,22,000 per annum
Most Popular AWS Course List and Training Cost
AWS Certifications List and Cost
The global reputation AWS has earned is only growing as time passes. With the advancements in technology and cloud platforms, having an AWS credential has gone from an extra feather in your cap to a near mandatory requirement. When you earn an AWS credential, it opens up new paths for your career and increases your skill and technical knowledge base. With Koenig, you have the opportunity to learn one-on-one with industry experts and also get hands-on experience working with AWS. So give a boost to your career and start along your AWS certification paths journey today.