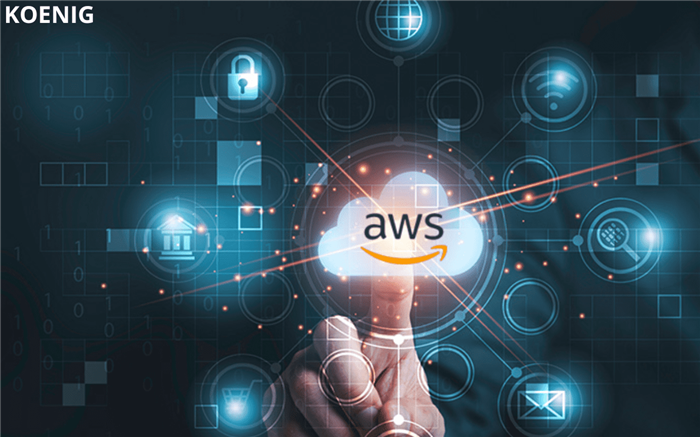 In the race between cloud vendors worldwide, Amazon Web Services is almost single-handedly leading the competition in terms of market share. According to IDC, global industrial spending on cloud infrastructure and services in the public domain is predicted to double by 2023. The industry was valued at $229 billion in 2019 and is set to reach about $500 billion in the next two years, translating to a 22% CAGR. The primary focuses of this high-growth period can be broken down as follows:
25.6% investment in professional services
24.1% investment in telecommunication services
23.7% investment in retail applications
23.3% investment in the resource industry
23.1% investment in consumer and personal services
This breakup is indicative of the most popular cloud services that organizations are going to be investing in shortly. But more importantly, it tells you that choosing a career in cloud services is a great idea. If the numbers aren't conclusive, there are several reasons why AWS careers are the most intelligent career change imaginable.
Advantages of Choosing AWS Careers
1. The most popular cloud platform
In a conversation around public cloud services, AWS is a clear leader in the global market. For example, Infrastructure as a Service (IaaS) is one of the key segments in the public cloud sphere. Data collected by Statista has shown that AWS currently holds more than 33% of the market share in this segment alone. This percentage is almost as much as the combined market share held by Microsoft Azure and Google Cloud Platform, the next two market leaders in the industry. Additionally, AWS has displayed signs of growth even in other market segments beyond IaaS. The software as a Service (SaaS) market is more than double the IaaS market size to give you the context.
2. The most rapidly growing cloud platform
Launched as early as 2006, Amazon Web Services began more than seven years before the competition came in. Since then, it has been the fastest-growing cloud platform in the world. To this day, AWS retains its rapid-growth rate, with a predicted increase from 42% to 52% in 2017 and 2020, respectively.
3. More demand for AWS than professionals today
As AWS continues to grow, its applications continue to grow. This has resulted in a higher number of jobs available in the AWS market than the number of professionals in the same sphere. Employers within the US have said that finding professionals for the AWS platform and its different segments is a big challenge. This gap in the market is waiting to be filled, and large tech and cloud firms offer very lucrative packages for professionals who choose AWS careers. The gap between existing AWS jobs and jobseekers is not closing any time soon, so if you are looking to switch careers, it's a good idea to start today.
Similar Post: AWS Machine Learning Certification
4. IT professionals must be skilled in Cloud Computing
Cloud computing is looking at an increased adoption rate in this decade. According to Forbes, the two most significant driving forces behind this movement will be Artificial Intelligence (AI) and Machine Learning (ML). To build on this, more than 50% of professionals in the information technology industry believe that AI and machine learning will continue to grow and will increase the role of cloud computing within industries and user journeys. With AWS being the frontrunner among the public cloud service platforms, it is only logical that the demand for AWS skills will grow in the IT sector to facilitate an easier transition to a more cloud-based computing style.
How to Start Your AWS Career
Professionals in the IT sector agree that in the technology segment, skill-based learning and industry experience are the two most important factors for career success in the field. AWS as a platform offers a vast multitude of opportunities to learn new skills both within and without traditional education models. Several colleges teach AWS skills as a part of their more extensive curriculum. Still, there is also a range of certifications that can train you in the skillset and the field's newest knowledge level today. If you haven't studied cloud computing in your graduation, you can still choose an AWS career.
You can earn certifications from any of the 11 AWS certifications Amazon offers that are available on Koenig.
Why Choose an AWS Certification?
AWS trainings
and certifications are highly valuable in IT sectors across the world. The main benefits of these courses are:
It validates your skills as an expert in a particular segment or product
Most AWS certifications don't have an extensive list of prerequisites.
You can choose to complete your accreditation without leaving your job or taking a break.
You can choose when you give your exams and reschedule if needed.
An AWS certification is ideal for people who already work in the IT sector, regardless of their segment. Completing a certification course through Koenig will help you to develop not only the core competency but also your other skills like:
Communication
Logical reasoning
Solution-oriented mindset
Understanding ability
How Can You Learn AWS?
AWS certifications were started in 2013. Since then, many online resources have been shared in the public domain. Manuals, coursework and e-books, and practice exams have been shared among AWS aspirant groups, and those with AWS careers looking to renew their certifications.
However, choosing the best learning experience is one that offers holistic learning from start to finish. You should also select the certification and learning program that aligns with your long-term business goals, fits in your budget, lets you learn at a relaxed pace, and gives you the skills needed in one of the most coveted careers out there today.
Some courses are easier than others. For some, it is easier to find study material, while others might finish sooner or later. So which certification course should you choose for a successful AWS career?
Several career paths can open up with an AWS certification. These paths are based on one of the following:
Role: This refers to the position you are preparing to fill, which includes developer, cloud architect, cloud operator, or cloud practitioner
Solution: This refers to the technology you choose to learn, including media, storage services, machine learning, or predictive input.
You can also choose an area of specialization that you can focus on and get a certification that validates your skills in that specific area.
AWS Certification Paths
There are 11 different certification paths you can choose from.
Foundational Certification Courses
AWS Cloud Practitioner - Foundational
This certification gives you an introduction to cloud computing and the role of AWS in the global landscape.
Associate Certification Courses
AWS SysOps Administrator - Associate
AWS Solutions Architect - Associate
AWS Certified Developer - Associate
These certifications give you more insightful knowledge regarding development and architecture on the AWS platform and its operation
Professional Certification Courses
AWS DevOps Engineer - Professional
AWS Solutions Architect - Professional
These certifications provide an in-depth understanding of AWS engineering and the cloud platform's architecture.
Specialty Certification Course
Security - Specialty
Advanced Networking - Specialty
Big Data - Specialty
These certifications provide better knowledge of particular areas of concern.
These are the certification paths available to anyone who wants to kickstart a career in AWS. Want to know which professions are the most promising out there? Read on.
ALSO READ: AWS Certifications List and Cost 2022 - Which Should You Get Started?
Best Careers in AWS
Here are the highest-ranked AWS careers for you to choose from:
1. AWS Solutions Architect
A solutions architect specializes in cloud computing architecture and should have sufficient knowledge about recommendations regarding the current AWS toolset in use, creating and maintaining applications, and ensuring their scalability and cost-efficiency within AWS environments. An AWS solutions architect earns about $130,883 per annum at a beginner stage. This increases to about $150,000 per annum at the professional stage.
2. AWS DevOps Engineer
This professional must be proficient in AWS design solutions, understand and carry out server implementations, and ensure maintenance, bug fixes, and patching. An AWS DevOps Engineer can earn up to $137,724 in a year.
3. AWS SysOps Administrator
This role requires a professional to install, configure, provision, operate, and maintain virtual and physical systems and software infrastructure. They are also responsible for developing and maintaining dashboards and analytics software, and reports. They can earn about $130,610 per annum.
4. AWS Certified Developer
An AWS Cloud Developer is responsible for the building and development of applications and software for organizations. They also need to have a working knowledge of cloud compatibility tools. If you choose to become an AWS developer, you will earn approximately $130,272 per annum.
5. AWS Cloud System Integrator
A system integrator works as a part of a team and handles complicated deployment situations, and manages troubleshooting problems. They also need to have expert knowledge about information systems and cloud computing. With an AWS certification training, a cloud system integrator can earn over $81,000 per annum.
Even besides these five main career paths, you have a bright future with all AWS careers. PayScale data shows that AWS professionals earn more than $100,000 a year. If you are looking to switch to a promising career path and make a significantly bigger paycheque, this is the career for you.