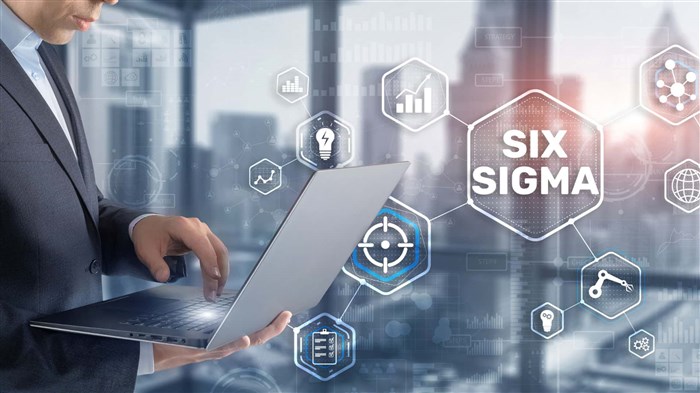 Professional certification on the Six Sigma techniques can take your career to the next level. Adding such a credential to your certification proves to your employer that you are committed to the field. It proves your credibility, analytical skills, and business acumen to hiring managers and your colleagues.
Six Sigma is a collection of techniques and tools that businesses use to improve internal business processes, guarantee quality, and eliminate defects. A Six Sigma certification validates the skills of professionals when it comes to identifying errors, risks, and defects within a business process and eliminating them.
If you are looking for an IT certification or credential that will take your career to the next level, a Six Sigma certification is what you need.
What is a Six Sigma Certification?
Bill Smith developed Six Sigma in 1986. Soon after that, an engineer developed a new approach based on quality control and statistical methods endorsed by Edward Deming, Walter Shewhart, and Ronald Fisher. This approach aimed to improve devices in an enterprise that did not match the industry's quality standards. The methods used were as follows:
Edward Deming developed the sampling methodologies that the Census Departments and Bureau of Labor Statistics use even today.

Walter Shewhart was the first to come up with SQC (statistical quality control) and the PDCA (Plan Do Check Act) model.

Sir Ronald Fisher was responsible for popularizing many techniques for statistical analysis through his work. Some of the most popular ones are p-value, f-distribution, and t-distribution.
Also Read: ITIL vs Six Sigma: What's the Difference?
Ten Reasons to Earn a Six Sigma Certification:
1. Knowledge can be applied across multiple industry verticals:
Everyone knows that Six Sigma methods and processes work well within the manufacturing industry. However, what many people don't realize is that this methodology also has applications across other verticals in the industries like IT, healthcare, telecom, banking, shipping, marketing, and HR, among others.
When you have a Lean Six Sigma certification, you can expand the avenues and opportunities available for your quality control career. This certification standardizes your quality management skills and makes you a better prospect before recruiters, because of your skills and their applications across different industries.
2. Key role in guiding enterprise efforts at reducing defects and errors:
The main reason why professionals choose a Six Sigma certification is to aid enterprises in reducing defects and errors in their processes. A certified Six Sigma professional helps businesses' efforts at improving production costs and time. In the domain of information technology, knowledge of Six Sigma helps in reducing customer complaints, errors, slips in scheduling, and IT spending. Having a certification helps you stand out in a quality management team among those without an official credential.
3. Achieving a high rate of customer satisfaction:
Six Sigma helps reduce errors and increase efficiency. But more importantly, it can also be used for reducing customer complaints and issues. Business standards rely greatly on service quality, as it directly impacts the customer experience. This, in turn, increases or decreases customer loyalty. When your processes are risk and error-free, the customer experience can only get better.
4. Improving business processes:
Any professional who earns a Six Sigma certification has a stronger understanding of an enterprise's business processes. As a certified Six Sigma professional, you have the skills for measuring, analyzing, controlling, and improving these processes. You can also carry out essential reviews of the existing processes for a stronger understanding of how they impact the company's offerings. Business organizations around the world hand-pick certified Six Sigma professionals who can help improve their business.
5. Ensuring businesses adhere to government and industry standards:
In the global service-based market today, governments and enterprises apply Six Sigma metrics for reviewing vendors and awarding business contracts. With a Six Sigma certification, you become a part of this changing and expanding market. You can lead the quality management strategies within your organization and get the most out of business contracts across the public and private sectors.
6. Optimizing and maximizing enterprise resource usage:
With a Six Sigma certification, you demonstrate to your organization the skills required for utilizing resources in the most optimum manner. As a result, your business costs reduce in terms of time, raw materials, and operational processes. By applying the Six Sigma technique, you ensure that lesser resources go into course correction and focus more on improving processes. This gives you fewer errors and defects and greater emphasis on sales and marketing.
7. Standing out in the crowded, saturated market:
Once you have a Six Sigma certification and are hired by an organization, prepare to be at the front lines of everything within the organization. As a Six Sigma professional, you are responsible for initiatives aimed at improving internal processes within the company. Having a certification sets you apart from the rest of your team as it proves your skills to your team and employer. You are also now equipped to help businesses in implementing Six Sigma training and tools. This provides companies with a strong team of people who help in delivering efficiency transformation and enhanced performance.
8. Taking on leadership positions:
Six Sigma offers certifications at different levels, varying based on the level of experience and expertise of the user. These levels are Yellow Belt, Black Belt, Green Belt, and Master Black Belt, which we will get into a little later. A Six Sigma certification prepares you with knowledge and expertise on Lean Six Sigma concepts and methodologies. You are thus equipped to drive change within your company and lead efforts at the enterprise level to improve service quality and services provided. A Six Sigma Master Black Belt credential makes you the premier candidate for a promotion to the senior management side and for getting a leadership role when the need arises.
9. Higher salary remuneration opportunities:
A Six Sigma professional is among the world's highest-paid professionals in the IT industry and even other industries. Data released by PayScale shows that the highest annual salary for a Six Sigma professional in the US is about US$147,000 on average. This varies depending on your expertise and experience level.
10. Differentiating your business from the competition:
Any enterprise with a dedicated Six Sigma certified team or workforce will inevitably have an advantage over its competition. A company's primary stakeholders and decision-makers all know that Six Sigma methodologies are easily applicable for all their business processes. Organizations using Six Sigma as a part of their operation optimization strategies include Ford, GE, Toyota, and Motorola, among others. Implementing Six Sigma helps businesses to save time and money while improving the service quality of their offerings.
Also Read: ITIL Interview Questions and Answers in 2022
Levels of Six Sigma Certification:
You can earn Six Sigma certifications at different levels. These levels are defined by the responsibilities they prepare you for and the expertise you get equipped with.
Six Sigma White Belt Certification:
This is the most fundamental level of Six Sigma certification and covers the basic concepts of Six Sigma. A Six Sigma White Belt professional supports an organization's change management and engages with local teams assisting with projects to solve problems.
Six Sigma Yellow Belt Certification:
With a Yellow Belt Credential, you understand the Six Sigma specifics and its applications. It prepares you to complete problem-solving processes and support teams on projects.
Six Sigma Green Belt Certification:
With this credential, you have a firm grasp of advanced analysis, which you use for solving problems that impact output quality. A Green Belt professional is a project leader and assists Black Belt professionals with data analysis and collection.
Six Sigma Black Belt Certification:
A Six Sigma Black Belt professional is an expert when it comes to change. He/She leads projects and also trains team members.
Six Sigma Master Black Belt Certification:
This is the highest Six Sigma expertise level you can earn. When you have reached here, you have the expertise needed for shaping strategies, developing key metrics, coaching Green and Black belt professionals, and working in a consultant's role.
Prerequisites for a Six Sigma Certification:
The International Association for Six Sigma Certification is the body that governs and manages Six Sigma certifications and regulations. According to the IASSC, candidates need to attempt and score at least a 70% score in the IASSC Certified Lean Six Sigma Green Belt Exam to earn the official IASSC-CGB (IASSC Certified Green Belt) credential. There are no prerequisites for the Certified Green Belt credential, which means anyone can attempt it.
A Six Sigma certification provides you with all-around professional development, from enhanced earning potential to stronger professional skills. Start your journey towards your first Six Sigma certification and enroll in an online training course today.