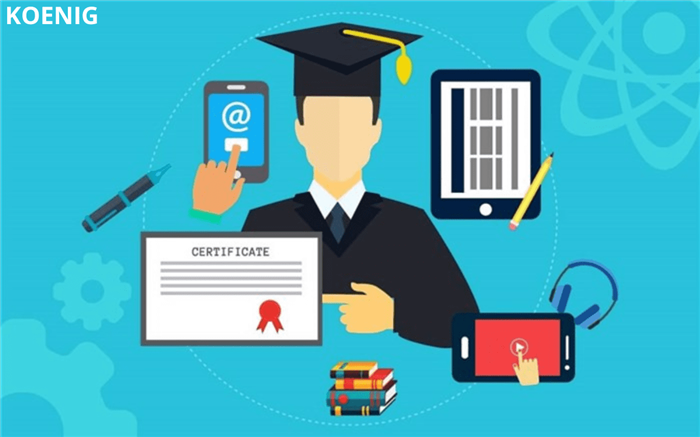 The CompTIA, based in Chicago, offers the CompTIA A+ certification (CompTIA). This article discusses a few reasons as to why is CompTIA A+ worth it? We also discuss the CompTIA A+ test cost, certification A+ and its benefits, A+ certified jobs, etc.
Reasons to get the CompTIA certification:
1. CompTIA A+ Paves the Way to a More Balanced Work-Life
Obtaining a
CompTIA A+ certification
in IT allows you to control your work-life balance. IT could give your life new meaning if you go from a stressful, physically demanding, or unsatisfactory job. Many IT jobs offer low-stress levels, a sense of accomplishment, opportunities to improve physical and mental health, and advancement opportunities. You'll also have enough time to maintain meaningful ties with friends and family.
2. You Become a Member of the CompTIA A+ Community
CompTIA A+ certification holders have developed a robust community from which you may learn, communicate, seek help, and contribute. Find your peers online through social media sites like Facebook, LinkedIn, and Reddit, or in-person through CompTIA's IT professional association, AITP, which you may join on a local and national level to advance your career.
Is CompTIA A+ worth it? Let's find out after reading the further points.
3. More than a million people have passed the CompTIA A+ exam.
When you earn your CompTIA A+ certification, you'll join a community of over 1 million IT professionals who have built their careers on it.
4. You Can Work From Anywhere With CompTIA A+
Many IT professionals today do not require individuals to work in an office or at a specific location. With CompTIA A+, you will be able to find jobs that allow you to work from anywhere, whether it's an employer's office or your own home.
5. CompTIA A+ Demonstrates Your Commitment to Your Career
Once you've earned your CompTIA A+ certification, you can easily renew it and refresh your knowledge through recertification. Staying on this road demonstrates your dedication to your profession and your determination to keep up with the latest advancements in the IT business.
6. The CompTIA A+ Certification is the Key to a Successful IT Career.
You grasp the cutting-edge principles of computer software and hardware if you are CompTIA A+ certified professional. From PCs to cell phones, you'll learn how to fix a wide range of devices. CompTIA A+ is a great place to start if you want to work in IT. It can help you acquire your first job and put you on the path to success.
Scope of a CompTIA A+ Certification:
With CompTIA A+ Certification, there are no limits to what you can achieve. Because the certification does not focus on vendor-specific software and hardware, you may concentrate on building your foundation of technical knowledge and becoming familiar with the technical terminology you'll need for your chosen career path. With CompTIA A+, the door to high-demand areas like cybersecurity and computer networking in any vendor environment is wide open.
Furthermore, A+ is ISO/ANSI accredited, which means that your A+ certification is recognised by businesses all around the world.
Is CompTIA A+ worth it? It's up to you to decide after going through the reasons you should give its exam.
CompTIA A+ Can Help You Get a Better Job
IT jobs are among the highest-paying in our day, and there are a plethora of them accessible, with new ones being developed on a daily basis. While gaining a job depends on a variety of circumstances, CompTIA A+ Certification is a well-respected and powerful credential that employers value, and it can help you land your first IT job. Maintaining your current path, obtaining new certifications, gaining experience, and obtaining an education can allow you to excel in your work and achieve your financial goals.
CompTIA A+ was developed by IT professionals.
A panel of IT industry specialists from many businesses and professions creates and updates the CompTIA A+ certification. When you earn your CompTIA A+ certification, you can rest assured that your knowledge meets the current industry standards for IT professionals. It signifies that individuals who live and breathe IT on the cutting edge of change every day are confident in their ability to complete the task.
CompTIA A+ is a foundational certification that prepares you for more advanced certifications.
Beginning your certification path with the fundamentals will help you prepare for more sophisticated and rigorous qualifications. You acquire abilities and have a better understanding of the credential process with Exam-Labs A Plus Certification 220-1001. Passing the requisite tests also increases your test-taking confidence. You will become accustomed to preparing for them and will be familiar with the procedure. There are numerous tools available to assist you in passing the A+ exams.
Is CompTIA A+ worth it? Let's find out.
The CompTIA A+ Certification Is an Important Achievement
In most circumstances, passing your CompTIA A+ tests necessitate instruction and study time. It may take multiple days or weeks to prepare for the two examinations that lead to a CompTIA A+ certification, depending on what you already know, how familiar you are with computer hardware and software, and how quickly you can pick up new information. When you earn your A+ certification, you'll have not just a valuable professional credential but also a certificate of completion and achievement to brag about.
The CompTIA A+ certification teaches you how to troubleshoot common problems.
You will be able to conduct first-line troubleshooting functions using the abilities you learned while studying for the required tests. Because the content comprises a wide range of operating systems, you'll be able to troubleshoot any OS faster than your non-certified peers. While taking your certification exams, you will also build abilities in addressing printer issues, which can come in helpful later in your work.
Is CompTIA A+ worth it? Given its benefits, it is.
CompTIA A+ is a certification that verifies your basic IT expertise.
The CompTIA A+ Certification Practice Test Questions include IT topics such as security, cloud computing, and data management. Passing them proves that you are familiar with the material and can answer questions about it. You should also be aware that the A+ exams are performance-based, meaning that candidates must exhibit a high degree of practical abilities while taking them. These abilities may be applied in real-world circumstances, which provides valuable experience.
Taking an A + certification course is beneficial to prepare for the exams. But is this
CompTIA certification
worth it?? After tallying all the reasons you should take it, we can conclude that it indeed is.
FAQs
1. A+ vs. network+; Which is better?
The CompTIA A+ certification is a good place to start if you're searching for an entry-level job in the IT business. This is largely for those who want to work in a help desk, service centre, or as a networking specialist and need troubleshooting skills.
2. Is A+ certification worth it?
You won't be able to get a senior position with the CompTIA A+ certification. It is, however, a fantastic opportunity to demonstrate your technological expertise. Learning the vendor-neutral fundamentals, for example, can help you gain a position in technical support or IT operations. So, yes, A+ certification is worth it.
3. How much does an A+ exam cost?
An A+ exam costs around USD 219.
4. How long does it take to get CompTIA A+ certification?
Getting CompTIA A+ certification depends on your preparation, study habits, and method of studying. The CompTIA A+ certification has two exams, Core 1 and Core 2, and you need to clear both to get the certification. Each exam takes 90 minutes to complete, making the total exam time 3 hours.
A survey by CBT Nuggets found that most people take less than three months to prepare for the Core 1 exam. Newcomers with no experience in the IT field likely took more than three months. Here are some other factors that affect the time it takes for getting CompTIA A+ certification.
Preparation time: You will prepare for the exam by studying the entire course, reviewing study materials, and taking practice tests. The amount of time required to prepare for the exam depends on your availability and study habits. In general, it is recommended to take a training course since that can speed up your preparation process.

Experience: If you are not a newcomer and have some experience in the IT industry, you may require less time to prepare for the exam. On the other hand, newcomers may take more time to prepare as they will need to learn the concepts from the beginning.
5. Is CompTIA A+ hard?
The answer to this question varies from person to person. The difficulty of the exam will depend on your level of experience, knowledge, and study habits. However, since it's a beginner-level certification, the exam is easier than other more advanced-level certifications.
The CompTIA A+ certification tests your knowledge in areas, such as operating systems, networking, and security. The exam will have multiple-choice and performance-based questions. They are designed to test your ability to solve problems in the real world. If you study properly and are well-familiar with the exam topics, you may have an easier time passing the exam.
You can choose your learning style and prepare for the exam accordingly. CompTIA has the option of instructor-led training and self-study. You can also go for online training sessions to prepare for the exams. Ultimately, the difficulty of the exam depends on your knowledge.
6. How Much Does it Cost to Get CompTIA A+ Certified?
The CompTIA A+ certification cost depends on your situation and choice. CompTIA offers different vouchers and bundles. In the USA, bundles for the Core 1 exam are as follows.
Voucher: $246

Basic Bundle: $359 (includes exam voucher, 1 retake voucher, and an eBook)

Exam Prep Bundle: $462 (includes exam voucher, 1 retake voucher, 1 eBook, and a CompTIA CertMaster Practice for A+ Core 1

eLearning Bundle: $720 (includes exam voucher, 1 retake voucher, and CompTIA Integrated CertMaster Learn and CompTIA Labs for A+ Core Series
The bundles for Core 2 exams are the same.
CompTIA also provides scholarships and free certification for some minority groups. There's also the option of getting a student discount. However, it is crucial to remember that CompTIA A+ is an investment. It will help you begin and advance your career. And the benefits of the certification outweighs its cost.
7. Is CompTIA A+ worth it without a degree?
IT is one of the high-paying industries that does not require one to have a college degree. Therefore, you can enter the industry based on your skills and knowledge. According to the US Bureau of Labor and Statistics 2017, 49% of IT job postings did not require a college degree.
Therefore, to answer this question in one word - yes. Getting CompTIA A+ is worth it even without a degree. The certification is widely recognized in the industry and can help you get an entry-level position. The exam tests you on skills that will come in handy while solving real-world problems. The fact that it is also vendor-neutral allows you to work with any technology you want to.
Having a degree can be an advantage to your career, but it is not always required. As long as you have the skills and certifications like CompTIA A+ to prove them, you can establish a career in IT.
8. Can I learn CompTIA on my own?
Yes, it is possible to learn CompTIA on your own. CompTIA provides many study resources, including study guides, practice exams, and hands-on labs that help you prepare for the exams. Apart from these, there are many online courses also available that can help you prepare for the certifications.
Jobs after CompTIA certifications
CompTIA certifications are well-recognized in the IT industry. They provide credibility to the certification holder and validate their expertise in the relevant field. Different CompTIA certifications can make you ready for different jobs.
Let us discuss some of the popular CompTIA certifications and their job roles.
CompTIA A+
CompTIA A+ certification is one of the best beginner-level certifications for people looking to establish a career in IT. It is also the industry standard credential for roles like technical support and operational roles. According to CompTIA, companies such as Nissan, Dell, Blue Shield, and Intel ask for this certification specifically when hiring for technical support roles.
Therefore, the certification can open the doors to many high-paying and famous companies. Here are some of the CompTIA A+ jobs.
IT Support Specialist: As the name suggests, IT support specialists provide technical support in an organization. Their responsibilities often include monitoring and maintaining systems, testing technology, providing technical support, resolving technical issues, and installing and configuring systems.
Help Desk Technician: A help desk technician provides technical support for computer systems, software, and hardware. Their responsibilities include developing solutions, providing support, and communicating with customers to resolve their issues.
Service Desk Analyst: A service desk analyst analyzes problems and finds solutions for them. They communicate with many people, including vendors, clients, and customers. They also manage support requests, maintain service documentation, and accelerate complex cases to the right authority.
Technical Support Specialist: Technical support specialists are responsible for providing technical and maintenance support for an organization. Their other responsibilities include configuring and updating systems. They also interact with customers to resolve their issues.
Field Service Technician: Field service technicians provide field support to the end users. They typically repair telecommunications cabling and systems issues and also conduct demonstrations for the customers.
Associate Network Engineer: Associate network engineers are responsible for network infrastructure. They install and configure network systems as per the specifications. They also test and document the process.
Desktop Support Specialist: A desktop support specialist provides technical support for desktops, laptops, and other end-user services. This includes configuring and troubleshooting hardware and software.
These are some examples of CompTIA A+ jobs. However, it is crucial to remember that your experience and skills will play an essential role in deciding whether you get a job in these fields or not.
CompTIA Security+
CompTIA Security+ is a globally recognized certification for cybersecurity. It validates your skills to perform core security functions and get an entry-level job. The CompTIA Security+ salary varies as per the job role and your experience in the industry. However, you can expect to earn fair pay for your skills.
Here are some of the job roles you can get with this certification.
Systems Administrator: Systems administrators are involved in managing and maintaining systems infrastructure and enterprise application systems. They also install, configure, and upgrade wireless technologies in the organization. Their responsibilities include troubleshooting and resolving issues related to information systems, configuring and optimizing performance, and installing operating system software.
Security Consultant: A security consultant provides advice and recommendation to their clients on security-related issues. They also help them in developing and implementing security measures.
Security Administrator: A security administrator manages the security-related issues within an organization. They develop secure systems, protect data and assets, and prevent security threats. Their responsibilities include installing firewalls, implementing security plans, performing security audits, and monitoring for anomalies.
Cybersecurity Specialist: A cybersecurity specialist designs and develops strategies to secure an organization's resources and prevent breaches. They monitor, detect, and analyze different anomalies and the company's systems to protect them. Their responsibilities also include monitoring unusual activity, implementing security controls, and building firewalls.
Junior Penetration Tester: A junior penetration tester performs penetration testing by employing the same methods as a hacker would. They assist in finding weaknesses and vulnerabilities in the cyber security of an organization by performing tests such as social engineering tests.
IT Auditor: IT auditors are responsible for assessing an organization's IT systems and controls. They ensure that the systems meet regulatory and industry standards.
Network Administrator: Network administrators manage the daily operations of a company's networks. They maintain network security, optimize network performance, perform upgrades and repairs, and support an organization's information systems.
CompTIA Network+
CompTIA Network+ is another popular CompTIA certification. It validates your ability to establish, maintain, and troubleshoot networks in an organization. The certification covers topics, such as networking concepts, infrastructure, network operations, and network security. You can check the CompTIA certification path to understand all the skills covered.
Here are some job roles you can get after network+.
Junior Network Administrator: A junior network administrator manages network systems and solves connectivity issues. They are responsible for installing and maintaining the network systems, repairing connectivity issues, managing backup systems, and optimizing network performance.
Network Support Specialist: Network support specialists are responsible for providing network support. This includes creating a backup of network data, configuring security settings, analyzing breaches, and installing network software. They also evaluate network performance.
Junior Systems Engineer: A junior systems engineer develops solutions for systems issues. Their responsibilities include understanding specific system requirements, verifying system architecture, and monitoring systems to detect problems.
Network Engineer: Network engineers design, implement, and monitor the networks of an organization. They also document the installation of a new network, configure firewalls, investigate faults, and report network status.
Systems Administrator: A systems administrator manages the systems infrastructure of an organization. They monitor the performance of company hardware and software, install applications, and maintain user accounts. They also troubleshoot and resolve issues while optimizing performance.
Network Analyst: A network analyst is responsible for monitoring and analyzing network performance. They also analyze traffic, identify and resolve issues, and provide recommendations for improvements.
Job opportunities after other CompTIA certifications
Here are job opportunities for other popular CompTIA certifications.
CompTIA Cloud+: This certification demonstrates your understanding of cloud computing concepts and technologies. You can find job roles like cloud engineer, cloud architect, and cloud consultant after earning the certification.
CompTIA Linux+: This certification validates your proficiency in Linux operating systems. The potential job roles include Linux administrator, Linux support specialist, and Linux engineer.
CompTIA Project+: This certification validates your ability to manage and complete IT projects. The potential job roles include project manager, project analyst, and project coordinator.
CompTIA CySA+: People with this certification can get job roles like information security analyst, security operations center analyst, security consultant, penetration tester, and security engineer.
CompTIA PenTest+: This certification will allow you to apply for job roles like penetration tester, vulnerability analyst, security analyst, security consultant, and ethical hacker.
CompTIA CASP+: People with this certification can apply for job roles like information security manager, IT security architect, security engineer, cybersecurity analyst, and security consultant.
CompTIA Data+: This certification allows you to apply for roles like database administrator, data analyst, business intelligence analyst, data scientist, and ETL developer.
CompTIA Server+: This certification allows you to apply for job roles like network administrator, system administrator, IT support specialist, technical support specialist, and help desk technician.
FAQs
Does the order in which I take these certificates matter? Do I have to take each one?
The order in which you take CompTIA certifications does not matter. You can choose to take the exams in any order that suits your career goals. Similarly, it is also not essential to get each CompTIA certification. Each CompTIA certification tests specific knowledge and skills. Some may be relevant to your career while some may not be.
To decide which certification will suit your career goal, you can go through the CompTIA certification path. This will help you determine which certifications align with your goals. However, it is crucial to consider that some certifications have prerequisites. For example, CompTIA recommends having CompTIA Network+ before taking the Security+ certification.
Can someone without prior IT or cybersecurity experience take these exams?
Yes, people with no prior IT or cybersecurity experience can take these exams. CompTIA offers certifications with different levels. There are five levels: core, infrastructure, cybersecurity, data and analytics, and additional professional.
All these levels have different prerequisites and are meant for different roles. For example, the CompTIA A+ is a beginner-level certification. People with no experience can also attempt the exam. The best way to prepare for the exam is to go through the relevant CompTIA certification path, study well, do practice tests, and get hands-on experience.
How is it beneficial?
CompTIA certifications are globally recognized and can help you take your career to new levels. Here are some of their benefits.
Vendor-neutral: CompTIA certifications are not vendor-specific. They help you build foundational knowledge and skills. Therefore, you can work with any technology you want.

Better pay: CompTIA certifications are highly respected and can allow you to negotiate for better pay in your organization. They can also enable you to get better job opportunities.

Skill validation: These certifications validate your skills in a specific field in front of potential employers. You can demonstrate your proficiency in specific technologies and concepts.

Networking: CompTIA certifications also provide you the opportunity to network with other professionals in the industry. You also get the opportunity to stay updated with the latest industry trends and best practices.