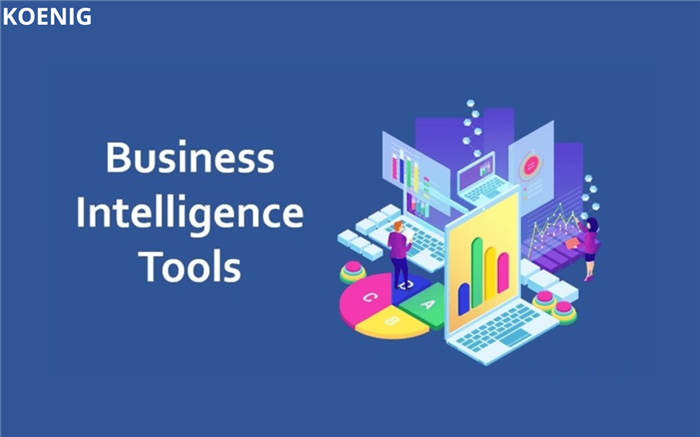 Business intelligence is used for extracting information and data from business operations to propel the growth of the business. With the large volume of data generated every day, manually extracting insights from the raw data is not easy.
To complete this task, organisations around the world use highly advanced BI tools. Each of them is designed for various functions and purposes. Which tools are best suited for your business? Let's understand them in more detail.
What are BI Tools?
business intelligence tools collect raw data from external and internal source pools and organise the data for easier access. at the start, most of this data remains unmanageable. bi tools help in toning down the raw nature to provide a more balanced, adequate data analysis for business firms with a forward outlook. while some moderate tools are accustomed to simple analyses, other solutions are more advanced. these bi tools are equipped with ai for better and more insightful infor mation. spreadsheets, reporting, data warehousing are some of the different tools used. some of the functions and advantages of bi tools include:
Enveloping business accountability by supporting and creating a backbone filled with data.
Increasing and enriching a better work relationship and involvement of employees into the business mainframe.
Upping the revenue generated from the business.
Best Business Intelligence Tools in 2023
Microsoft Power BI
Tableau
Sisense
Qlik Sense
Zoho Analytics
Domo
1. MICROSOFT POWER BI
Perhaps one of the most widely recognised Business Intelligence tools in the industry, Microsoft Power BI used its cloud-based services to help marketers generate reports and customise dashboards. Its AI is named Power BI Services, and the desktop-based interface is known as Power BI Desktop. Self-service data prep is possible using prebuilt connectors to corporate data kept in Azure SQL Data Warehouse, Microsoft Dynamics 365 or a third-party source like Salesforce in the Premium tier for organisations who want to go with the full workforce.

Features of Power BI:
Web-based business intelligence
Multiple platform choices: Power BI, Power BI Premium, Power BI Pro, Power BI Report Server, Power BI Mobile.
Connections to all data source pools (on-premise or cloud)
Stores information centrally in the cloud.
Vastly diverse, provides services to all business
You May Also Like: What is Business Intelligence
2. TABLEAU
This BI Tool gives marketing dashboards for all businesses to blend all the data in one place. This helps provide actionable insights and data on website performance, social media outlook and spending.

Features of Tableau:
Four platform choices: Mobile, Browser, Desktop and Embedded
Real-time visualisations
Vastly diverse
Installs public cloud, Tableau Cloud, and on-premise solutions.
Colludes the data from many sources.
3. SISENSE
Sisense claims their in-chip database engine is more accelerated than in-memory databases. Its BI software stack oversees everything - from the database to ETL, analytics, and visualisation. Sisense is known for its embedded Business Intelligence functionalities. What's more, the latest version provides more machine learning capabilities. Finance, marketing, sales, HR and IT departments, and customer service and undertakings and logistics sections, all have solutions.
Features of Sisense:
End-to-end business intelligence solutions
No technical expertise is required
Breaks down and simplifies the flow of work
Manufactures advanced analytics.
Offers interactive dashboards with current data
4. QLIK SENSE:
Data from diverse sources is combined into a single dataset using its own engine. Suggestions based on artificial intelligence (AI) aid in the creation of analytics. The engine indexes data relationships and classifies them as related or unconnected. It has a click-and-go interface which requires almost no practice.

Features of Qlik Sense:
Installs on-premises and inside the cloud
AI-driven suggestions to manufacture analytics
Calculations made from R and Python
Associative engine collects all the data without hassle
No user expertise is required
5. ZOHO ANALYTICS:
Zoho is an Indian multinational tech company that also uses AI in its BI Tools. It released its personal BI Suite Zoho Analytics in 2009. It includes an automated data synchronisation capability that enables enterprises to analyse data from any source pool. It also uses drag and drop tools to decimate time-consumption and conjure dashboards, presentations (visualisations) and reports in no time.

Features of Zoho Analytics:
Downloads and establishes on-premises and on the cloud, both.
Harnesses drag and drop tools to make reports and dashboards.
Reports and dashboards are shareable through the webpage and app
More efficient than specific solutions
Threads automatic data feeds.
Additional Read: Complete Guide to Business Intelligence (BI) Certification
6. DOMO:
Domo is a cloud-based business platform that propagates its resources on business-user-deployed dashboards and focuses on ease-of-use. It has different agendas for different businesses, namely financial services, education, healthcare, etc.

Features of DOMO:
Self-service, cloud-based
Accessible through web and mobile
Uses Domo Integration Studio to connect all data source pools
No technical expertise is needed
Drag and drop features for better visualisation and data homogenising
the world today runs on data. to keep your business ahead and future-proof your career, you need to specialise in the use and management of bi tools and platforms. it takes time, but the best of the best will deliver on your company needs, arrange itself according to the expertise levels of your users and provide meaningful information to make the best business decisions. if you are looking for a career that will grow exponentially in the next few years, business intelligence is the way to go. with a wide range of bi courses on koenig, here's your chance to give your career the boost it deserves. enroll in a course today.