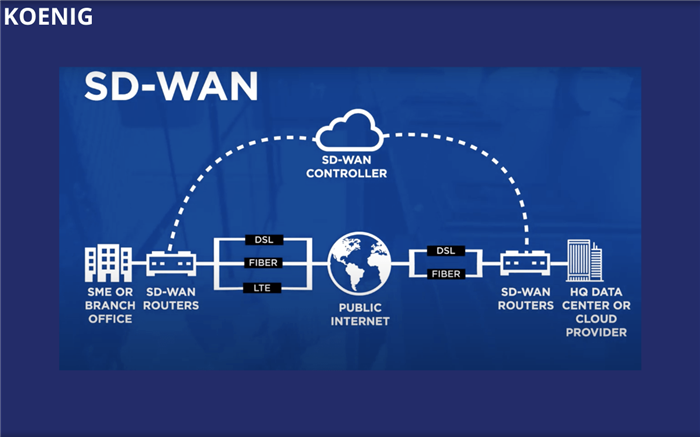 The digitization of economy, heavy use of multiple public cloud applications and shifting needs of enterprise like exponential growth in the WAN's traffic have created a new set of requirements for WAN that's why software-defined networking (SDN) came into being for WAN, enabling enterprises to expand their use of the public Internet for critical business traffic.
SD-WAN is one of applications of SDN technology applied to WAN connections such as broadband, 4G, LTE, or MPLS which are used to connect enterprise networks – including branch offices and data centers – over large geographic distance.
"SD-WAN Infrastructure Market Poised to Reach $5.25 Billion in 2023, According to New IDC Forecast in July 2019."
SD-WAN key players are Silver Peak, Cisco, VMware, Riverbed, Citrix, Fortinet, Aryaka, Versa Networks and Huawei.
How Do These Vendors Differ with Each Other in Their Offerings?
Some vendors like Silver Peak keep their focus on accelerating Software-as-a-Service (SaaS) applications in the cloud. VMware' Velo Cloud contains edge applications, orchestration, and cloud-resident gateway. Aryaka builds a global network so that companies can use WAN as Network-as-a-Service (NaaS), even outside of its point of presence. Incumbent vendors like Cisco and Riverbed focus more on WAN optimization and edge WAN offerings.
Top SD-WAN Benefits:
The top SD-WAN benefits are:
Increased bandwidth with low cost
Centralized management for all WAN edge devices across the enterprise Full visibility across enterprise's network
Dynamically route traffic among multiple links based on business logic also called as application aware routing
Provides enterprises more options for connection type and vendor selection when building their enterprise networks
SD-WAN brings unparalleled agility and cost savings to enterprises. organizations can deliver more responsive, predictable applications at lower cost in less time than the most popular managed WAN option of last decade: MPLS
SD-WAN provides virtual overlay IP fabric with absolute abstraction from physical underlying infrastructure. This overlay monitors the real-time performance characteristics of the underlying networks and selects the optimum network for each application based on configured policies
SD-WAN vs. MPLS:
MPLS certification provides excellent quality of service in terms of avoiding packet loss and keeping a business-critical traffic flowing without any interruption while downside with MPLS is cost of the bandwidth moreover MPLS is not built for world of cloud. With SD-WAN, geographic boundaries are minimized and features such as visibility, scalability, performance and control is enhanced. SD-WAN comes with no bandwidth penalties unlike MPLS. Greatest selling point for SD-WAN is the ability to cost-effectively mix and match network links according to content type and priority and unifying secure connectivity providing end-to-end encryption across the enterprise network however businesses that have specific connectivity requirements still demand MPLS. Most of the SD-WAN deployments today still have MPLS as one of the underlay transports.
SD-WAN Industry Deployment Models:
Self-Managed
Provider-Managed
Integrated
Choosing Right Deployment Model:
There few key points to consider when choosing deployment model:
Evaluate In-house Expertise
Scope Sites – Local or Global
Consider Application Architecture and Performance
Cloud Connectivity, WAN Optimization and Security
Time to Market