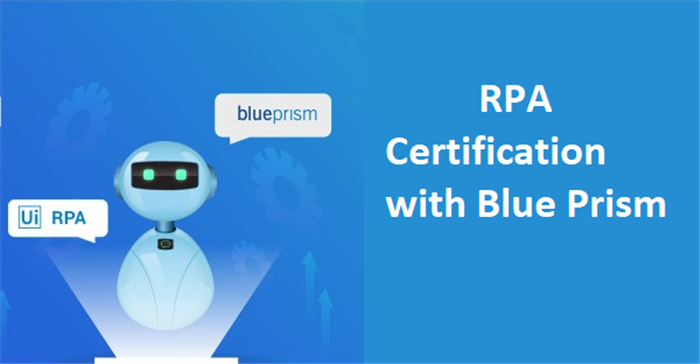 What's an RPA?
Robotic Process Automation, known as RPA in short form, is a software technology developed with the help of Artificial Intelligence (AI) and Machine learning technology, which designs Robot (bots) which helps in carrying out repetitive daily tasks in an independent manner without any human dependency.
RPA
is an emerging technology that helps enterprises to increase overall productivity with minimal errors every time. It does it's assigned work independently, which previously required humans to perform manually.
What is Blue Prism?
Blue Prism is both a company and the name of an
RPA tool
that is gaining tremendous popularity in enterprises of all sizes worldwide. Blue Prism, as a company, develops one the most intelligent RPA software tools that are available for today's digital workforce. Blue Prism as an RPA tool helps organizations to improve their efficiency and business agility by automating critical processes. Blue Prism goes way beyond RPA by offering intelligent automation that helps enterprises to save a lot of man hours and investment. Blue Prism currently has users in more than 170 countries and their implementation in more than 1800 companies.
Certification of RPA through Blue Prism
Blue Prism certification
is a recognition that strengthens and supports one's skills in creating, assembling, implementing, upgrading, or modifying the blue prism interface and programs. In this world of technology, most companies need RPA software to save time, capital investment, and funds. It leads to an efficient environment, entirely automated and wide-ranging. An accredited skilled employee who is capable of working on RPA is required for the productive implementation of RPA. If we look at the aspect of the workforce, they can get an excellent job with a high package if they have certificates in hand. And, if we comprehend the company's point of view, they don't have to coach a trained employee right from scratch, saving their time and expanding productivity.
How Can A Blue Prism RPA Certificate Benefit You
In this ever-growing digital age, companies need the best skills to boost robotic process automation significantly. And for which, they tend to favor trained professionals who are certified to do their role well. While it is not mandatory to be accredited, it makes you stand out from the rest in this age of competition. And so, it enhances one's career with better employment offers and benefits packages. Let us check out few pointers on the benefits of getting RPA certified through Blue Prism.
Higher chances of being hired in a heavily paying company
Professional competence and a promising future
Work security in the fastest-growing world
Increased possibilities of advancement and growth
Beneficial in accomplishing organizational objective and satisfaction
Global recognition as a certified professional blue prism
CONCLUSION
We see RPA taking the stench away from regular, tedious things, and standardizing the back office, opening the door to a more laid back Automation. As a result, the "smarter" company uses RPA to augment its business operations, to keep its employees engaged and cognitively prepared to counteract any prospective stumbling block that could set the future in acceleration. Having RPA certified will provide employees with resources and business effectiveness. So, why cling on with the same level? Gain knowledge more and discover more!
Find the below Blue Prism certification courses