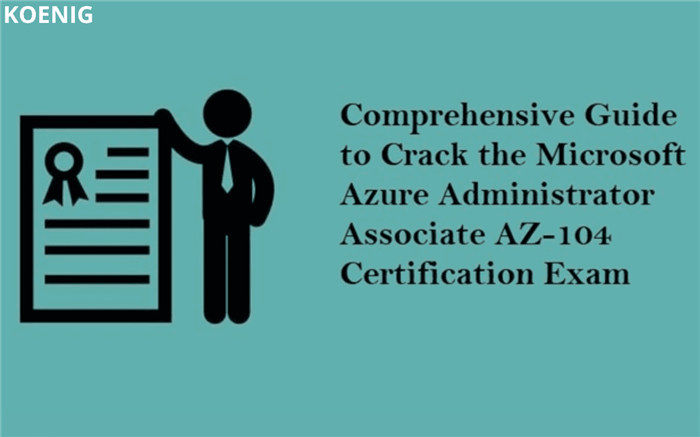 Like every technology company in the world, Microsoft continues to evolve and extend their tracks for learning.
This ensures that professionals around the world can stay updated with today's demanding and transforming IT environment.
The
AZ-104 exam
provides you with a Microsoft Azure Administrator Associate credential.
An Azure Administrator's key responsibilities include the implementation, management and monitoring of an organisation's Azure environment.
This person is also accountable for the management, compute, identity management, storage and networking resources within the Azure ecosystem.
Microsoft retired the AZ-103 exam on 31st August 2020. It was replaced by its successor, the AZ-104.
This exam covers more storage, compute and government services. With this exam, Microsoft has begun testing professionals of many more concepts than before.
For instance, AZ-103 paid more attention to subscription management on Azure. Meanwhile, AZ-104 examines candidates based on AD governance and identities.
In the case of the AZ-104 exam, identity management and implementation use Azure AD within organisations that have a hybrid, on-premise infrastructure, RBAC (role-based access control) of Azure resources, and subscription management, along with managing multiple directories and ensuring direct access to the consumer.
About AZ-104:
The AZ-104 Azure Administrator Associate exam is an intermediate level exam when seen along with the other Microsoft exams for other role-based credentials. There are several topics covered in this exam, and you will get questions from each of them with varying weightage.
Each of these topics can be distributed into the five modules or domains mentioned below.

15-20% weightage for Module 1 - Managing Azure Identities and Governance
10-15% weightage for Module 2 - Implementing and Managing Storage
25-30% weightage for Module 3 - Deploying and Managing Azure Compute Resources
30-35% weightage for Module 4 - Configuring and Managing Virtual Networking
10-15% weightage for Module 5 - Monitoring and Backing up Azure Resources
If you look at the percentages mentioned with each module, they are meant to indicate the weightage each domain has within the AZ-104 exam.
This means that up to 35% of questions will focus on Networking and about 25-30% more will focus on Azure compute.
Both these sections together make up about two-thirds of the entire exam, so they need to be your primary focus when you prepare for the exam.
It is a good idea to keep in mind that, while every topic is important to cover, some topics should be prioritised higher than others as they carry more marks and give you a higher chance of exam success.
Prerequisites to Become an Azure Administrator Associate:
The AZ-104 exam doesn't require too many prerequisites.
Officially, there are no prerequisites as it's for a relatively entry-level role.
However, it is recommended that you have a minimum of six months to one year of work experience with Azure administration.
You should also have a working understanding of Azure services, Azure workloads, security and governance.
Understanding the Exam:
When you don't know what to expect, it is hard to prepare. This is true for anything, including the AZ-104 certification exam.
We've put together an AZ-104 guide to give you all the details about the certification exam so that you have a fair idea of what you're getting into.
AZ-104 is the exam code for the Microsoft Azure Administrator Associate Certification offered by Microsoft. In the exam, you will have to answer anywhere between 40 to 60 questions in a time span of 150 minutes or 2.5 hours.
These questions are all multiple-choice and test your different skills based on the domains covered. As mentioned above, these domains are:

Managing Azure Identities and Governance
Implementing and Managing Storage
Deploying and Managing Azure Compute Resources
Configuring and Managing Virtual Networking
Monitoring and Backing up Azure Resources
When you apply for the exam, you need to pay an exam fee of US $165. It is conducted in multiple languages; you can choose from English, Korean, Simplified Chinese and Japanese.
Your certification will be valid for 2 years from the date of clearing the exam. After that time, you can either get recertified by retaking the exam, or you can apply for a higher-level certification.
The exam has a maximum score of 1000. To clear the exam and get certified as an Azure Administrator, you need to score 700 or more.
What and Who is this Certification Created For?
This certification has been designed for and targeted to experienced administrators who regularly use Azure in their workplace. It also proves to be a good starting point for freshers in the industry looking to prove their technical knowledge and skills and get valuable lab experience to help them get an Azure job.
To clear this exam, you need the skills and knowledge to prove to your present and future employers that you can easily administer an Azure environment for clients and configure Azure services that are handled by teams working with operations and engineering such as Network, Compute and Storage.
Skills Required for the AZ-104 Exam:
Candidates need to have the technical knowledge needed for implementing, managing and monitoring an organisation's Azure environment.
An administrator's responsibilities entail implementing, managing, monitoring, identifying, governance and storage of VNs and compute within a cloud environment.
They also need to size, adjust and provision resources as and when needed.
An Azure Administrator works as a part of the larger team in an organisation that focuses on the implementation of cloud infrastructure within the enterprise. It is also a huge plus for you if you have worked with Azure Portal, Azure CLI, PowerShell and Azure Resource Manager templates.
If you meet most or all of these requirements, you have a higher chance of clearing the exam and earning the credential in your first attempt.
Difficulty Level of the AZ-104 Exam:
Given that the AZ-104 exam is an entry-level certification, its difficulty level is quite high.
While most questions are multiple-choice, you can also get questions that are situation-based or labs along with the multiple-choice questions.
The key to success in this exam is that you should not get overwhelmed.
You always have the option of returning to questions that you don't immediately understand. It can also feel like there are too many questions to answer in not enough time, but it's important that you look at them one question at a time.
When you are preparing for this exam, hands-on experience from demos can be useful for you. You should also use labs that let you try out software and applications for yourself, as offered by Koenig.
Should You Even Apply for This Credential?
Clearing the AZ-104 exam is not easy.
Candidates who don't have the necessary skills or who haven't put in the time and effort to prepare for the exam can't clear the exam on guesswork. Its difficulty level is also high for an entry-level credential.
That being said, the AZ-104 is an important credential and a key milestone in every IT professional's career.
It might not be the final or the highest level of certification you earn, but it gives you significant experience working with Microsoft Azure and makes you a better administrator.
Take your career to the next level, enroll and start training for the AZ-104 exam today.