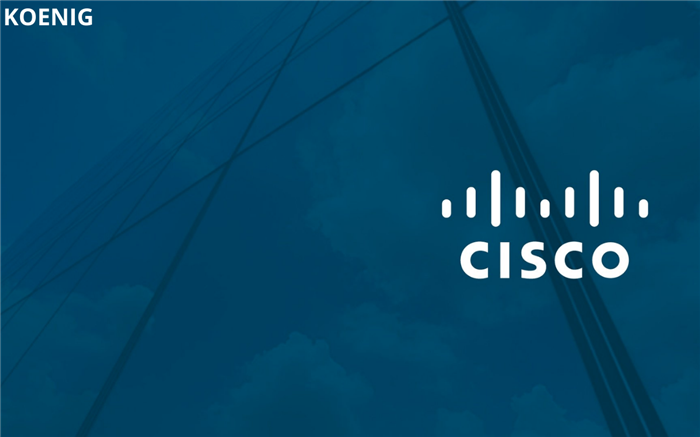 In the past 5 years, technology and networking have moved from being hardware dependent to software dependent. This change in dynamics is making organisations adopt IoT for efficiencies and resiliency. To adapt to the rapidly changing technology and consumer demands while keeping up with the surging amounts of data produced every day, businesses need connectivity and data visibility like never before.
Across operational and information technology, businesses face the challenge of monitoring assets and facilities when fewer people are physically present and in places where employees might be at risk.
The Internet of Things (IoT) is a system of interrelated, internet-connected devices that are linked through sensors and collect data through wireless networks without human intervention. As the technology advances in leaps and bounds, IT giants like Cisco offer certifications and training to skill experts for their products through online partners like Koenig.
The possibilities with IoT are limitless. Some of the business applications for IoT in real-time are:
Reduction of unnecessary site visits, equipment checks etc, thereby improving employee safety and reducing time-taking movement through various facilities.
Use of predictive technology reduces time and money lost in premature or unprecedented equipment failure.
Improvement in customer satisfaction by reducing unplanned outages and corresponding operational downtime.
With its highly-advanced cloud-based solutions, Cisco helps improve business resiliency by giving greater visibility into physical spaces for IT and OT environments. Its two new sensor solutions are very simple to deploy and give you the visibility and data you need across devices and platforms.
These 2 new solutions are:
Meraki MT Sensors - It is used for monitoring indoor IT facilities like network closets. This solution is highly useful for existing Meraki network users.
Cisco Industrial Asset Vision - This is a new IoT solution that brings together new Cisco sensors - a Cisco IoT gateway and a new cloud-based dashboard to monitor OT assets and facilities within and without industrial spaces.
By using sensors linked to different devices, IoT helps deliver the exact measures needed to modify existing processes to improve operations and resilience. Data like temperature, humidity, water leaks, or location of assets can impact the safety of products and even the business as a whole.
Also Read - Rising Cisco Networking Trends For 2020
What was the problem before?
Customers have been using Cisco's sensor-based solutions for years now. However, getting these solutions up and running at a large scale was daunting at best. According to Cisco, their previous solutions lacked proper network integration, which caused longer than necessary deployment cycles, complexity at scale, and overlooked insights.
How are the new solutions different?
Cisco Industrial Asset Vision and Meraki MT are all-in-one, pre-integrated, secure, cloud-managed solutions. They come with new Cisco sensors, existing Cisco gateways, and to ease operational and system management, a new highly integrated dashboard.
Simple. Secure. Scalable.
Both these new solutions are very simple to use. Industrial Asset Vision deploys in minutes via the mobile app and is built to scale up as your business grows.
Both the solutions have cloud-based management, which means they save additional integration costs and reduce the burden on IT infrastructure across locations.
Both solutions provide end-to-end solutions to enterprises - whether you're an outdoor/ industrial OT environment or a traditional IT environment.
You May Also Like: Comparative Analysis of Microsoft Certifications and Cisco Certifications
Industrial Asset Vision Success Story
Cisco has already started seeing positive business outcomes for both IT and OT customers. A good example is their Waste Management system.
Vu Nguyen, senior manager for Corporate Development and Innovation, Waste Management, has said, "Despite their physical size, we have a lot of pieces of equipment that can be a challenge to keep track of. With Cisco Industrial Asset Vision, we can monitor exactly where our inventory is in our sites, and fulfill customer orders faster and more accurately. The beauty of the all-in-one fully tested and secure solution is its simplicity. Our field engineers can install sensors and gateways in a matter of minutes, and almost immediately share data in the cloud-based management dashboard."
Waste Management, a leader in garbage collection and disposal, recycling and dumpster rental, has huge industrial yards. Each yard has thousands of large dumpsters, which poses a challenge when it comes to finding out the locations and repair status to accurately fulfill customer orders.
Cisco's Industrial Asset Vision has helped automate Waste Management using its geolocation sensor for tracking and reporting capabilities. This makes operations safer and more efficient and increases customer satisfaction.
The Future of Cisco IoT Solutions
Customers across a range of industries - utilities, oil and gas, education, healthcare, retail and manufacturing - are also using these solutions to improve daily operations, reduce operational costs, and avoid business disruptions. The IoT product space is set to grow at a rapid pace in the next few years. If you are looking to specialise in any of these solutions and gain the skills needed, you can accelerate your career and stay ahead of the curve.