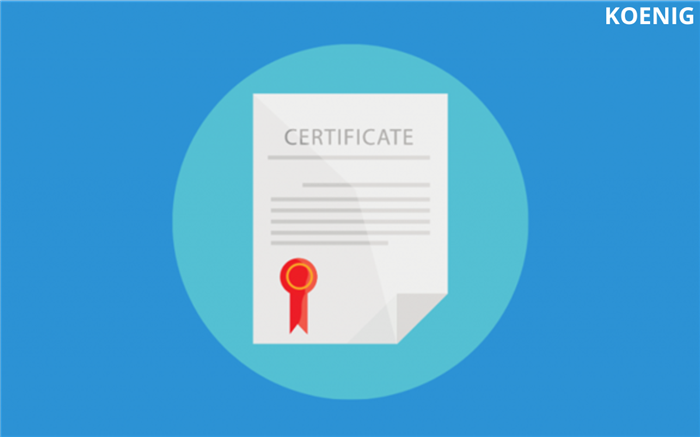 A college degree is neither mandatory nor enough for a successful IT career, The best way to advance your career is by obtaining specific, role-based certifications. If you work with information technology, network administration, security or any related domains, there are several certifications to choose from.
CompTIA offers a host of certifications for different roles. Let's take a look at the top
CompTIA certification courses
you should consider to take your career to new heights.
Top CompTIA Certifications to Choose From:
CompTIA Security+
CompTIA A+
CASP (CompTIA Advanced Security Practitioner)
CompTIA Network+
CompTIA Server+
CompTIA Security+
One of the most in-demand certifications within the IT industry today is the
CompTIA Security+ certification
. This certification validates your skills as a network security professional and proves your expertise in network infrastructure, access control, security protocols and enterprise security.
The Security+ certification is an important milestone for an IT professional's career. It focuses on networking as a core domain as well as the important related aspects of network security. As technology advances, the demand for network security also increases. There are huge volumes of data generated through multiple data points today. Some of this data is sensitive and all of this data is important, which is why it needs to be secured.
As technology advances, so do the cybersecurity threats. Breaches in networks and exploitation of vulnerabilities can be catastrophic for organisations, which is why enterprises focus greatly on their network security needs. Business enterprises and organisations are looking for skilled professionals and network security experts to help secure their networks. They are ready to pay high salaries to certified experts, especially those with a Security+ certification.
With this credential, you learn to adapt to security threats while minimising their impact before any significant damage is done. Your skills make you an invaluable asset to any organisation you go to.
CompTIA A+
The A+ certification was rolled out in 1993 and has since become highly valued and sought-after, This certification is one of the best foundational-level certifications for aspiring IT professionals as it helps in launching your career. If you are looking at attaining a credential for your skills to fix IT system hardware or troubleshoot motherboards, this is the best place to start, The A+ credential validates your skills as an IT architect, competent enough to work with network systems and operating systems like Apple, IBM, Microsoft and Novell, among others. This certification is held in high esteem with the IT industry as many enterprises demand certified professionals.
Compared to other similar certifications, the
CompTIA A+
credential also gives you the skills for handling preventive maintenance, security, troubleshooting, networking and installation across different operating systems and business environments.
CASP (CompTIA Advanced Security Practitioner)
The Advanced Security Practitioner certification is one of the most aspirational certifications across the IT industry. It is a high-paying security credential that covers domains primarily categorised as
Risk management and forecasting
Enterprise security
Risk analysis
Enterprise security is the most crucial part of the CompTIA Advanced Security Practitioner certification. It provides action-based, role-specific skills for the management of small and medium business enterprises and for playing a key role in larger organisations as well. This credential is proof that you have advanced skills as a network security professional as well as other IT domains.
This is a vendor-neutral certification and expands your core competency areas to include enterprise security, computer integration, communication and business disciplines.
CompTIA Network+
The
Network+ certification
is another highly sought-after certification for entry-level IT professionals. It is globally recognised as a leading credential CompTIA offers. If you are looking to advance your career as an IT professional, this certification is a great way to give your career a boost. It works best in combination with the CompTIA A+ credential as it explores beyond the networking basics that the A+ credential covers. With a Network+ credential, you are prepared for the management, maintenance, installation, troubleshooting and configuration of network systems. Like the A+ certification, Network+ is also a beginner-level certification. You don't need a Computer Science degree to be eligible for this exam.
However, it is highly recommended that you get an A+ certification before you choose to apply for the Network+ credential. You also need about 9-10 months of work experience in a role that includes network administration, academic training or IT support. While the work experience is mandatory, getting an A+ certification is not a prerequisite but a recommendation. The reason for recommending an A+ badge is that it gives you a basic foundation for the Network+ certification. It increases your chances of clearing the Network+ certification on the first attempt.
Additionally, the A+ certification is easy to clear and works as a motivator for you to study harder and prepare for the Network+ certification exam. To increase your chances of clearing the certification exam on the first try, you need to be motivated and focused to clear the exam. You should go through multiple reference materials and sources and also by attempting mock tests. Mock tests are the best way to test your skills and know where you stand. It is the most accurate way of understanding how much you remember and what your problem areas are that have room for improvement.
CompTIA Server+
If you are looking for a career in server support, this certification is the right place for you to start. The Server+ credential is a part of this list as it is the best certification for you to build technical skills and perform technical tasks with high-level precision. It trains you to develop the necessary experience and skills required to carry out daily operations as well as some specialised tasks, such as troubleshooting errors and supporting server software and hardware systems.
This certification is a mid-level credential encompassing advanced computing concepts. It is not a professional-level course but includes significant topics that cover advanced desktop and server concepts. To be eligible for this certification, you need about 1.5 to 2 years of work experience where you have operated in a server environment and are familiar with the working of server systems. CompTIA also recommends getting the A+ certification before applying for this credential, similar to the Network+ certification. The Server+ certification is harder to prepare for if you take it as your starting point. If you prepare for the A+ certification first, it lays the foundation for your next credential.
Alternatively, you can also combine the A+, Server+ and Network+ credentials to create a strong impression on potential employers. This builds your resume too and prepares you for better opportunities than you could get with one or two certifications. When you are preparing for the Server+ exam, keep in mind that you will need to cover questions that cover server issues like upgradation, maintenance, installation, recovery and configuration. If you are clear on these domains before you give the exam, earning the Server+ credential will become much easier for you.
According to the United States Bureau of Labor Statistics, 44% of jobs within the tech sector are technology-related, amounting to 47,61,800 professionals in the US alone in July 2021. No certification can be earned by casually walking into the centre. You need solid training, a study plan, online lectures, labs and as many mock tests as possible.
Give your career a boost and start training in the best CompTIA certifications today.