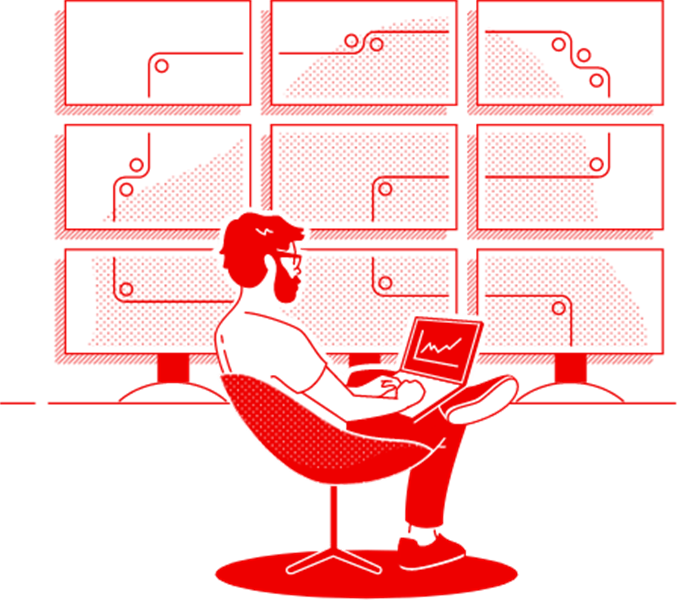 Even the shortest slowdown can cause huge losses to a business. Businesses depend on their system administrators for the efficient functioning of their systems. A systems administrator is responsible for maintaining and optimizing the systems and networks whenever required.
Red Hat systems administrators are experts in Red Hat Linux operating systems. They configure, deploy, and implement systems, servers, and networks. Apart from this, they also ensure security and backup.
This blog will take you through Red Hat system administrator roles and responsibilities, their skills, and the process of pursuing it as a career.
A Red Hat System Administrator's Roles And Responsibilities
Red Hat system administrators have many roles and responsibilities- maintaining security, creating backups, and performing disaster recovery whenever necessary. They work as a team to implement, troubleshoot, and maintain the Red Hat environment. A Red Hat system administrator job description includes the following responsibilities.
● Install, upgrade, and configure new Linux releases
● Install and maintain intel-based systems
● Build, deploy, and support the systems' performance
● Maintain compliance and backups to avoid data loss
● Implement Linux, Apache, MySQL, and PHP (LAMP) web server configuration
● Build and monitor multiple servers at the same time
● Ensure the accessibility of server resources
● Manage anti-virus solutions
● Review application logs
● Ensure resource optimization and performance tuning
Requirements of a Red Hat System Administrator
Red Hat systems administrators have many responsibilities in an organization. They need to have certain skills to comply with the roles. Here are some:
● Skilled in managing a virtualization platform like VMWare
● Experts in managing SMB, CIFS, and NFS permissions
● Must know major cloud platforms, such as AWS and Azure
● Well-versed with TCP/IP, NTP, DHCP, DNS, And Active Directory
● Must know programming languages, such as Python and Ruby
● Should have strong communication and teamwork
● Should have basic knowledge of Oracle and MySQL databases
Related: Red Hat Certification as a Career Path
Skills of a Red Hat System Administrator
Technical Skills
A Red Hat systems administrator has to configure and manage the Red Hat Linux operating system. They must be skilled in network infrastructure, hardware capabilities, testing protocols, and software development. Over time, they can also consider getting certifications to further their skill set.
Some technical skills are as follows:
Network Routers and Firewalls
As a Red Hat system administrator, you must be familiar with your network routers and firewalls. It is crucial to check whether the system is compatible with Linux security practices. To stay at the top of the security of their systems, they should be familiar with network configurations and changes.
Hardware Setup and Troubleshooting
All Red Hat system administrators must be skilled in setting up and troubleshooting hardware systems. Their responsibilities include dealing with hardware and managing its limitations and configurations. They should know NICs, peripherals, and memory to manage hardware failures.
Backup and Restore
One of the primary responsibilities is to back up and restore the files and directories. It is crucial to ensure that the system files are properly backed-up and perform other disaster recovery steps.
Soft Skills
Red Hat systems administrators work as a team. They also communicate with clients to understand their needs; they must have stellar communication and interpersonal skills.
Some of their soft skills include the following.
Communication Skills
Red Hat system administrators work with managers, executives, and other administrators. They also interact with stakeholders and clients. It is crucial to have the skills to convey their message clearly and concisely. They must also be able to express their ideas in simple words using jargon-free language.
Organizational Skills
As discussed above, Red Hat system administrators have several responsibilities. They may also work with tight deadlines and juggle multiple tasks simultaneously. Having stellar organizational skills will help them do their job without getting overwhelmed and meet their deadlines seamlessly.
Detail-Oriented
Many Red Hat system administrators may also need to deal with large amounts of data. They must be detail-oriented and be able to pick out details that may not be apparent at once. Even in their primary responsibilities, they must ensure the systems work in top-notch conditions. This can only be possible if they have an eye for detail.
Red Hat System Administrator Salary and Career Outlook
Red Hat is a popular name in the technology industry. Many organizations use Red Hat Linux OS in their businesses. Their salary and career path can differ as per their experience, skills, and expertise.
According to AmbitionBox, Red Hat system administrators earn an average annual salary of INR 7,75,000. The salary ranges between 6 lakh to 8.7 lakhs. The Red Hat Certified System Administrator Certification salary also falls under a similar range. The amount may increase as you gain more experience and skills.
Must Read: Top 10 Red Hat Linux Certifications Courses in 2022 - 2023
Certifications for Red Hat System Administrators
Most employers require system administrators to have a bachelor's degree in computer science, information technology, or any related field. They must have the necessary skills and experience to get a job.
System administrators can also get the Red Hat Certified System Administrator Certification (RHCSA). According to Payscale, people with this certification make an average annual salary of INR 577,000 in India. The certification proves that the holder is skilled in the following.
● Using tools for documentation and command-line environments
● Configuring local storage
● Developing and configuring file systems and their attributes
● Deploying and maintaining the system
● Managing security
● Creating simple shell scripts
The certification is ideal for people who have experience in Red Hat Enterprise Linux, IT professionals who want to become Red Hat Certified Engineers, and DevOps professionals. The Red Hat certifications are globally recognized and considered valuable for professionals. Employers often look for it while hiring a Red Hat systems administrator.
A system administrator is an integral part of an organization. Red Hat system administrators ensure the systems and networks of their organization function smoothly and without downtime. You can complete an RHCSA certification to specialize in Red Hat Enterprise Linux.