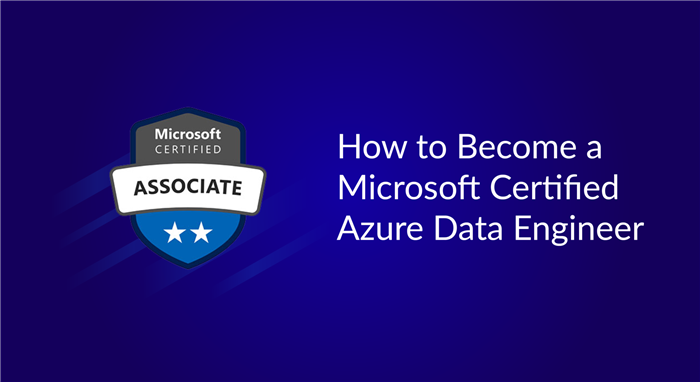 All You Need to Know About Azure Data Engineers
The power of data has unleashed new opportunities for every industry across the world. There is no doubt that the big data industry is growing at exponential rates. According to Statista, the big data market may reach 103 billion dollars by 2027. And this growth will not come without an increase in demand for data engineers. Aim Research estimates that by 2027, the data engineering market will reach 86.9 billion dollars in India.
The demand for Azure data engineers is also expected to skyrocket in the coming years, making Azure data engineer a lucrative career path. But who is an Azure data engineer? What are their responsibilities? What skills do they require to do their job successfully? In this blog, we have discussed all of these and more.
Who is an Azure Data Engineer?
By now, every organization is aware of the power of data. Many consider data to be their greatest asset. And to protect and access this asset, they need Azure data engineers. Azure data engineers ensure that the organization's unstructured and structured data becomes useful to them. They merge and transform the raw data to become beneficial and ensure that it can be used to develop insights. These insights enable organizations to make data-driven decisions.
Azure data engineers understand the organization's goals and objectives and create architecture for data flow accordingly. To do this, they use Azure AI services, such as Azure Form Recognizer (to extract data), Azure Metrics Advisor (to automate metric calculations), and Azure Bot Services.
The primary responsibilities of Azure data engineers include transforming raw and unstructured data into structured ones. The aim is to make the available data beneficial for data scientists. They have many other responsibilities, including data warehousing, data modeling, etc.
Azure Data Engineer roles and responsibilities
Azure data engineers have a significant role in an organization. They maintain the data of the organization along with the Azure software. Their primary role is to maintain all the tasks related to Azure software and ensure that organizational goals are achieved. Some of their responsibilities include the following:
Azure data engineers secure the data and manage its flow in the organization.
They ensure that the data is protected and safeguarded from any potential security threat.
They build, implement, and maintain BI solutions as per business requirements.
They research any potential business challenges.
They have to interact with stakeholders and leaders to understand business goals and data requirements.
Azure data engineers are also responsible for looking for solutions to business challenges by leveraging Azure services.
They also maintain data presentation through data visualization tools.
Azure data engineers have to analyze existing business processes and look for ways to improve through Azure services.
They have to ensure that data is cleansed and ready for storage.
They have to build data pipelines and maintain the data warehouse
Sometimes, they also have to automate different tasks and increase efficiency.
Now, let us discuss some of these responsibilities in detail.
Management
Azure data engineers many data-related tasks. They are responsible for managing the whole Azure platform for their organization and creating databases that improve business efficiency. They design data pipelines and ensure data is secured and accessible. They are also responsible for data mining, data modeling, and data warehousing.
Improving systems
After maintaining data, Azure data engineers also analyze the existing architecture of business systems and look for areas of improvement. They aim to increase efficiency by identifying challenges and problem areas and creating solutions. They provide recommendations and prepare reports for stakeholders with those recommendations.
Collaborate
Azure data engineers also work with other engineers, Azure AI engineers, Azure data scientists, and Azure AI developers to improve business processes. They enhance the performance of databases by continuously improving them. They also ensure that the data used by data scientists is accurate and relevant, thus supporting the entire organization by enabling data-driven decisions.
Job roles in Azure data engineering
There are primarily three job roles in Azure data engineering. They are as follows.
Data Engineer
Artificial Intelligence (AI) Engineer
Data Scientist
Let us discuss each of them in detail.
Data Engineer
As mentioned earlier, data engineers are responsible for maintaining data flow from various sources. This includes both structured and unstructured data. They use data platforms and ensure that they are available on-premises and on the cloud. They are also responsible for securing the data.
Azure data engineers manage the data-related tasks specifically for Azure. They collaborate with senior engineers, interact with stakeholders, use Azure services to transform data, and ensure data security.
It is natural to confuse the role of an Azure data engineer with a database administrator. However, they are two separate roles. Database administrators are primarily concerned with databases. Meanwhile, data engineers are concerned with all aspects of data. Their work enables data scientists and AI engineers to do their jobs. They perform data wrangling, which can be time-consuming but adds great value to the business.
Artificial Intelligence (AI) Engineer
To harness the inherent power of data, AI engineers utilize AI tools. These tools and services include language understanding, computer vision, and text analytics. They use machine learning to develop AI models that benefit the organization.
Azure AI engineers have the skills and knowledge to design and develop AI solutions using Azure Cognitive Services. They continuously improve performance through Azure AI solutions. They recommend tools and technologies that help increase operational efficiency. They design cost-efficient AI solutions to help reach business goals. Their other responsibilities include deploying new models after testing, improving machine learning algorithms, automating processes, working on pattern recognition, and coordinating with other people in the organization.
Azure AI engineers are skilled in Microsoft Azure and have a thorough understanding of AI, cognitive services, and machine learning.
Data Scientist
The primary role of a data scientist is to use data to create value for businesses through advanced analytics. They use predictive and descriptive analytics to do this. These analytics help them in developing forecast models.
Data scientists are skilled in computer programming as they use different languages to write their queries. They are also knowledgeable in mathematics, probability, and statistics. This allows them to develop machine learning models and accurately analyze data. And to make the data analysis relevant to their organization, they also possess domain knowledge.
To be a successful data scientist, you must have excellent communication and interpersonal skills and stellar public speaking. You should also be skilled at data visualization. Azure data scientists are highly skilled at using Azure for machine learning.
Skills required to become an Azure Data Engineer
To be a successful Azure data engineer, you should have many skills. Let us take a look at some of the skills required for data engineers:
In-depth knowledge of the industry they are working in
Highly skilled in Azure services
They should be well aware of the changes in the data landscape.
Thorough knowledge of programming languages and data storage
Skilled in all common data storage methods
Skilled in ETL (extract, transform, and load) tools
Automating processes
Familiar with different big data tools, such as Hadoop, Kafka, etc
Skilled at securing and protecting data
Keep up with the changes and updates related to Azure.
Soft skills that Azure data engineers must have include the following.
Good communication skills
Interpersonal skills
Public speaking
Collaborative skills
Azure Data Engineer salary
Microsoft Azure is highly popular among various organizations. As per Microsoft, more than 95% of Fortune 500 companies make use of Azure in their organizations. Its benefits are endless. And its demand is also growing. That is why if you are considering becoming an Azure data engineer, you are looking at a bright future.
ALSO READ: Top 31 Azure Data Factory Interview Questions with Answers 2022 - 2023
Microsoft offers certifications and courses to train people in Azure's unique features and abilities. With the right qualifications, an Azure data engineer can earn up to Rs. 15.8 lakh. The average annual salary is Rs. 6.5 lakhs.
Certifications for Azure Data Engineers
Microsoft offers several Azure certifications. Most of them are job-specific certifications, which makes it easier for certification holders to get a job. They show the employer that you possess the relevant skills and knowledge required for the specific roles. Some of the most popular certifications include the following.
The certifications are divided as per the level of skills they cover.
Fundamental level certifications
Microsoft Certified: Azure Fundamentals (AZ-900)
AZ-900 certification is for beginners. If you are completely new to the cloud, this is the certification you should get. The course includes fundamental cloud concepts, cloud scalability, Capex vs Opex cloud computing, etc. Having this certification means you are well-versed in the fundamentals of cloud, compliance, privacy, and support in Azure.
Microsoft Certified: Azure Data Fundamentals (DP-900)
DP-900 certification is helpful for database administrators and engineers. The course includes core data concepts, analytics workload on Azure, data visualization in Microsoft Power BI, data ingesting, etc.
Other fundamental level certifications include Microsoft Certified: Azure AI Fundamentals (AI-900).
Associate level certifications
Microsoft Certified: Azure Administrator Associate (AZ-104)
AZ-104 one is for people who have some experience with Azure, a basic understanding of cloud and PowerShell along with knowledge of command-line interface. It covers skills such as creating Azure file storage, implementing Azure load balancer, configuring Azure backups, managing Azure resource groups, etc.
Microsoft Certified: Azure Developer Associate (AZ-204)
AZ-204 certification proves that you have a basic understanding of using Azure to develop apps and services. To do this certification, you must have 1-2 years of experience with Azure development. The skills covered include deploying ARM, implementing Azure RBAC, building AKS clusters, etc.
Other associate-level certifications include Azure Database Administrator Associate (DP-300), Azure Security Engineer Associate (AZ-500), Azure Data Scientist Associate (DP-100), Azure Data Engineer Associate (DP-203), Azure AI Engineer Associate (AI-102), and Azure Network Engineer Associate (AZ-700).
Advanced level certifications
Microsoft Certified: Azure Solutions Architect Expert (AZ-305)
AZ-305 certification covers skills such as managing Azure Active Directory, cloud migration, integration of on-premises infrastructure, configuring AKS, etc. To get this certification, you must have an AZ-104 exam and experience in IT and DevOps pro. Having this certification means you are highly knowledgeable in cloud infrastructure, data platforms, application creation, deployment, etc.
Microsoft Certified: DevOps Engineer Expert (AZ-400)
AZ-400 certification covers skills, including capturing Azure cloud feedback, mobile DevOps strategy with Azure, creating security plans, etc. You must have Azure Administrator Associate or Developer Associate to take this certification.
Microsoft also has specialty certifications. Some of them include the following.
The certifications mentioned in this section can help beginners get into Azure and experts get specialized in specific fields in Azure. All of them can enable you to advance in your Azure careers.
Microsoft Azure is all set to compete with AWS in market share soon. Its increasing popularity has made careers in Azure, including Azure data engineering, lucrative. The field has a lot of growth potential - both in terms of salary and professional growth.