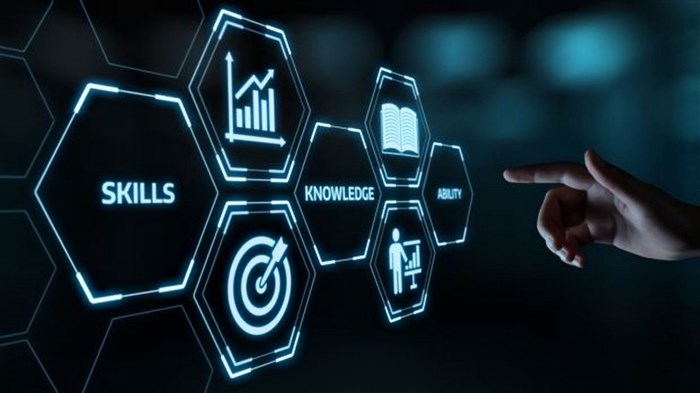 2023 seems to be headed the same way as the past two years have gone. Digital transformation across industries continues to advance at a rapid pace. As an IT professional, you must keep learning new skills and honing your current ones. You must also focus your energy on learning IT skills that are scalable, relevant and profitable today. Otherwise, you'll waste time and energy trying to learn skills that are no longer in demand.
Take a look at the most widely recognised skills today that every IT professional should focus on.
8 Most In-Demand IT Skills You Should Take Up in 2023
1. Data Science:
Data science includes the scientific methodologies, processes, algorithms and tools that help organisations in extracting insights and data from unstructured and structured data. Enterprises around the world are creating more and more data sources to collect an increasing volume of data each day. To do this, they rely on skilled professionals equipped to use these methodologies and tools. A data scientist is responsible for compiling, cleaning and presenting data for enterprises that allows them to make data-driven decisions.
According to a report by Markets and Markets, the market for data science is predicted to grow to US $140.9 billion by 2024, up from US $37.9 billion in 2019. This amounts to a 30% CAGR (compound annual growth rate) during this period. Key factors for growth in the data science market include a greater focus by businesses on easy methods for driving business and a growing need for insight extraction from large volumes of data. The primary objective is to maintain an edge in a highly-competitive market.
Benefits of data science:
Empowers management professionals to make better decisions

Validates actions with strong data

Increases business efficiency

Helps recruit qualified talent in the organisation
2. Cloud Computing:
Cloud computing refers to the storage and access of databases, servers, analytics, networking and other computing services over an internet network. It enables businesses to store applications and files on a remote server rather than the hard drive of a computer. This stored data can be accessed from anywhere at any time by authorised professionals.
According to the report by Markets and Markets, the cloud computing market at the global level will grow to US $832.1 billion by 2025, up from US $371.4 billion in 2020. This comes to a CAGR of 17.5% in this period. Skill cloud professionals have seen a higher demand than ever before since the pandemic hit, owing to the world working remotely.
Benefits of cloud computing:
Reduces business costs

Improves efficiency

Increases productivity

Increases reliability

Improves security
3. AI (Artificial Intelligence):
In layman's terms, AI replicates human intelligence and behaviours in machines. An AI professional focuses on creating machines and tools that can be programmed to reason like human beings. Such machines can do tasks that would otherwise require human intelligence and manual intervention.
An AI system exhibits various behaviours similar to human intelligence, such as problem-solving, analysis, logical reasoning, learning and knowledge representation. According to a Grand View Research report, the AI market was valued in 2019 at US $39.9 billion. It is expected to grow at a CAGR of 42.2% between 2020 and 2027.
In the IT industry, AI is one of the leading buzzwords today. A skilled professional with the experience, knowledge and skills to use Artificial Intelligence are in high demand today. Taking on this skill will inevitably future-proof your career and help you survive any minor changes in market trends.
Benefits of AI:
Reduces human error

Helps automate repetitive tasks

Increases productivity

Improves operational efficiency

Enables faster business decision-making
4. DevOps:
DevOps refers to the set of tools and practices that help in combining IT operations and software development. The goal of DevOps is to shorten the lifecycle of product and system development. In other words, it helps ensure a more reliable process of creating, testing and delivering software solutions and systems.
A DevOps professional helps build software and checks code releases so that everything is running smoothly. It is among the highest-paying remote roles in the IT industry today. According to data shared by Markets and Market, the DevOps domain will grow at a CAGR of 24.7% between 2017 and 2023, from its 2017 valuation of US $2.9 billion to US $10.31 billion. DevOps is a highly-functional solution for IT enterprises of various sizes in the world. Additionally, it is also a fundamental pillar for enterprises such as Facebook, Amazon, Walmart, Adobe and Netflix.
Benefits of DevOps:
Resolves problems faster

Ensures continuous delivery of software

Increases productivity

Increases employee engagement

Promotes internal collaboration among teams

Reduces costs

Nurtures innovation
Must Read: Key Benefits of DevOps for Organisation Growth
5. Blockchain:
Also called DLT (Distributed Ledger Technology), Blockchain refers to a digital decentralised ledger that records transactions, duplicates them and distributes them thousands of times across a blockchain network of computers. The decentralised nature of blockchain helps in processing data in a way that makes hacking or changing data nearly impossible.
The market size for Blockchain is being predicted to grow at a CAGR of 67.3% between 2020 and 2025. The valuation of this market will grow from US $3 billion to US $39.7 billion. Looking at the growth trend and predictions for Blockchain, this IT skill is not going anywhere any time soon. Choosing to learn this skill will ensure your career and earning opportunities have wider scope in future.
Benefits of Blockchain:
Improves security

Increases efficiency

Improves traceability

Reduces costs and expenses

Increases speed
6. Robotic Process Automation (RPA):
RPA means applying technology that is governed by businesses to automate business processes and workflows. In other words, RPA refers to the process of creating software robots that automate any manually intensive or repetitive business process.
According to the PR News Wire, the RPA market was globally valued at US $477 million in 2018. It is predicted to hit US $1930 million by 2025. This makes for a 21.3% CAGR from 2019 to 2025.
Robotic Process Automation helps businesses across any industry today to automate every desk job that could be repetitive or routine. It is among the fastest-growing technologies today, with more and more jobs coming up in this market.
Benefits of Robotic Process Automation:
Improves productivity

Saves costs

Improves quality

Redeploys employees to perform more productive roles
7. VR (Virtual Reality) and AR (Augmented Reality):
AR and VR technologies act as bridges that connect the virtual world with the real, physical world we know. Both these technologies allow users to see virtual content and data visually as though it is in the real world. Organisations across industries such as travel, healthcare, automotive and aviation have started creating AR solutions for training and research applications. AR brings in digital elements to the physical world and increases the applications of a gadget in completing our daily tasks. This includes shopping, discovering data, virtual experiences etc. Meanwhile, VR allows users to experience what it feels like to go literally anywhere.
According to Markets and Markets, the AR market stood at a valuation of US $4.21 billion in 2017. It is expected to grow at a 40.29% CAGR by 2023 and reach a valuation of US $60.55 billion by then. Meanwhile, the VR market had a valuation of US $5.12 billion in 2017. It is expected to grow at a 33.95% CAGR and reach US $34.08 billion in valuation by 2023.
Benefits of AR and VR:
Provides rich and interactive user experiences

Personalised content for every user

Increases brand awareness
8. Cybersecurity:
cybersecurity is among the most rapidly-growing it skills today in terms of demand. cybersecurity encompasses securing computer networks and systems against cyberattacks and malicious third-party attackers who attempt to modify, access or misuse confidential data. as cyberattacks become more common and sophisticated, businesses are amping up their network and data security measures. this includes hiring professionals equipped to identify vulnerabilities and fix them. some leading profiles in this role are infor mation security analysts, network engineers, systems engineers and cybersecurity analysts.
According to the US BLS (Bureau of Labor Statistics), the demand for information security analysts will grow by 33% between 2020 and 2030. This market is already seeing significant growth in demand. In the years to come, it is safe to predict that the jobs for cybersecurity professionals will only grow further.
Benefits of cybersecurity:
Protects businesses against very real threats

Improves data management

Increases productivity

Boosts the confidence of clients in your business
Give your career the boost it deserves and start sharpening your IT skills today. Enrol in a training course for any of these skills by choosing from Koenig's diverse portfolio of courses.