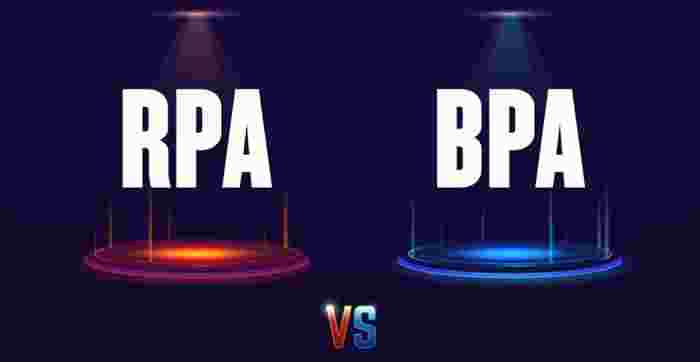 The ability to cooperate with others can be important for working and making connections in the future. Although we are leading into the world with more technology, a robust knowledge and collaboration structure would still be necessary for Enterprises of all sizes. This article will talk about the two new process methodologies that have changed the industry altogether. One is robotic process automation (RPA), and the other is business process automation (BPA). What is this Technology? How are they different from each other?
What Is RPA And BPA?
RPA
is the application of technology controlled by a business system, and integrated input is aimed at automated business operation. Using
RPA tools
, the company can configure software or the robot to understand the application for processing the transaction, control information, trigger a reaction, and communicate with other digital systems. It does it's assigned work independently, which previously required humans to perform manually.
BPA is the use of automation to simplify routine, day to day jobs. It speeds up how the job is being performed by delivering the right detail to the right person at the right time through user-defined guidelines and action. With automated systems, companies save time and maintain that better practices are adopted to boost the overall operating process. BPA assists the workforce to meet various needs of an enterprise according to its goals and market demands.
Robotic Process Automation (RPA) Vs. Business Process Automation (BPA)
| | |
| --- | --- |
| ROBOTIC PROCESS AUTOMATION (RPA) | BUSINESS PROCESS AUTOMATION (BPA) |
| RPA uses software technology | BPA introduces an IT Management technology that concentrates on seeing and handling a large computer system as a single unit |
| The software which makes bots that optimizes a particular process or task | Engaged in enhancing the business mechanism for optimum performance |
| Automations apply towards specific tasks or process only | Automations take place throughout the company and not specifically. |
| RPA helps in eliminating the tasks which would hence be performed by robots. | BPA helps in deriving the solution, starting from the base and then moving upwards towards the problem. |
| While providing a solution, RPA can immediately give a solution to the said problem without in-depth knowledge. | While providing a solution, BPA requires an in-depth knowledge overall |
| RPA does not follow an end to end approach, and it can work together with other applications, including BPA. | BPA follows an end to end approach and cannot be combined with other applications. |
| RPA Bots generally tap onto the existing user face and desktop and perform tasks accordingly, mimicking human actions. | In the case of BPA, it follows a singular processing model which then is used towards diversified systems. |
Conclusion
Robotic Process Automation (RPA) and Business Process Automation (BPA) are the two well-renowned technologies adopted in many industries/companies. They both have their unique characteristics, which could be utilized by the company/business depending on their needs and budget.
Find the below Robotics Process Automation certification courses