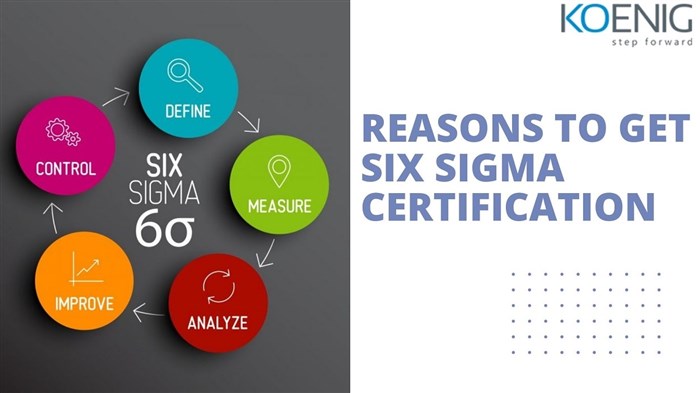 Earning a Six Sigma certification has a wide range of benefits for both organizations and individuals. This certification enables IT professionals to focus on efficiency and quality. It is an excellent way to earn the experience and skills for project manager roles. Businesses that function on the principles of Six Sigma have benefitted from higher sales and increased customer satisfaction.
What is Six Sigma Certification?
the six sigma certification path was created in the 1980s. it validates an it professional's expertise in the techniques and tools of a project manager. six sigma methodology uses data-driven reviews and limits any wastage or defects that are a part of any process. this helps in improving the efficiency and speed of production.
Six Sigma methodology is rooted in statistical data modeling and encompasses data that is six standard deviations away from average in any typical distribution curve. In other words, Six Sigma helps a business reach the statistical chances of having merely 3.4 defective parts per million. This helps achieve uniformity and defect-free products in more than 99% of situations.
Getting a certification in Six Sigma tells employers that you are dedicated to the improvement of your analytical skills, and you can apply to facilitate growth within the organization. This methodology was originally meant for manufacturing processes. But over time, many industries like healthcare, finance, construction, and engineering have used Six Sigma to enhance business workflows and processes.
Requirements for a Six Sigma Certification:
according to iassc (the international association for six sigma certification), the governing body for six sigma, professionals must meet a few criteria to earn a six sigma certification. to earn the iassc-cgb designation (iassc certified green belt), you need to appear for the certified lean six sigma green belt examination and score at least 70% on the qualifying exam. there are no formal prerequisites for the lean six sigma green belt certification exam that you need to meet.
Levels of Six Sigma Certifications:
users who have dabbled in martial arts like judo and karate are familiar with a belt system of hierarchy. six sigma follows a similar system where every belt represents a different level of experience and understanding of six sigma principles. several platforms and institutions provide lean six sigma certification programs and courses to prepare you for this style of learning. while there is currently no universal six sigma curriculum, leading platforms like koenig provide a strongly structured preparation strategy that gives comprehensive understanding and holistic learning.
The various Six Sigma belts provided by accreditation bodies like the American Society for Quality are:
- White Belt: A Six Sigma White Belt certification is an entry-level credential. It focuses on the founding ideals of Six Sigma. A white belt certified candidate generally acts in a supporting role to teams involved in problem-solving teams within an organization.
- Yellow Belt: A Six Sigma Yellow Belt certification gives candidates the knowledge relevant to Six Sigma principles and applications.
- Green Belt: A Green Belt-certified professional has experience and training in the advanced analysis of Six Sigma techniques. They work closely with management and resolve any issues with quality control. They also lead projects sometimes with the guidance of professionals with higher belt certifications and sometimes help black belts with data collection and analysis.
- Black Belt: A Black Belt Six Sigma professional works under Master Black Belts to apply Six Sigma methods to business projects. They also train team members in Six Sigma concepts and lead projects sometimes.
- Master Black Belt: This professional manages projects and also advises green and black belts on Six Sigma principle implementation. Master Black Belt professionals generally control business initiatives and strategies.
- Champion: A Six Sigma Champion professional is certified at the highest level. This person primarily implements Six Sigma across multiple organizational departments.
9 Reasons to Earn a Six Sigma Certification:
1. Knowledge application across verticals:
As mentioned before, Six Sigma was originally developed for manufacturing companies. However, today it can be applied to a wide range of industries and verticals like IT, telecom, healthcare, aerospace, banking, HR, shipping, marketing, and financial services. With a Lean Six Sigma certification to your name, you can extend your career in quality management to various industries regardless of geography. This certification validates your skills and enhances your employability.
2. Skills to guide enterprises towards reduced defects and errors:
The key objective of Six Sigma certification and training is to help businesses reduce defects and errors. When you have completed your training and earned your certification, you can help your business's efforts towards improving production costs and time is taken. Within an IT environment in an organization, an understanding of Lean Six Sigma can help in reducing customer complaints, errors, scheduling slippages, and IT spending. This certification also increases your credibility and helps you stand out among your peers. Even if you complete your training without earning the certification, you will still hold a commanding lead over your colleagues.
3. Improved and increased customer satisfaction:
Lean Six Sigma is effective in reducing defects and increasing efficiency. However, businesses can also apply this methodology to reduce customer complaint volumes across verticals. Any organization relies heavily on service quality which directly impacts the customer experience. This directly impacts customer loyalty and satisfaction. By reducing the volume of defects in the products in an organization, businesses can help lower rates of customer dissatisfaction.
4. Improved business workflows and processes through Six Sigma:
As an IT professional, when you earn a Six Sigma belt or certification, you get a wider perspective and better understanding of the business processes within your organization. You also get the knowledge and tools for measuring, analyzing, controlling, and improving business processes. You can also conduct vital reviews of existing practices, which will help you understand their importance and impact on service offerings.
5. Ensures that organizations adhere to government and industry standards:
We live in a service-based business environment today. Governments and industries extensively use the metrics of Six Sigma for reviewing vendors and awarding critical contracts. When you have earned a Lean Six Sigma certification, you are at the forefront of enterprise-level change and help in leading Six Sigma strategies for a business. This helps enterprises earn business-critical and profitable contracts in the public and private sectors.
6. Maximised utilization of enterprise resources:
When you earn a Six Sigma certification, you are equipped to demonstrate exceptional resource utilization skills within an organization efficiently and effectively. This helps reduce costs incurred by a business for materials, time taken, and operations. When you rightly apply the Lean Six Sigma methodology, enterprises focus fewer resources on corrective measures and more on improving or automating processes. As a result, businesses can significantly reduce errors and defects and emphasize sales and marketing.
7. Separates candidates from non-certified colleagues:
An IT professional who is newly starting their Six Sigma learning and implementation journey within an enterprise will find themselves at the front line for all major changes. As a certified Six Sigma professional, you are accountable for driving initiatives that will improve business processes in the organization. A Lean Six Sigma certification lets you stand out in a crowd of uncertified candidates within the organization. When you help an organization implement Six Sigma methodologies and tools and train other team members, you also help develop a unique infrastructure of professionals primed to deliver enhanced efficiency and performance.
8. Equipped to take on key leadership roles:
Six Sigma provides certifications in a predetermined order of expertise. These levels have been discussed above. As a professional with a Lean Six Sigma certification, you are educated in the lean concepts and Six Sigma methodologies as well as their application in businesses across industries. You are now equipped to drive change at the enterprise level and lead initiatives aimed at improving the quality of offerings and workflow processes. Earning a Black Belt credential or higher will open the doors to senior management positions for you.
9. Enhanced earning opportunities:
A certified Six Sigma professional is among the highest-earning IT professionals in the world today. According to data shared by PayScale, a Six Sigma professional can earn as much as USD 147,000 per annum in the United States. The amount paid to a certified professional is affected by a wide range of factors such as expertise level, experience, location, and negotiation skills. The average salaries at various belt certifications are:
- Yellow Belt: US $63,000
- Green Belt: US $70,000
- Black Belt: US $90,000
- Master Black Belt: Us $147,000
By now, it must be clear that earning a Six Sigma certification is no small feat. While it will take dedicated time and effort, it also pays significant dividends. This makes a Lean Six Sigma Certification one of the top choices for IT professionals looking to enhance their careers with a new professional certification. It also gives employers peace of mind since their workflows and processes are being optimized by professionals with the right set of skills with a focus on quality. Give your career the boost it deserves and enroll in a Six Sigma training and certification course today.