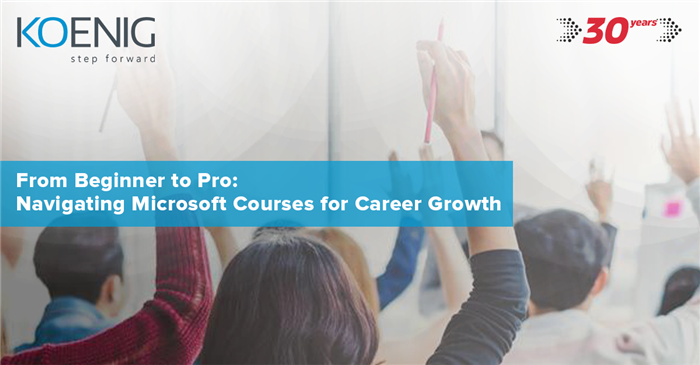 The digital world is in a constant state of flux, evolving rapidly with each technological advancement. To remain relevant and competitive, professionals need to stay updated and adapt to these shifts. One way to ensure that is through Microsoft courses that cater to varying levels of expertise, ensuring every aspirant gets the right guidance. This article will help you navigate the world of Microsoft certification training, making sure your career trajectory is always upward.
Microsoft's suite of tools, from Azure to Office 365, has become integral to numerous businesses across the globe. As more companies embrace these tools, the demand for Microsoft-certified professionals has surged. Whether you're just stepping into the IT realm or looking to bolster your existing skills, there's a Microsoft course tailored for you.
Starting Your Journey: Microsoft Courses for Beginners
For newcomers, understanding the vast landscape of Microsoft tools can be daunting. But worry not! Entry-level courses such as the Microsoft Technology Associate (MTA) certifications are an excellent starting point. They lay down the foundational knowledge required, whether it's database fundamentals, software development, or understanding core infrastructure issues.
Mid-level Mastery of Microsoft
For those with some experience under their belt, Microsoft offers a range of role-based certifications. These include the Microsoft Certified: Azure Fundamentals or Microsoft 365 Certified: Modern Desktop Administrator Associate. Courses at this level delve deeper, ensuring you're well-equipped to handle specific job roles and responsibilities.
Achieving Pro Status: Advanced Microsoft Certifications
If you've been in the game for a while, you're probably eyeing advanced certifications. These are the pinnacle of Microsoft courses, designed for experts in their field. Options like the Microsoft Certified: Azure Solutions Architect Expert or Microsoft 365 Certified: Enterprise Administrator Expert offer in-depth knowledge and skills, making you a sought-after expert in your domain.
Why Choose Microsoft Certification Training?
Undertaking Microsoft certification training isn't just about adding a badge to your resume. It's about ensuring you're equipped with the latest skills, staying ahead in your career, and setting yourself apart in the job market. The learning doesn't stop once you're certified. The tech world is dynamic, and to keep your certification relevant, Microsoft requires professionals to renew them periodically, ensuring you're always at the top of your game.
Koenig and Your Microsoft Journey
Choosing the right training partner is as essential as selecting the right certification. Koenig, a global leader in IT training, offers tailored Microsoft courses to ensure you get the most out of your learning journey. With their expertise and commitment to excellence, your path from beginner to pro is in trusted hands.