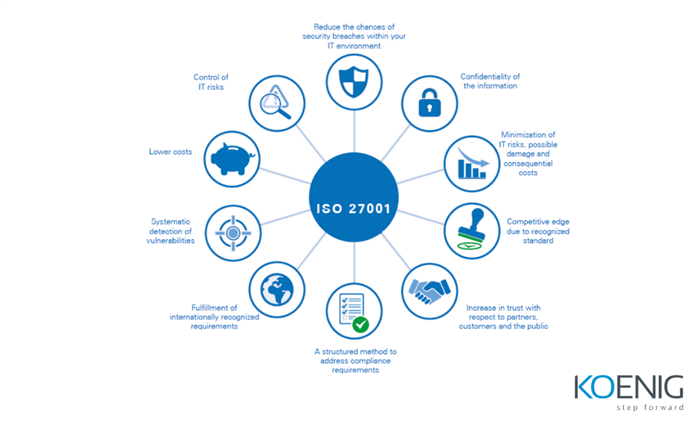 What is ISO 27001?
ISO 27001 is an International standard provided by the International Organization of Standardization (ISO) that describes the key processes and approaches required to manage information security risk in an organization.
ISO 27001 is developed in a way that it can be implemented in any kind of organization, be it small or large, private or state-owned, profit or non-profit. Implementing the standard, a company becomes certified, stating that the company has implemented an information security system compliant with ISO 27001.
Why is it needed?
ISO 27001 is required to protect the confidentiality, integrity and availability of information in a company. The entire process involves tasks such as risk assessment and risk mitigation or treatment. Thus, a standard like ISO 27001 ensures that appropriate processes are followed during a security breach.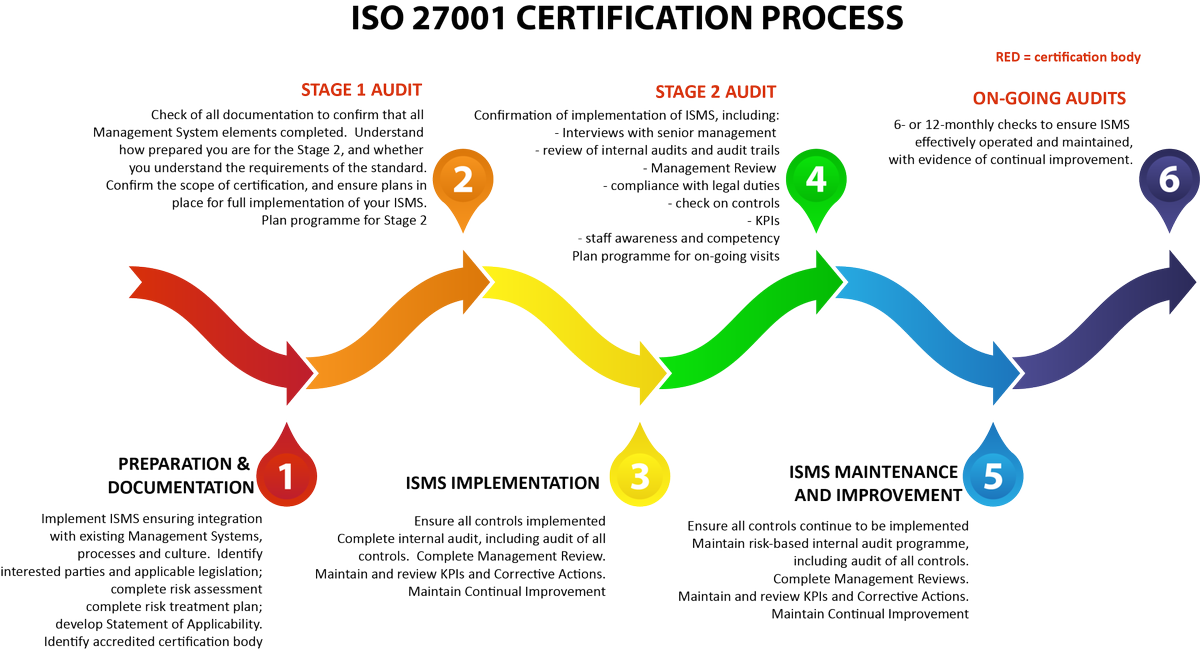 ISO 27001 certification is a proof that an organization is not putting the customers' businesses at risk and that it has appropriate safeguards in place. The certification builds trust and confidence in customers, business partners and shareholders and provides a competitive edge over others.
ALSO READ> ITIL Interview Questions and Answers in 2021
ISO Training Courses and Certifications
ISO 27001 training courses enable you to understand the practical approaches involved in the application of Information Security Management System (ISMS) that protects the information and data by applying a risk management system. The certifications demonstrate an individual's ability to enable organizations to implement information security policies and procedures customized as per their requirements.
Pro Tip: To fast-track, your learning about ISO Certification, consider Updated ISO Training Courses .
ISO 27001 offers four different courses with certifications, details of which have been given below.
ISO 27001 Introduction

– The ISO 27001 Introduction training course allows you to understand the basic concepts and features of Information Security Management System (ISMS).
ISO 27001 Foundation

– The ISO 27001 Foundation course enables you to implement and manage an Information Security Management System as described in ISO/IEC 27001. The course includes modules such as ISMS policy, procedures, performance measurement, internal audit, management review and continual improvement.
ISO 27001 Lead Implementer

– The ISO 27001 Lead Implementer course provides you the know-how for establishing, implementing, managing and maintaining an Information Security Management System (ISMS) in an organization.
ISO 27001 Lead Auditor

– The ISO 27001 Lead Auditor training course provides you the necessary skills to execute an Information Security Management Audit (ISMS) audit by using globally recognized audit principles, methods and techniques. The audits will be carried out in compliance with ISO 19011 and ISO/IEC 17021-1 certification process.
Career Prospects in ISO 27001
ISO 27001 is one of the most sought-after and popular cyber security standards worldwide since it provides a systematic approach to manage sensitive and private information, identifies risks and can be implemented in organizations of any size.
This is the reason why organizations are keen on implementing ISMS within their systems. To implement ISMS, organizations need certified ISO experts to make things run smoothly and this increases their demand among employers.
The average salaries of job profiles related to ISO 27001 range from $51,500 per year for an Information Security Officer to $128,000 per year for a Security Manager, as per a report generated by PayScale. Also, the salaries are constantly increasing as the demand for these professionals often exceeds the supply. Thus, this is the best time to invest in these credentials and prepare yourself for a soaring career.