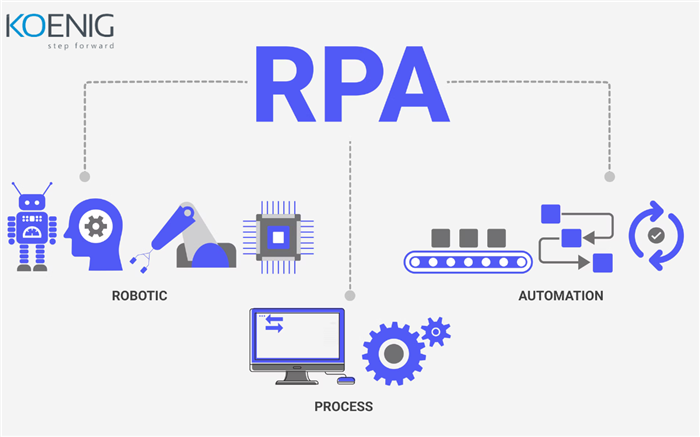 Robotic Process Automation, also known as RPA, is a software technology developed with the help of Artificial Intelligence (AI) and Machine learning technology, which designs Robot (bots), which helps in carrying out easy day-to-day tasks independently without any human interference. It does it's assigned work independently, which previously required humans to perform manually.
How Does Robotic Process Automation Work?
RPA
operates by encrypting data with existing IT programs. There are several ways
RPA tools
can converse with your systems. One preference is to access databases and incorporate web applications in the backend. Another is via front end or computer links, which take numerous elements. What is the best method? It depends on the company and the concerns that the technique would serve. With backend networking, the automation can obtain systems and resources under the supervision of a process automation server. This is most extensively used for unmonitored automation, where the software robots operate back-office jobs such as managing insurance claims on a scale and with relatively low or no employee involvement.
There are some important components of how most RPA software function and some better news for IT teams stretched thin across other initiatives: in the RPA vendor atmosphere, there is now a major determination to make RPA software as efficient as possible so as not to take hours and hours of engineering time to streamline the process.
RPA functions at the level of the user interface. This makes sure that it interfaces with your system relatively similar ways you use it. Visualize a realistic robot positioned at one of the workstations in your office for simplistic work. The robot is able to scroll, going to drag, and typing away on your device to monitor the time-consuming activities you want to automate. In this case, the robot uses the system in the same way as any other worker. Imagine this robot as invisible. That is
what RPA is
. RPA is made up of automated bots that have a digital and not a physical presence). These software bots utilize your software frameworks to accomplish processes in the same way as individuals do.
You need to train it to set up RPA. You do this by enabling the software bots to 'control' your activities whenever you're executing your tasks—for example, open folders or messages, copy-paste fields, and input data. Bots practice from this how-to execute these tasks (by replicating your actions). Traditional automation, by contrast, is not sustainable. Over time, it does not really gather data. Nor can it check how users operate. BPA only takes its example from pre-set laws. So, for traditional automation to perform, you now need to write the different "IF" rules for and process you want to automate.
Since RPA performs at the user interface phase, it can potentially stay on top of existing systems. This implies that you can steer between applications and programs just as you do so. It follows the exhibits that you use; it functions of the same front-end possibilities that you function with.
Conclusion
RPA software robots can be seen as a means to cut down on time and cost and increase ROI for the company. It helps the company and its employees to focus on more critical tasks. Since 2016 it has created a massive hike in demand—any company which is highly labor-intensive benefits the most from RPA adoption.
Find the below Robotics Process Automation certification courses