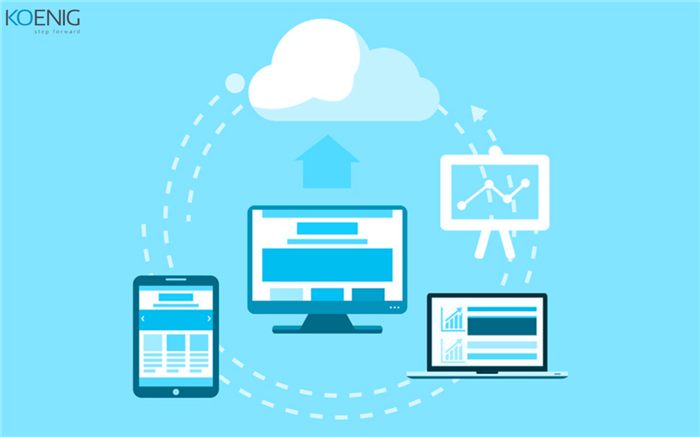 Cloud storage was one of the fastest-growing technologies of the past decade. Today it has seamlessly become a part of our lives. Whether it's personal, professional or organisational use, the cloud is used by everyone in some form or other. Any information that you have stored virtually except on a hard drive is now saved to the cloud. It includes videos you upload to YouTube or other platforms, social media posts, emails, Google Drive, and even passwords you save on your computer.
As data usage goes mobile, we all tend to use our phones and data much more than before. While earlier memory cards were used for storage, they had their drawbacks. It was not easy to keep changing memory cards and transfer data once full. Additionally, there was always the risk of running out of memory when in need.
Mega Cloud storage services help you save massive amounts of data very quickly and sync your accounts across devices. All your information can be accessed through multiple devices by only using a secure login ID and password.
Best Free Online Cloud Storage Platforms 2022
While some cloud services are paid, several companies offer free cloud storage. Let's take a look at the best ones.
BLOMP
DEGOO
MEGA
MEDIA FIRE
YANDEX DISK
GOOGLE DRIVE
ICEDRIVE
KOOFR
MIMEDIA
SYNC
DROPBOX
pCLOUD
ONEDRIVE
iCLOUD
AMAZON DRIVE
Let us discuss each of them one by one moving ahead.
1. BLOMP
Running out of memory while in the middle of a project or a holiday is frustrating. With Blomp, you can forget about low storage warnings for good. Blomp is a cloud storage service provider that offers free storage up to 200 GB for images, videos and multiple other formats compatible with your device.
If you're looking for a simple and secure application to organise and backup your videos and images, Blomp is the right choice for you. Blomp is accessible through any browser on all Mac, Windows and Ubuntu Linux systems. You can also use the mobile app on your Apple or Android smartphone to access your cloud. The main advantage of Blomp is that you can access and manage files in your cloud directly from your smartphone.
2. DEGOO
If you're looking for a reliable cloud storage app that lets you earn free service packages, check out Degoo. The primary offering that Degoo has is 100GB of free cloud storage space. It is a highly reliable cloud backup service, with a mobile app that makes it easy to access on-the-go using Android and iOS devices.
One advantage Degoo has over Blomp is that you can increase your free storage capacity by using referrals. You can also avail mobile app support with free storage. When it comes to paid plans, Degoo gives you 500 GB storage for $3 per month.
3. MEGA
Mega is a great cloud storage platform which is very similar to DropBox. The difference between the two is in the amount of storage space provided for free cloud storage. Mega offers 50 GB cloud memory for free and allows users to download and compress large files for easy storage and access. You can also upload these files through the Mega mobile app.
If you want a perfect backup file storage space, Mega is the right platform for you. You can archive huge files by compressing and labelling them. With this objective in mind, you can do a lot with 50 GB worth of space.
4. MEDIA FIRE
One of the easiest cloud storage platforms to use that you will find is Media Fire. Initially, you get 10 GB of data to store all of your documents, contacts and images. However, you also get the option of increasing your free storage to 50 GB.
Media Fire has an interface that makes it easier to handle your files. You can easily upload multiple files at once from any browser. You can also manage and search for documents quickly with Media Fire's user-friendly interface. It generates a single-use link that you can use to share documents easily.
5. YANDEX DISK
Yandex Disk is another free cloud storage solution that you can trust. You can activate the Auto Upload function that this platform offers. This enables you to store all your documents and images in their original resolution without ruining your phone quality. Both Android and iOS support Yandex Disk.
When you sign up for Yandex Disk, you get 10 GB free cloud storage space. You can quickly expand this by an additional 32 GB by taking up the promotional activities that Yandex hosts. It also allows you to use documents like presentations and spreadsheets without installing their apps on your phone. You can also share these files easily.
Additional Read: Important of Cloud Computing Certification
6. GOOGLE DRIVE
All cloud storage solution providers' common feature is that you can store files on the cloud and sync them across devices. Google Drive offers many more features than just storage, that make it one of the most widely used cloud platforms. Google Drive gives you 15 GB of free storage space and syncs with your Google account, making it easily accessible and facilitates easy sharing of files and documents across platforms, people and devices.
What's more, other Google apps like Photos, Docs etc. can be used to create and share files. You can also use apps like Google Lens to get more information about existing documents and make changes. Google's comprehensive suite of cloud-based apps can be synced to your files for easy editing and management.
7. ICEDRIVE
For easy access and file management, Icedrive is one of the best next-gen alternatives. You get a dedicated storage space to share, showcase, and collaborate your files with other apps on this platform. What makes Icedrive different from other platforms is that it supports Twofish Encryption.
On signing up, you get 10 GB worth of free cloud storage space. Icedrive has a more minimal and user-friendly user interface, which makes file management very simple. Documents can be synced on Icedrive with just one click. You can also stream content directly from your memory and share it with other people.
8. KOOFR
What makes Google Drive more popular than other cloud platforms is sync it to your Google account and the other apps that Google offers. Koofr lets you connect your cloud storage account to your Dropbox, OneDrive and even your Amazon and Google accounts. You get 10 GB free cloud storage on Koofr, and it even lets you use the free space available on a hard drive.
Koofr can be easily synced to your other main accounts and is also compatible with Android, iOS, Mac and Windows. This makes for exceptional flexibility that sets Koofr apart from most other names on this list.
9. MIMEDIA
Mimedia is one of the latest additions to the existing cloud storage platforms. When you sign up with Mimedia, you get 10 GB of free storage space. It is an excellent platform if you're looking for a cloud-based backup account. Mimedia helps you curate and organise your personalised file collection.
Using Mimedia, you can access and manage images, music and documents in multiple formats across all your devices. A unique feature of Mimedia is that you can import documents and other media from Facebook, Google, Dropbox and Flickr. Mimedia also has a desktop app that runs on both Windows and Mac systems.
10. SYNC
Sync is an excellent choice for you if you have a knack for accidentally deleting things. Sync helps you to restore files that are accidentally deleted in the past quickly. This is ideal for those who have second thoughts only after deleting individual files. Sync also has a web panel worth exploring, rife with cool and productivity features.
Initially you get 5 GB worth of storage space when you sign up with Sync. The platform also has a 'get free space' feature. By referring Sync to your friends, you can increase the amount of space allotted to you. Every new user you get to sign up gets 1 GB additional space, so do you.
You May Also Like: Benefits of Cloud Computing and CCSP Certification
11. DROPBOX
DropBox is one of the most powerful free cloud storage platforms out there. It has incredible backup features that make it more reliable than most other cloud storage apps. Files of different sizes and formats like presentations, images, videos, API and even CAD files can safely be added to your DropBox account.
One advantage of DropBox is the remote wipe feature. In case you lose a device that has your DropBox account and the cloud files synced on to it, you can erase all those files from that single device. This is one of the security features that makes DropBox very reliable.
The only drawback of DropBox is the amount of free storage you get which is 2 GB. To get more space beyond that, DropBox offers a series of attractive paid plans.
12. pCLOUD
pCloud is one of the most flexible platforms and offers the highest storage space of almost all the other platforms on this list. You get 10 GB of free cloud storage with pCloud, which can expand up to 2 TB. pCloud has also made it easier to resize pictures on-the-go without using any additional software. You get access to a range of resizing options on this platform.
pCloud also gives you an unlimited Remote Upload Traffic feature which makes it unique. You also get an archive feature with the option to create multiple archives. These are encrypted folders you can create that get locked automatically every time you shut down your system.
13. ONEDRIVE
Microsoft OneDrive makes it easy to keep your documents and files within reach. OneDrive is one of the leading cloud storage solutions out there. If you already have a Microsoft account, you can sign in to it to access your email, OneDrive and all other files in the same place. Earlier, OneDrive offered 15 GB of free online storage but has now reduced it to 5 GB. All Windows devices - both desktops and mobile devices - come preinstalled with OneDrive. It can be easily accessed from any device anywhere and is arguably the second most in-demand cloud storage platform after DropBox in the business world.
One problem users face downloading attachments from their emails and then uploading them to the cloud. For relatively larger files, this was a time-consuming process. OneDrive helps solve that problem by giving you the option of saving your email attachments directly to the cloud.
You May Also Like: Things to Know About Cyber Security in the Cloud
14. iCLOUD
All Apple users have iCloud as their primary cloud storage platform. With 5 GB of free cloud storage space, it is synced with all your other Apple applications like images and videos. It is highly secure and can be synced across all your Apple devices like you iMac, Macbook and iPad. It is easy to organise your files and folders with Apple iCloud and share them with your friends and family. It syncs messages and conversations to start exactly where you dropped off the last time.
15. AMAZON DRIVE
Amazon Drive helps to maintain a perfect workflow, allowing easy sharing of photos, videos and documents. This platform is powered by Amazon, giving you 5 GB of internal storage and 24/7 app support. It is a powerful tool for securely saving photos and files.
Benefits of Cloud Storage?
Cloud storage and cloud computing have many benefits.
Cloud technology is highly cost-effective. It does not require any physical infrastructure or setup costs, making it easy to adopt and use. You also purchase applications and storage space only when needed.
It is easy to use. Instead of downloading and setting up the whole infrastructure, you get everything ready on cloud platforms.
You get better storage capacity and automation. You get virtually unlimited storage space that is flexible to accommodate your business needs.
Cloud storage is agile and scalable. With on-the-go access and cross-device synchronisation, you can work from anywhere.
Cloud technology is still only in its early phase of development. It is set to grow and evolve in the years to come. Cloud professionals will be required to create a better user experience, better cloud infrastructure and develop and monitor new features. If you aspire to become a cloud professional, enrol in a training program and start your learning journey today.