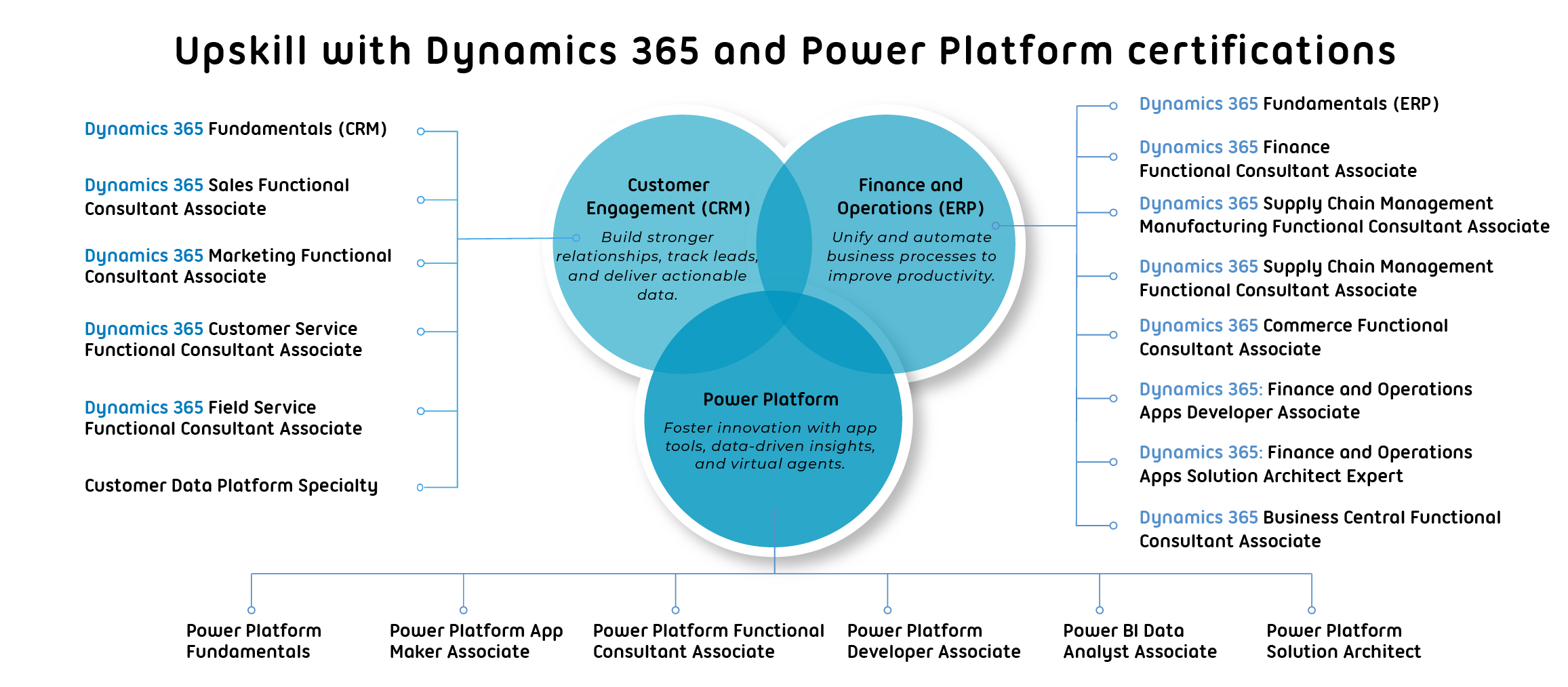 Microsoft Dynamics 365 CRM Certification Training
Microsoft Dynamics 365 CRM is a widely used business tool that offers strong integration between customer service management and enterprise resource planning. The multitude of applications of the software suite offers organizations the ability to consolidate their technology requirements into one streamlined portal.
With the steadily growing competition across all industries, the difference between a business and its competitors could be as simple as better internal optimization. Introducing professionals with a Microsoft Dynamics 365 certification into an organization could be the upper hand businesses are looking for.
Certified individuals are able to configure and customize the application to ensure it works best for the organization's implementation. The flexibility of the software can truly be harnessed and applied for the best possible results by professionals who understand the application from a fundamental level. Individuals who have successfully completed any of the popular certification courses are able to do exactly that.
Popular Microsoft Dynamics 365 CRM Certification Courses
Microsoft Dynamics 365 Fundamentals MB-901 Certification Training
The
Microsoft Dynamics 365 Fundamentals training
explores the way to position and the advantages of incorporating Microsoft Dynamics 365 in an organization. In order to sit the paper, it is heavily recommended the candidate have a practical understanding of Dynamics 365 as well as comprehension of Microsoft's cloud computing. Additionally, holding knowledge or work experience in and around an Information Technology (IT) environment helps apply context to the paper and questions.
The skills measured across the paper include being able to identify Microsoft platform components along with describing AI and mixed reality within Dynamics 365, understanding of model-driven apps and finally introducing finance and operations applications. The examination charges are dependent on the country the exam is taken in. The cost for the examination is upwards of USD $99.
Microsoft Dynamics 365 Customizations & Configurations Certification Training
This
Microsoft Dynamics 365 Customization & Configurations
is a 3-day instructor-led course offered by Microsoft that allows candidates to experience setting up, customizing and maintaining the multitude of components Microsoft Dynamics 365 CRM offers. Those completing the course possess strong knowledge about the inner workings of the Dynamics 365 security model and are able to customize the Dynamics framework to ensure business processes flow seamlessly. Additionally, candidates are equipped with the ability to create applications that can be used across multiple Microsoft Dynamics 365 applications. Additionally, the course ensures all students are able to utilize the latest version of Dynamics 365 both and introduce both virtual and on-premise deployment as needed.
In order to successfully complete the course, it is recommended to have a strong working knowledge of Microsoft .Net and Visual Studio. Completing the "Introduction to Microsoft Dynamics 365" course offered by the organization is heavily recommended but not mandated to sit the course. It consists of ten modules with practical labs to supplement working knowledge of Dynamics 365.
Microsoft Dynamics 365 Field Service MB-240 Certification Exam
The
MB-240 course
offered by Microsoft is ideal for candidates capable of collaborating with both internal and external teams in order to provide field service processes. Individuals must be able to configure default administration areas within the Field Service application, deploy Microsoft Dynamics version of IoT (Connected Field Service) solutions with a mobile application and ensure any further customizations needed are facilitated. Candidates who complete the examination can be charged with the responsibility of configuration and deployment of field service applications that work with the core application for a comprehensive solution model.
The MB-240 examination costs upwards of USD $165, based on the country in which the examination is proctored. Primarily offered in English, Microsoft offers two options to adequately prepare for the exam. The first being free online guided learning paths and the second being a paid instructor-led course.
Microsoft Dynamics 365 + Power Platform Solution Architect MB-600 Certification Exam
The
MB-600 certification course
offered by Microsoft is intended to verify the skills solution architects possess in order to spearhead the successful implementation of technology solutions facilitating bigger business and technical needs of an organization. Solution architects are able to demonstrate strong functional and technical comprehension of the Power Platform model-driven applications within Dynamics 365, including Dynamics 365 Customer Service, Field Service, Marketing and Sales. Solution Architects institute proactive and preventative solutions across an organization to ensure the business is able to provide strong value to their customers and maintain strong organizational health.
The training is offered in the English language, and candidates have two options to prepare for the examination; the first being free online learning paths and the second being an instructor-led paid course. Candidates are tested on their ability to perform solution envisioning and requirement analysis, architect a solution and implement the said solution.
Processes in Dynamics 365 CRM Certification Training
The
Processes in Dynamics 365 CRM course
is offered not only by the Microsoft platform but also by a number of licenced training organizations. The objective of the training is to ensure successful candidates are strongly equipped with the understanding of processes within Dynamics 365 CRM and are able to institute configuration, flow and management of said processes.
Available through Koenig-Solutions, 1-on-1 and group training session options are available based on the candidates preference. The training sessions can last 4 hours a day on weekdays and eight hours a day on weekends.
Who Can Take up Microsoft Dynamics 365 CRM Training?
Job roles that can find Microsoft Dynamics 365 CRM training include:
IT professionals
Developers
Anyone with a background in Microsoft Dynamics 365
Implementation Consultants
Technical Support Personnel
System Administrators
IoT Solution Architects
Solution Architects
Anybody who is interested to gain a proper understanding of Microsoft Dynamics 365 CRM concepts and terms
Professionals who are looking to take part in relevant Microsoft Dynamics 365 CRM certification exam
Reasons to choose Microsoft Dynamics Certification Courses from Koenig Solutions
A comprehensive suite of Dynamics 365 certification courses that are relevant for various job roles and categories
Expert Microsoft Dynamics 365 instructors with real-life experience to help professionals to gain a thorough understanding of the concepts and terms
Receive Microsoft Dynamics certification course materials along with hands-on lab sessions to gain a thorough understanding of the concepts and best practices
Get Microsoft Dynamics training from a Microsoft Gold Partner who can deliver this training worldwide
Flexibility to take up your Dynamics 365 courses in both 4 hours/ day and 8 hours/ day options on weekdays and weekends
Option to customize your Dynamics 365 certification courses according to individual learning and team requirements
Microsoft Dynamics 365 CRM certification exam sample practice tests and practice lab sessions to help you familiarize with exam formats across courses
Get the option to take up your Microsoft CRM certification training in different learning delivery modes which include classroom, live online, 1-on-1, and on-site trainin
Benefits of Microsoft Dynamics 365 CRM Training
Get ahead of competition with Microsoft Dynamics 365 certification training as the business world gains stronger dependency on technology
Introducing the best possible components through Dynamics 365 training that helps organizations to streamline internal processes
Through Dynamics 365 CRM training gain a proper understanding of the software solution built to strongly optimize internal and external business activities
Having a Microsoft Dynamics 365 CRM credential will help you to not only maximize the ability to fully utilize the software features
Help businesses to heighten their activities by understanding the full range of options offered by Dynamics 365 through Microsoft Dynamics 365 CRM training
Certified professionals are not only in higher demand but Microsoft certified individuals in particular are able to gain better professional opportunities and starting salaries in comparison to their non-certified counterparts
Microsoft Dynamics 365 Certification Process
Below are the steps to become a Microsoft Dynamics 365 certified professional:
Choose a relevant Dynamics 365 certification course from a wide portfolio on offer from Koenig Solutions
Select suitable Microsoft Dynamics training schedule and mode of delivery
Receive Microsoft Dynamics 365 course materials which include the course brochure, training ppt, sample practice tests, and lab sessions
Be part of an interactive instructor-led Dynamics 365 certification training with hands-on practical sessions
Take up Microsoft Dynamics 365 practice tests to familiarize yourself with the certification exam formats
Embark on a successful career path with Microsoft Dynamics 365 CRM training program
Salary prospects for Microsoft Dynamics 365 Certified Professionals
Many large and SMBs are using CRM solutions to improve their business relationships through sales, marketing, and customer service initiatives. Microsoft Dynamics 365 CRM tool helps enterprises to be more productive and knowledgeable as it provides better insights towards performance and opportunities. With its familiar, intuitive user interface ranks among the highest in terms of user adoption of the Microsoft Dynamics 365 CRM tool. Let's check out Microsoft Dynamics 365 certified professionals' salaries globally.
United States : USD 85,000 to USD 118,000
United Kingdom : Pounds 40,000 to 75,000
India : Rupees 4.3 lakhs to 20 lakhs
Australia : AUD 55,000 to 113,000
UAE : AED 78,000 to 240,000
Singapore : SGD 45,000 to 100,000
Job Prospects for Microsoft Dynamics 365 Certified Professionals
As enterprises are looking to remain competitive and integrate critical processes through a single CRM platform, it is critical that professionals get trained in the most popular Microsoft Dynamics 365 CRM certification training to get ahead in their careers. As there is a huge demand for professionals who are knowledgeable in handling the Dynamics 365 CRM tool across industry sectors, let's see which top companies are hiring them. Some of the top companies hiring Microsoft Dynamics 365 certified professionals include Planet Technologies, Intone Networks, Acestack LLC, Arctic IT, Allstate, Amicis Solutions, Oatly Inc, Centivo Corporation, Greenway Health, CapB Infotek, and more
Do check your local job listings to find relevant job opportunities for Dynamics 365 certified professionals in your region.